Dear friend,
Climate change is personal. It harms each and every one of us. It's up to each of us to recognize and articulate our stake in the work for climate justice.
It's undeniably personal and disproportionately harmful to, say, members of the Quileute Nation who are faced with the heartbreaking decision to relocate their village on the Pacific Coast of Washington's Olympic Peninsula to higher ground as they face rising sea levels. Or to residents of so-called "Cancer Alley" in Louisiana, who are banding together to fight the proliferation of petrochemical plants in their backyards. Or to the countless young people suffering from acute climate anxiety as they face an uncertain future and woefully inadequate government responses to the climate crisis.
For many of us who have been relatively shielded from the impacts of a changing climate so far, it may be more difficult to identify our stake in the work. We might begin by listening intently to the stories of those most impacted by the crisis. We cannot ignore the unjustly skewed impacts of the climate crisis that fall disproportionately on the shoulders of communities who have already been pushed to the margins of society. Our faith calls us to take seriously the lives and stories of those who are least valued in society, just as Jesus did, and if there is any indication of whose lives are deemed valueless, we need look no further than the sacrifice zones that bear the costs of our consumer lifestyles. We must follow the lead of these communities as we seek solutions to the climate crisis that threatens us all.
This spring, Catholics across the country will join together in an "Encounter for Our Common Home"—a training and advocacy campaign calling on U.S. Senators to support climate and clean energy investments that reduce our dependence on fossil fuels, lower national greenhouse gas emissions, create jobs, and build the resilience of impacted communities. Throughout the campaign, we'll be offering special opportunities for youth and young adults to come together in community, deepen their advocacy skills, and hone the power of their stories for creating a future of climate justice. I hope that you'll join us.
With hope,
Anna Robertson
Director of Youth and Young Adult Mobilization, Catholic Climate Covenant
Join the Encounter for Our Common Home!
A NATIONAL CATHOLIC CAMPAIGN FOR CLIMATE SOLUTIONS
MAY 2-6, 2022
This Spring, join Catholic Climate Covenant and Catholics across the country for Encounter for Our Common Home, a weeks-long U.S. Catholic training and advocacy campaign to encounter and urge our U.S. Senators to support climate solutions now for the sake of our most affected neighbors, our future, and our common home, advocating from a place of faith and reason.
U.S. Senators are considering climate provisions in budget legislation. We will ask lawmakers to support climate and clean energy investments that reduce our dependence on fossil fuels, lower national greenhouse gas emissions, create jobs, and build the resilience of impacted communities.
Meetings between our Catholic constituents and Senators will be 1) strongly centered upon our Catholic faith and 2) expressed by a broad spectrum of the Church faithful who transcend partisanship.
Our approach—of both faith and reason—rests finally on faith, seeking to go to the heart of that shared concern, with the hope of manifesting a change of heart.
When you click join today, you will be the first to hear of campaign events as they unfold, including:
Community-building events

Trainings

Young Adult materials and engagement

Webinars

Resources

Action Alerts
… All culminating in a "Week of Encounter": virtual or in-person meetings with U.S. Senators the week of May 2-6, 2022.
Action Alert: Support relief efforts in Ukraine
Already, more than 2.9 million people need assistance in Ukraine, according to Catholic Relief Services, and there is grave risk of additional suffering for refugees fleeing to safety in neighboring countries.CRS and Caritas partners on the ground are preparing across Ukraine and in bordering countries, providing safe shelter, hot meals, hygiene supplies, transport to safe areas, counseling support and more. Donate to CRS and support Ukrainian families.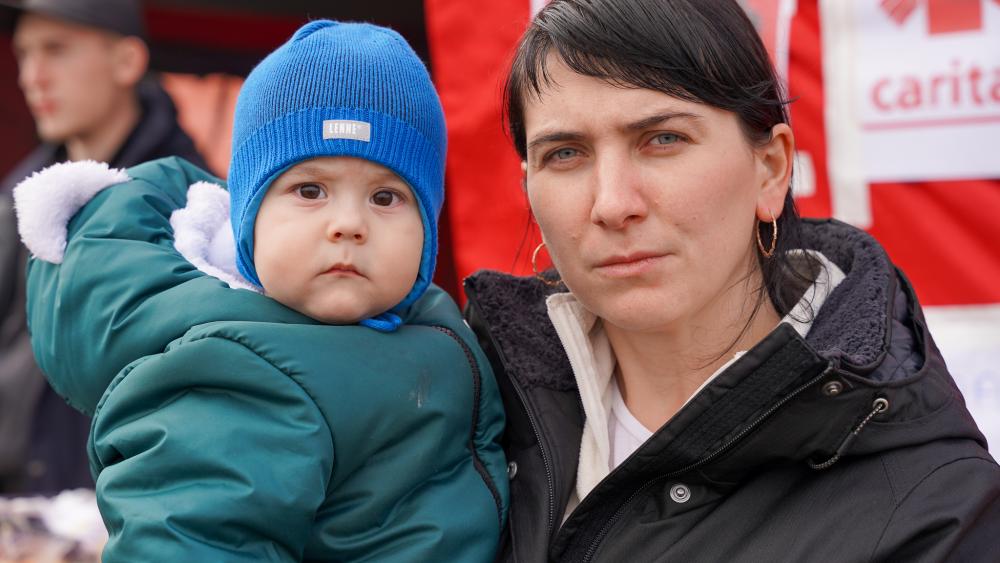 As Ukrainians flee their homes due to the conflict with Russia, CRS partner Caritas Poland assists Ukrainians crossing into Poland for safety. Photo courtesy of Caritas Poland
Become a Laudato Si' Animator
Would you like to become a positive leader for your community to face the spiritual, social and ecological crisis of these times? This FREE leadership development course from Laudato Si' Movement will equip you with the skills you need to lead your community! "Everyone's talents are needed to redress the damage caused by human abuse of God's creation" (LS 14).
Now Hiring
Director of Programming, Franciscan Peace Center (Clinton, IA)
Join Catholic Climate Covenant for Advocacy Training in D.C.
Catholic Climate Covenant has a handful of tickets for young adults in our network to join our delegation to NETWORK's Advocacy Training and Gala on April 21-23 in Washington, D.C. If you're interested, fill out the interest form by March 30!
Scholarships Available for Climate Reality Leadership Corps Training
Individuals in the U.S. Southwest and Mountain West living on the frontlines of climate change and environmental injustice, people of color, individuals from low-income communities, students with an interest in environmental issues, and Climate Reality chapter volunteers who haven't previously had the opportunity to attend a Climate Reality Leadership Corps Training are eligible to apply for a scholarship to attend the the 49th Climate Reality Leadership Corps Training, June 11-13 in Las Vegas. Apply by April 25.
Apply for LeaderworX with FaithJustice
LeaderworX is an intense and rewarding summer of service, intentional community, and spiritual formation for young adults ages 19-25. Young adults serve as program facilitators on service immersion trips for teens and kids. Learn more and apply by May 1.
Blessed Are the Peacemakers
This Lent, hear from leading peacemakers, theologians and activists. Registration for this series is free for college students; others by sliding scale. Learn more and register.
Don't miss the young adult conversation with Sr. Joan Brown!
Young adults aged 18-39 are invited to join the Catholic Climate Covenant young adult community and Sr. Joan Brown, Executive Director or New Mexico and El Paso Region Interfaith Power and Light, on Monday, April 4, 2022 from 7:30-8:30 p.m. ET. This will be an intimate conversation as a follow-up to her March 21, 2022 keynote presentation. Attendance at the March keynote is not required for attending this conversation.
Apply for a Small Grant to Fund Your Climate Action
Small grants are available for up to $1,000 for U.S. Catholic parishes, schools, dioceses, and other U.S. Catholic organizations that apply. This is an excellent opportunity to resource the programs and initiatives that ignite the leadership of young people as our Church journeys toward deepening care for creation and action for climate justice. The deadline to apply is May 2nd, 2022.
Chicago Young Adult Integral Ecology Retreat
Chicago-area young adults (18-39) are invited to join the Archdiocese of Chicago and Catholic Climate Covenant for a retreat getaway focused on integral ecology and creation care, April 29-May 1. Learn about the Archdiocese of Chicago's efforts to implement the Laudato Si' Action Platform and find out how you can be involved in making history in your community. Register by April 13, 2022.
Did someone forward this email to you? Sign-up to receive occasional updates about Youth and Young Adult Mobilization at the Covenant.