Dear Friend,,
Have you been thinking of hosting a screening of "The Letter: A message for Our Earth" for your diocese, parish, school, or religious community, but just have a few questions?
Join us later this month for a Catholic Climate Covenant community ONLINE SCREENING of The Letter, followed by a discussion session that will answer all your screening questions, and give you confidence in handling either an online or an in-person screening of your own. Staff from Catholic Climate Covenant and Laudato Si' Movement-US will be teaming up for this event!
We will host TWO online screenings this Earth Month: a daytime screening on April 25th and an evening screening on April 26th! Each screening will include an opportunity to watch the film, a general discussion, and breakout sessions to choose from:
Further discussion on themes from the film

A screening Q&A to get you ready to host your own screening

A youth focused discussion

A young adult focused discussion
Register for one of these two April screenings today!
DAYTIME SCREENING
Tuesday, April 25th – 1-3 pm Eastern (10 am -12pm Pacific) Register here
EVENING SCREENING
Wednesday, April 26th – 7-9 pm Eastern (4-6 pm Pacific) Register here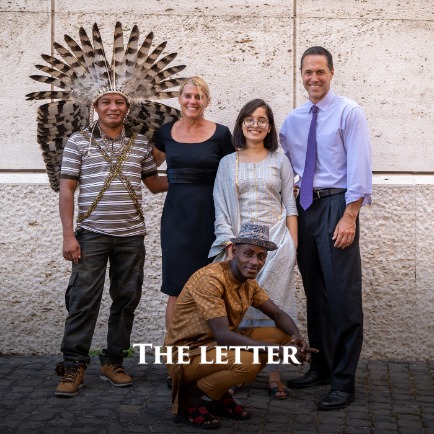 The Letter features frontline champions from around the world and offers a compelling new message for our planet and a timely and authentic way to engage our communities.
A Programming NOTE: Each screening will be limited to the first 300 attendees. The breakout sessions will be recorded and shared with all who register.
If you cannot make it to the full 2-hour screening event, watch the film on your own here and then join us for the last half hour (via the link we will send you when you register) - you will be joining us for the discussion at the 90-minute mark (that's 2:30 pm Eastern on April 25th (OR) 8:30 pm Eastern on the April 26th.)

See you at the movies,

Catholic Climate Covenant