ACTION ITEM:
Celebrate Season of Creation by Hosting a Feast of St. Francis Program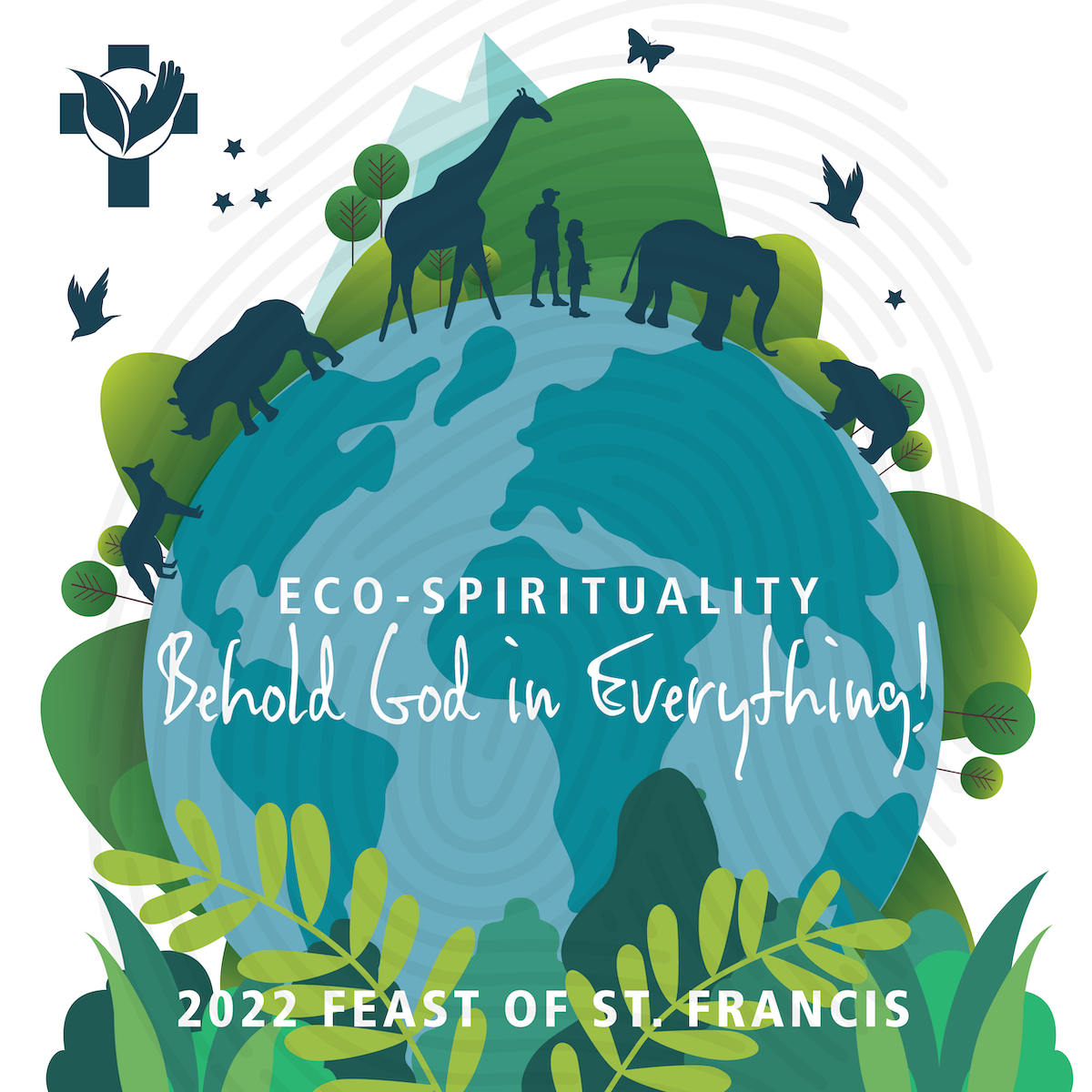 The theme for this year's Feast of St. Francis is "Eco-Spirituality: Behold God in Everything." The Feast of St. Francis program is a 90-minute educational program designed to assist you, your family, parish, school, diocese, religious community, or other Catholic institution to understand the concept of "eco-spirituality," one of the seven goals of the Laudato Si' Action Platform.
The program includes prayers, readings, a short video, music, discussion questions and suggested activities. It can be used as part of your Season of Creation events or at any time that fits your community's schedule. The program this year includes an in-person version and an online/individual use version.
Blessing of the Animals: Don't forget that we also have available the very popular Blessing of the Animals liturgy for your use! You may choose to hold the blessing on October 4th and then hold a separate 90-minute Feast of St. Francis program on a day of your choosing, or you can do both on the same day. You will need to speak to your pastor (or deacon/lay leader) about leading the Blessing of the Animals. 
Join us for A Season of Creation Webinar: A Powerful Opportunity for the Faith Community
A Season of Creation Webinar
A Powerful Opportunity for the Faith Community:
Putting Our Faith into Action Through Renewable Energy Investments and Funding
Tuesday, September 13th | 1:00-2:00 p.m. Eastern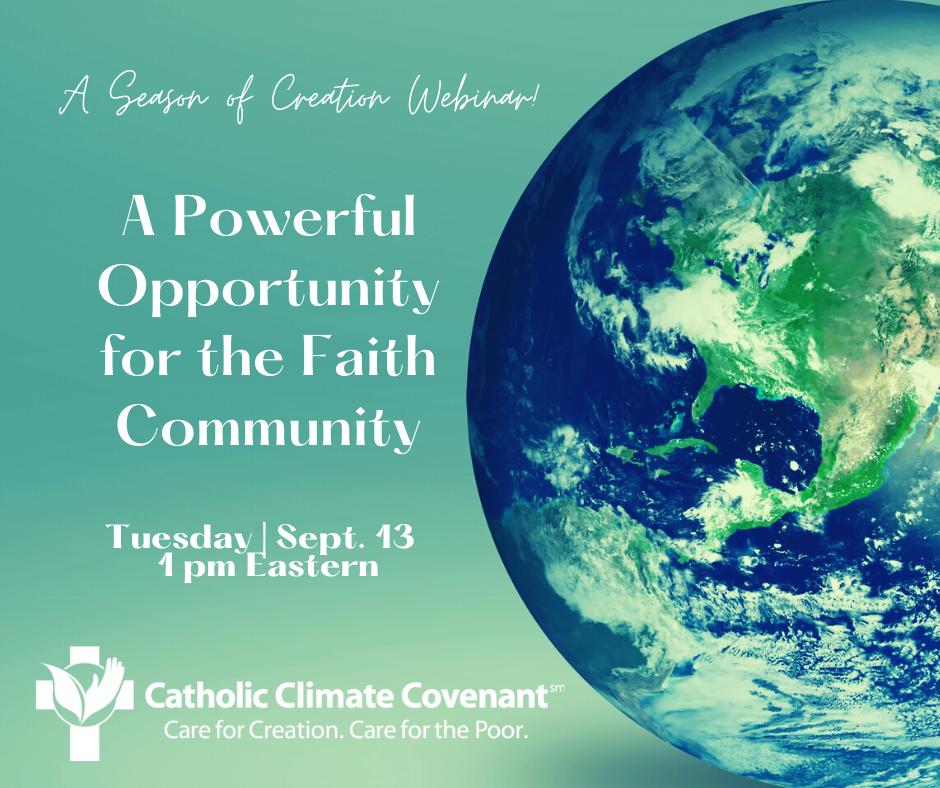 The Inflation Reduction Act (IRA) is now law, and it offers an unprecedented moment for climate and renewable energy investments and funding. Thanks to the work of thousands of U.S. Catholics who, through the Encounter for Our Common Home campaign, called on U.S. Members of Congress to support the IRA, we have a game-changing opportunity for U.S. Catholic facilities (and other non-profits) to be aware of and access a new financial landscape for solar and energy efficiency projects among other IRA programs. REGISTER
Presenters:
Jose Aguto, Executive Director, Catholic Climate Covenant Dan Misleh, Founder, Catholic Climate Covenant
Dan Last, Program Manager, Catholic Energies
New Resources to Listen to the Voice of Creation this Season of Creation!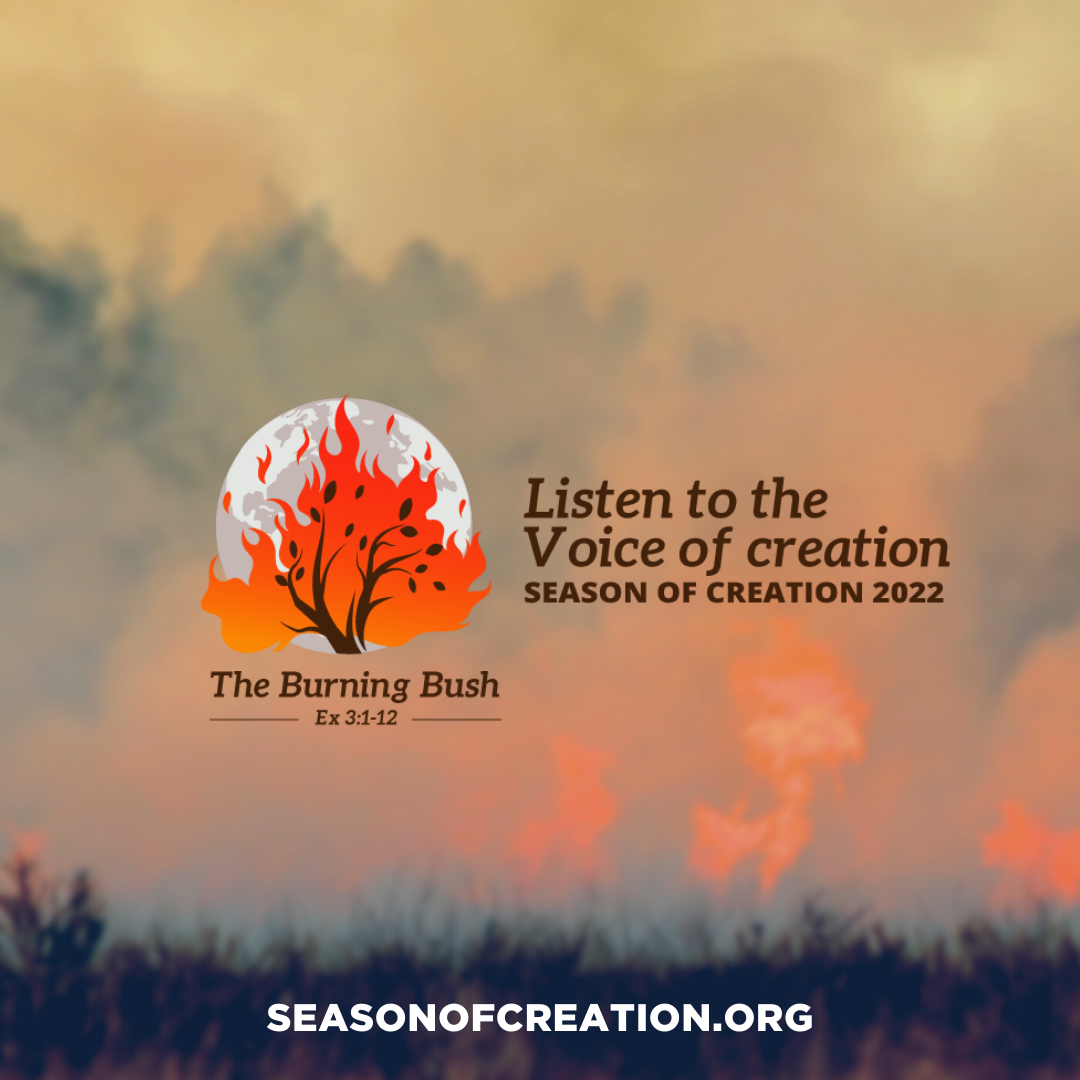 The theme for this year's Season of Creation, which began on September 1 and ends October 4 with the Feast of St. Francis, is "Listen to the Voice of Creation." As Pope Francis said in his message for this year's World Day of Prayer for the Care of Creation: "If we learn how to listen, we can hear in the voice of creation a kind of dissonance. On the one hand, we can hear a sweet song in praise of our beloved Creator; on the other, an anguished plea, lamenting our mistreatment of this our common home."
The Season of Creation is so special because it is a time to listen and renew our relationship with our Creator and all creation through celebration, conversion, and commitment. May we join our sisters and brothers in the ecumenical family in prayer and action for our common home – truly hearing the cry and glory of creation and acting in faith to protect and love it.
Catholic Climate Covenant has compiled 2022 Season of Creation resources from our U.S. Catholic partners, as well as the main international Season of Creation partners.
Display a new Season of Creation liturgical banner in your parish!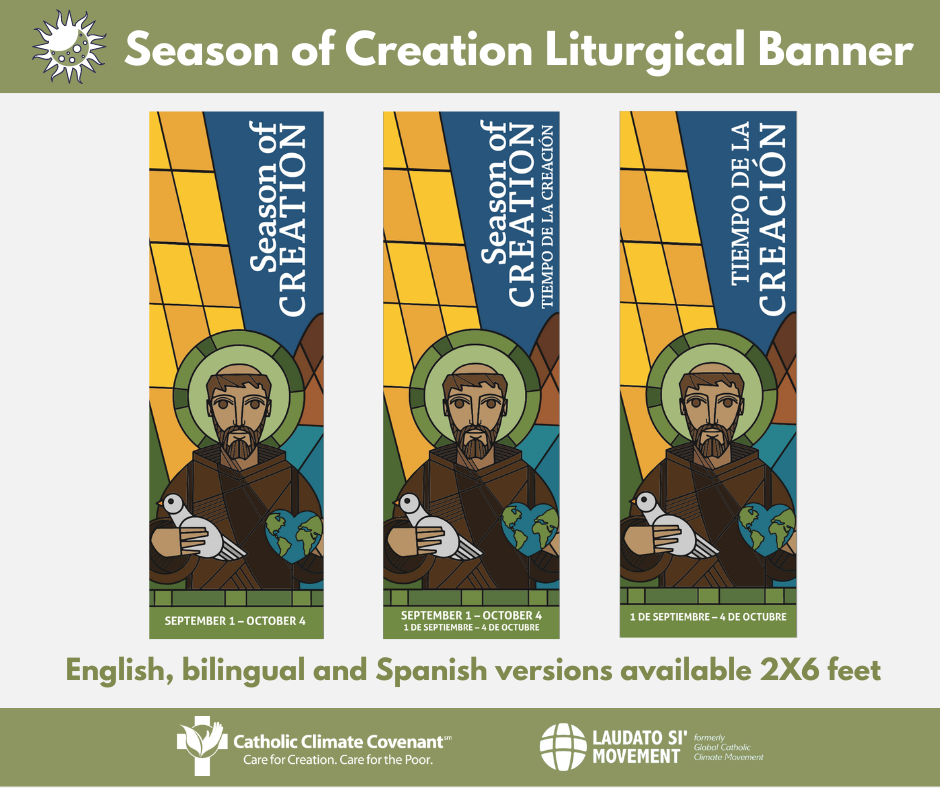 Catholic Climate Covenant and Laudato Si' Movement in the U.S. have partnered to offer the Season of Creation liturgical banner to dioceses, parishes, universities, schools, groups, and any community of faith that wishes to spread awareness of the Season of Creation. The banner, which features St. Francis with a dove, is 2x6 feet and available in English, Spanish and bilingual versions, and can be hung or displayed on a vertical stand.
The banner states Season of Creation is Sept. 1-Oct. 4th, and it can be used year after year. Learn more here.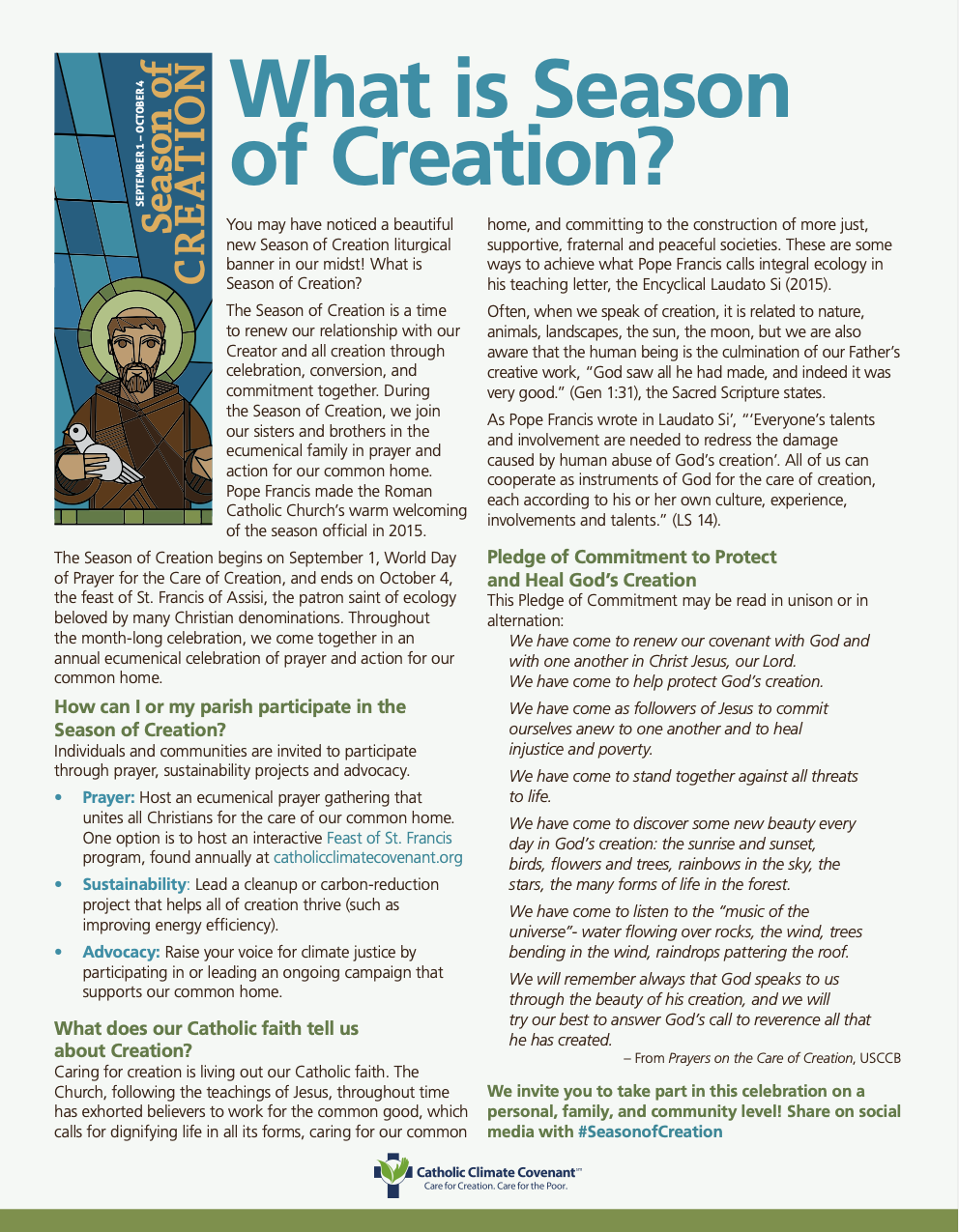 Accompanying Bulletin to Liturgical Banner: If you order the banner for your community, we invite you to download and print copies of the accompanying flier that shares more information about Season of Creation (optional.) View flier here and export it as a PDF for printing.
A Catholic liturgical guide for the Season of Creation
This plentiful new guide offers resources for celebrating and worshiping during the Season of Creation, including penitential rites, prayers for the liturgy, scriptural reflections and more. Assembled by Jesuit Father James Hug, the resources can help you celebrate the Season of Creation with the seriousness and prayerfulness it needs and deserves; help you grow in gratitude for the gifts of creation; and inspire you to take part in the response of the Catholic community around the planet as it joins its ecumenical and interfaith partners. The guide is available in English and Spanish.
Season of Creation events near you and online
There are a host of Season of Creation events planned this year. Head over to the Events page on God's Plan(et) to find one near you, as well as virtual events to join online.
One such event: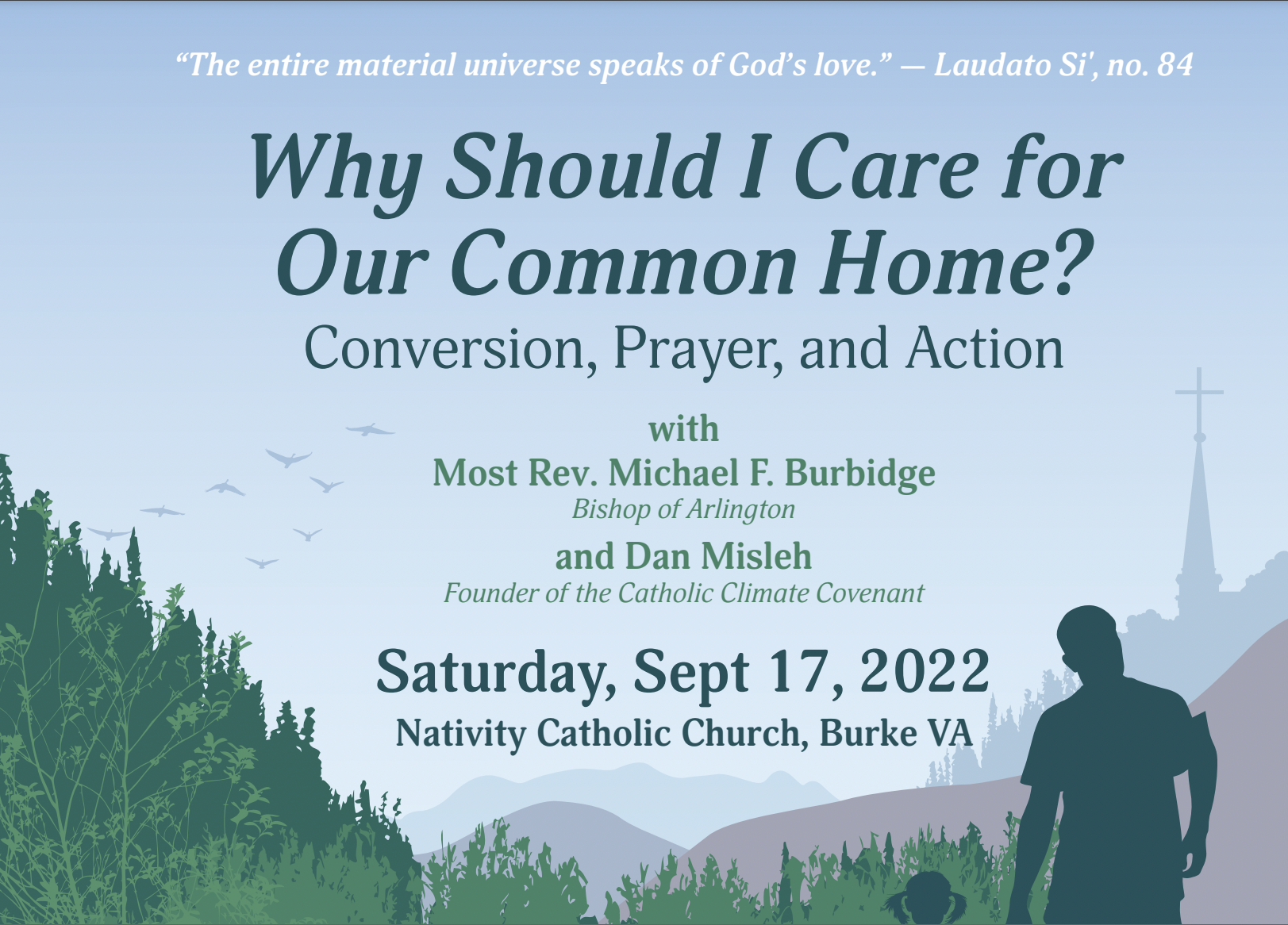 On September 17, the Diocese of Arlington, Virginia, will host an exploration of Pope Francis's encyclical Laudato Si', with a Mass celebrated by Bishop Michael F. Burbidge, a keynote address by our founder, Dan Misleh, and a panel discussion with Catholic community leaders about how to heal and protect God's gift of all creation. The Mass will be livestreamed at this link. Register for the event today!
Catholic Climate Covenant blog examines IRA
Catholic Climate Covenant Policy Advisory Henry Glynn wrote a blog examining how the Inflation Reduction Act aligns with Catholic teaching.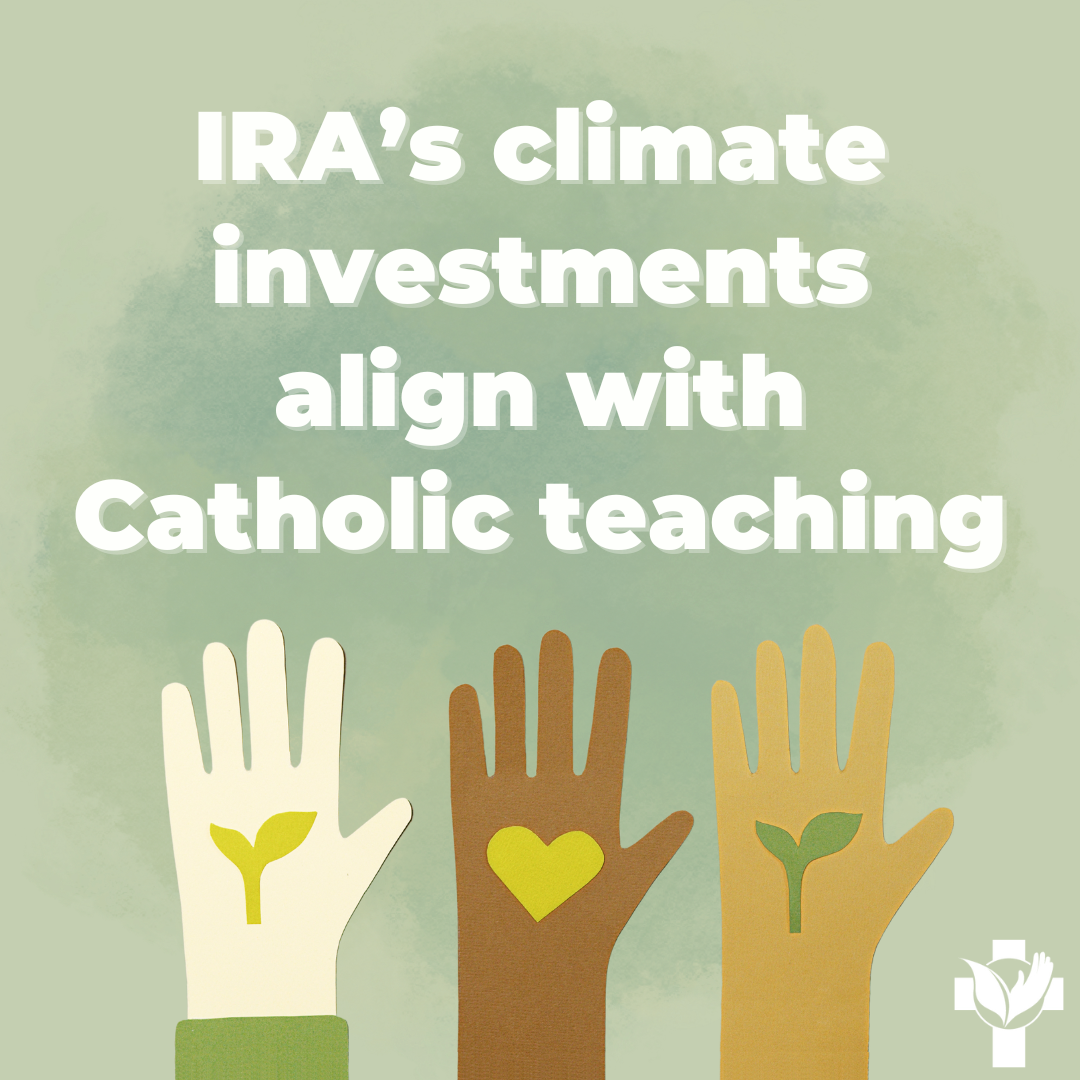 "If you asked me earlier this summer about my level of hopefulness for significant climate action this year, my answer might have been dire, but my heart told me to keep the faith alive. And here we are – over the next decade, our nation's climate investments will put the U.S. on a path to reduce emissions 40% below 2005 levels, effectively removing one billion metric tons of greenhouse emissions from the atmosphere. How did we get here? " Read the full blog here.
Join us for the Green Team Summit on the intersection of spirituality and climate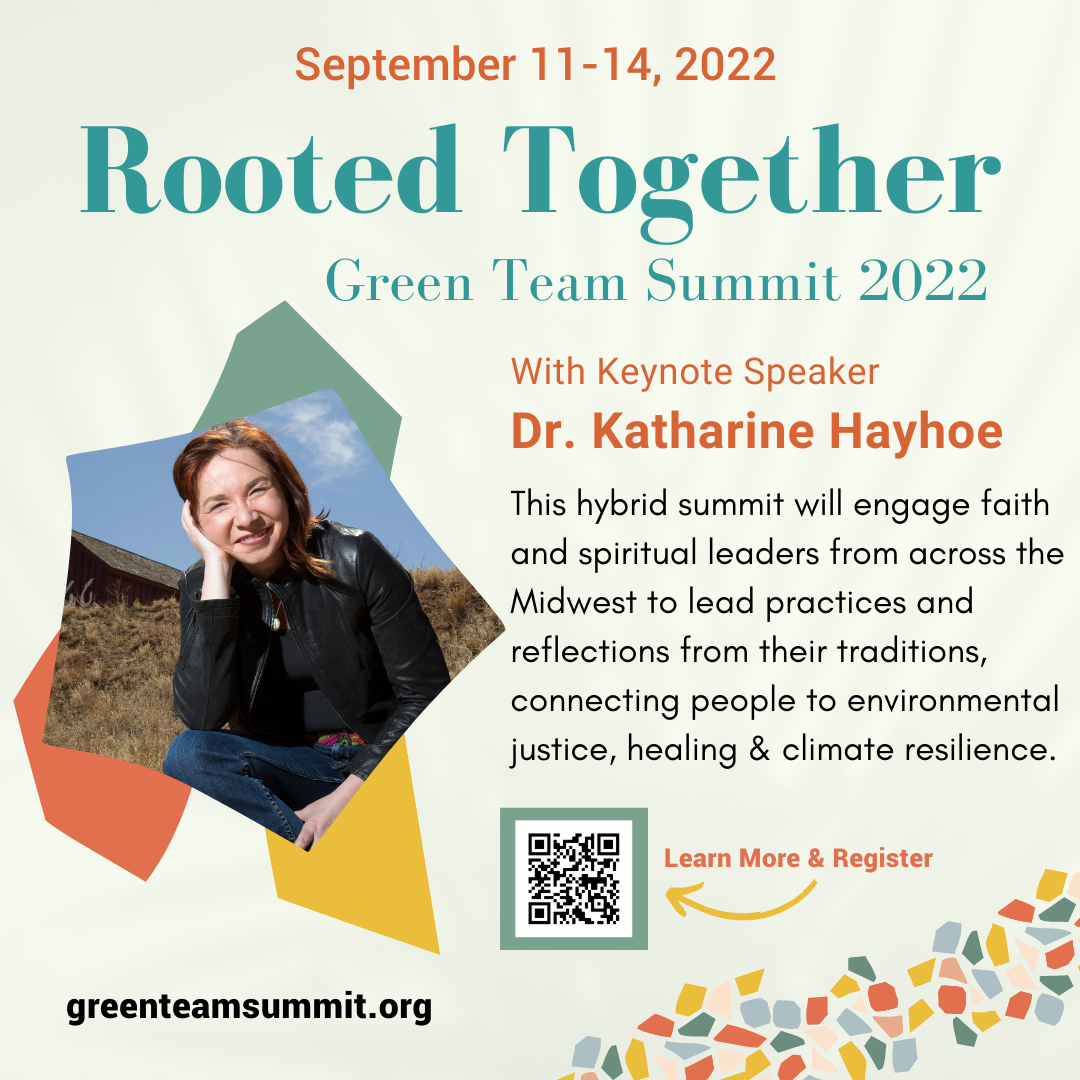 Catholic Climate Covenant is delighted to be an official partner of Faith in Place's 2022 Green Team Summit. With the theme "Rooted Together," this year's Summit -- taking place September 11-14 -- will be a hybrid event, fully accessible virtually with local watch parties hosted in Illinois, Indiana and Wisconsin. The full Summit will include 6 sessions exploring the intersection of spirituality, the environment, and justice.
The keynote speaker is Dr. Katharine Hayhoe, chief climate scientist for The Nature Conservancy and a distinguished professor and chair at Texas Tech University. She can often be found talking to people about why climate change matters and what we can do to fix it! Check out the Summit Agenda and register for free today!