Action of the Month:

Sign the petition for Climate Protection! Meet with your church leader to sign the Letter.
CATHOLIC CLIMATE COVENANT UPDATES:
Host a Feast of St. Francis event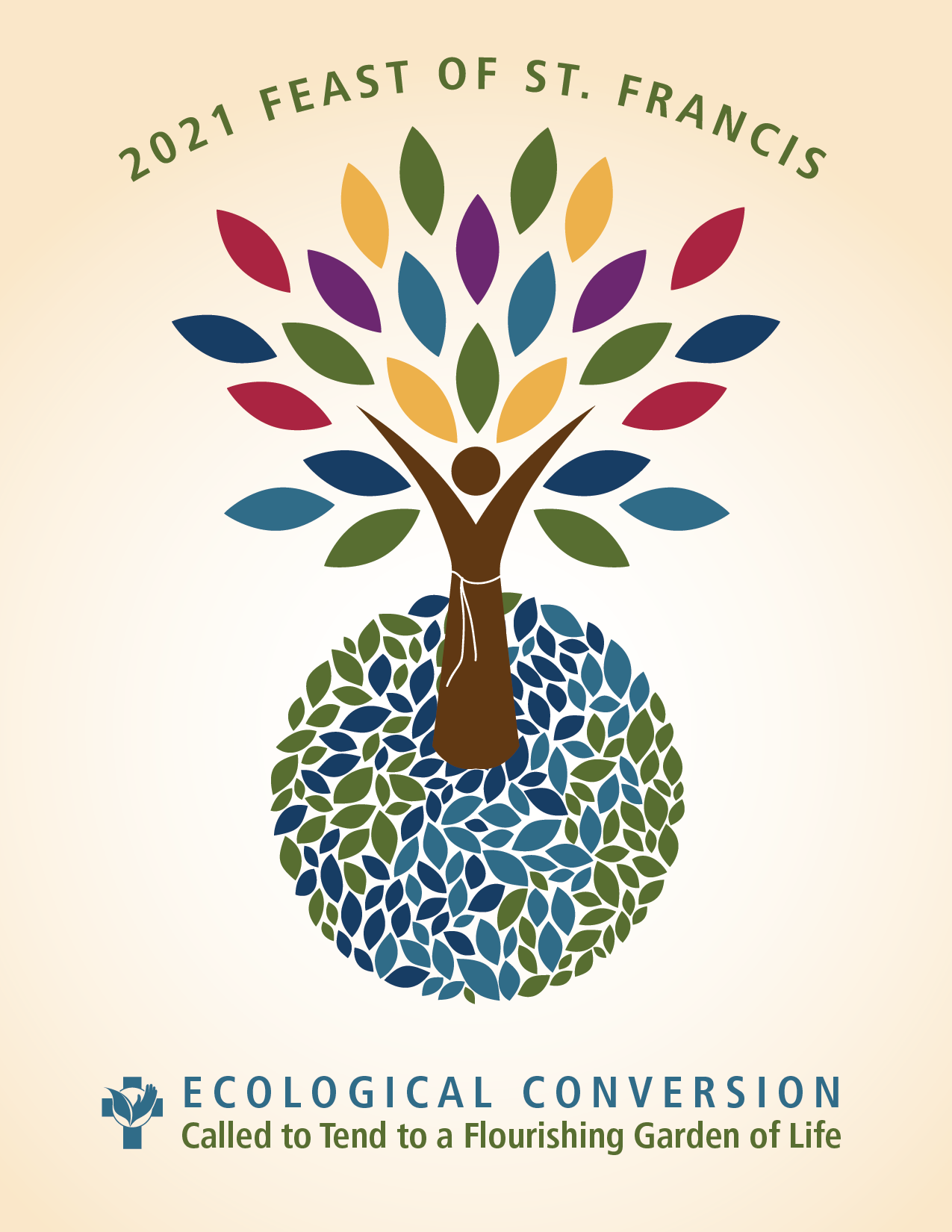 In collaboration with our partners, the Covenant provides an outline for a 90-minute Feast of St. Francis' program focused on Catholic social teaching and creation care. By hosting a 2021 Feast of St. Francis event, you are joining thousands of Catholics and other people of faith who want to learn, grow, and respond to the Church's teaching on caring for creation and the poor. Our new Facilitator Guide includes instructions, videos, scripts, links, and materials needed for a Feast of St. Francis program. This also contains useful background material to assist you if you are providing leadership on an online event. A Blessing of the Animals liturgy is also available.
Our executive director's biblical take on dire UN climate report
In response to a dire report from the United Nations Intergovernmental Panel of Climate Change, Dan Misleh, executive director of the Catholic Climate Covenant, told Catholic New Service that more and more people are experiencing the impact of climate change. Citing Matthew's Gospel in which Jesus asks the disciples "What parent among you would hand your child a stone when your child asks for bread?," Misleh said, "Young people are asking us older people to give them bread and nourishment and we keep handing them stones. We don't do what we need to do, to pass the gift of God's creation to them as we've done before."
Young Catholic activists are saving the planet. NBD.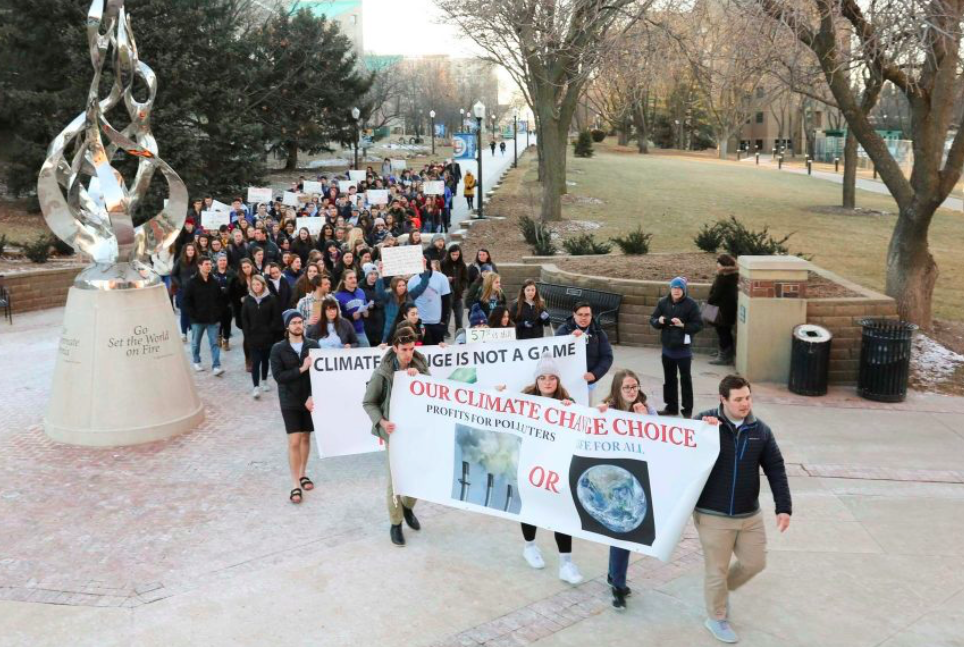 In his apostolic exhortation Christus Vivit, Pope Francis encourages young Catholics to be "the protagonists of change." Two recent media reports highlight members of Catholic Climate Covenant's Youth and Young Adult working group doing exactly that. In Missouri, Emma Heienickle aspires to lead the world in sustainable development through a social justice-oriented lens, according to a story in the St. Louis Review. The University of Missouri-Columbia senior played a leadership role during Catholic Climate Covenant's second biennial "Laudato Si' and the U.S. Catholic Church" conference in July. This summer, Heienickle was a research assistant in a sustainability science lab, helping with water resource analysis of the Yellowstone River.
An article in Catholic News Service highlights more great work by members of our Youth and Young Adult group. The story includes our own Emily Burke, who organized a successful fossil fuel divestment student movement grounded in Catholic and Jesuit values at Creighton University, where trustees agreed to divest school resources from fossil fuel companies.
The article also quotes Annapatrice Johnson, who helped coordinate the young adult track for our Laudato Si' conference. She said young people have a "feeling of angst of the impending doom" and want to be involved in protecting the Earth for future generations. The article also includes an important perspective from another conference leader: Teresa Tsosie, director of religious education at St. Jude Parish in Tuba City, Arizona, where she serves the Navajo people, who she said are experiencing unprecedented droughts. "We're trying to save the planet for the younger generation," said Tsosie, who is 34.
This Season of Creation, Hope Matters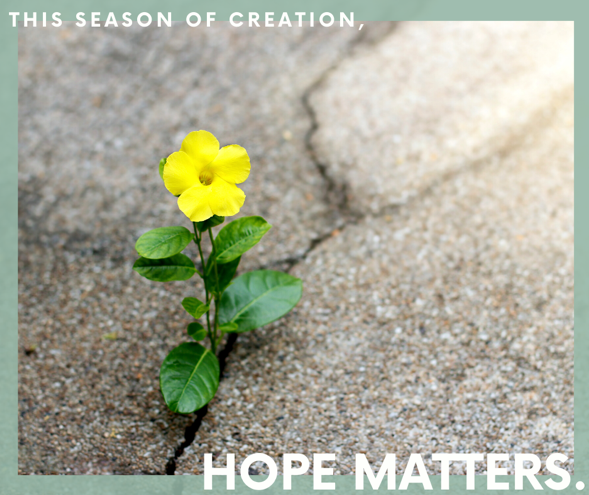 Enjoy this except from our latest Blog post and be inspired with the full post here:
Matter matters. Of the many notable takeaways from the closing keynote by Sister Ilia Delio, OSF, PhD, Josephine C. Connelly Endowed Chair in Theology at Villanova University at last month's Laudato Si' and the U.S. Catholic Church Conference, this point stood out above the rest.
As we celebrate this Season of Creation, I am reminded of Sr. Ilia's inspiring message. As she describes, the energy in the ecosystem around us and all of nature is tangible, experienced, and real. Sr. Ilia references the phenomenon of quantum entanglement to explain this interconnectedness. She describes two particles that, when separated, can produce an unexplainable effect on one another, referring to the effect as "non local action at a distance."
And yet there was another angle that captured my imagination as I followed Sr. Ilia's discourse on the insights of scientist, theologian, and philosopher Fr. Pierre Teilhard de Chardin. If matter matters, and entangles with other matter, something else must matter too: hope.
Watch: Bishops to host webinar on 'Care for Our Common Home'
On October 4, the U.S. Conference of Catholic Bishops will help host a webinar dedicated to "Care for Our Common Home," a guidebook jointly published by the United States Conference of Catholic Bishops, Catholic Association of Diocesan Ecumenical and Interreligious Officers, and Catholic Climate Covenant. Bishop Joseph C. Bambera of Scranton, Chairman, Bishops' Committee on Ecumenical and Interreligious Affairs, said of "Care for Our Common Home": "This guide offers insights into how Catholics can bring the riches of the Catholic theological tradition to ecumenical and interreligious discussions and actions that uphold the dignity and sanctity of our environment." The bishops' webinar will feature Sister Pamela Smith, director of the Office of Ecumenical and Interreligious Affairs for the Diocese of Charleston. Sister Smith has written 15 books, including "What Are They Saying about Environmental Ethics?" and "EarthTones: Praying the Psalms with All Creation." You can register here.
Catholic Energies News
Virginia Interfaith Power & Light highlighted Father John Grace and his Immaculate Conception Church in Hampton, Virginia. With the help of Catholic Energies, the parish has gone 100% solar. "While it was true there was a financial saving for the church, it wasn't the only reason to move to solar," Father Grace said. "We wanted to make this the first step in actively becoming a partner with others in caring for our common home."
Last month, Catholic Energies, the Covenant's solar and energy efficiency development program, also helped the following projects: The Diocese of Richmond prepared their 11th and 12th solar installations at parishes and schools. Religious Congregations of Men is helping kickstart solar projects for the Salesian Society, Order of the Passion, and Marist Brothers in New York and the Oblates of Mary Immaculate in Illinois and Texas. Catholic Charities of Nevada is nearing the end of its new solar roofing project, one of the largest nonprofit installations in the state! The Brothers of Christian Schools plan to install a 213kW solar ground array at its 106-acre former provincial headquarters and Catholic Funeral and Cemetery Services is working with Catholic Energies and the Diocese of Oakland to bring solar and energy savings to four diocesan cemeteries.