ACTION OF THE MONTH:

Season of Creation Call to Action Continues

Catholic Climate Covenant, Laudato Si' Movement, St.Columban Mission for Justice, Peace and Ecology, Sisters of Mercy of the Americas Justice Team, Ignatian Solidarity Network, Maryknoll Office for Global Concerns, Franciscan Action Network and Leadership Conference of Women Religious invite you to place climate justice for our vulnerable neighbors at the heart of our prayers, advocacy, and action during this 2023 Season of Creation.
Ask the Biden Administration to stop fossil fuel expansion and consider the forgiveness of debt of developing nations at COP 28. To further these goals, you can:
Organize a prayer service in an ecologically impacted place near you

Sign the forgiveness of debt letter (online) during the prayer service, or anytime during Season of Creation, and share it widely

Take a picture of the place and people gathered at the prayer service

Post your prayer service to social media tagging President Biden, Special Envoy Kerry, and Secretary Yellen (social media links and language here), and let them know we are #PrayingForYou to take strong action on fossil fuels and debt relief.
The "2023 SOC Advocacy Activity Guidelines" from Laudato Si' Movement can support the Season of Creation Call to Action, as well as Covenant's 2023 "Feast of St. Francis Program."
Webinar Oct 5th: Join us to discuss Pope Francis's new apostolic exhortation on the environment!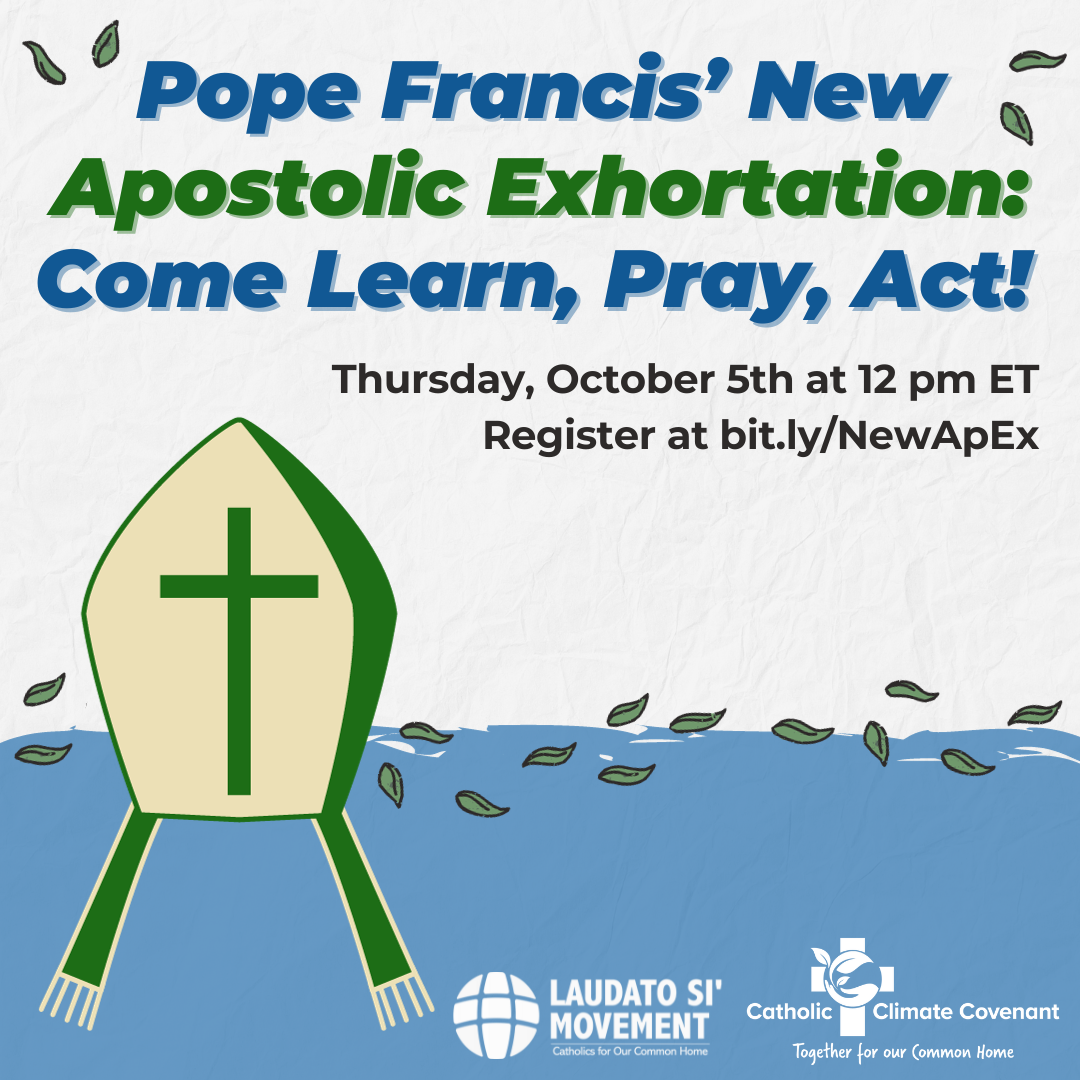 Join Catholic Climate Covenant and Laudato Si' Movement-US on Thursday, October 5 at Noon (Eastern), to learn about and respond to Pope Francis' highly anticipated Apostolic Exhortation, Laudate Deum, which is scheduled to be released on October 4th. We'll also pray for the current state of creation and all who work to protect our common home, and join the Catholic community in taking urgent actions!
This one-hour webinar will include presentations summarizing the main themes of the Apostolic Exhortation, and lift the voices of scientists, young people, and those most impacted by the ecological crisis.

Date: Thursday, October 5th 2023
Time: 12 pm (ET)/11am (CT), 10am (MT), 9:00am (PT)

The conversation will be recorded, and the recording will be sent to all who register. If you have questions, please contact Paz Artaza-Regan (paz@catholicclimatecovenant.org)
Event: Wholemakers gathering Oct 12 co-hosted by Maryknoll and Covenant
Join us at an upcoming online gathering hosted collaboratively by Maryknoll and the Catholic Climate Covenant to discuss Wholemakers, a groundbreaking resource for young adults focused on creation care and integral ecology. Hear the story behind the creation of this curriculum and learn more about how to implement Wholemakers in your community.
The online gathering will be on Thursday October 12 at 5pm pt/7pm ct/ 8pm et; Register here.
Developed for young adults, by young adults, this resource weaves together the latest climate science with insights from the Catholic tradition to equip young adults to be the faithful protagonists of transformation the world needs.
This collaborative project is sponsored by Catholic Climate Covenant and Maryknoll Fathers and Brothers, with contributions from the Youth and Young Adult Ministries Office within the United States Conference of Catholic Bishops' (USCCB) Secretariat of Laity, Marriage, Family Life, and Youth and the Intercommunity Peace and Justice Center in Seattle, WA.
Advocacy: Support the Prove It Act
Mechanisms to reduce carbon emissions must be explored, especially because the poor and future generations will suffer the most harm. The Prove It Act (S-1863) is legislation that is the first step in a carbon border adjustment mechanism process that could provide a significant tool to encourage the lowering of carbon emissions by countries worldwide. The process basically puts a price on carbon for goods produced outside the U.S. -- an effective way to lower harmful emissions.
Learn more and support this important effort from the Citizens' Climate Lobby Prove It Act background and call to action here.
Resource: 2023 Feast of St. Francis Program available!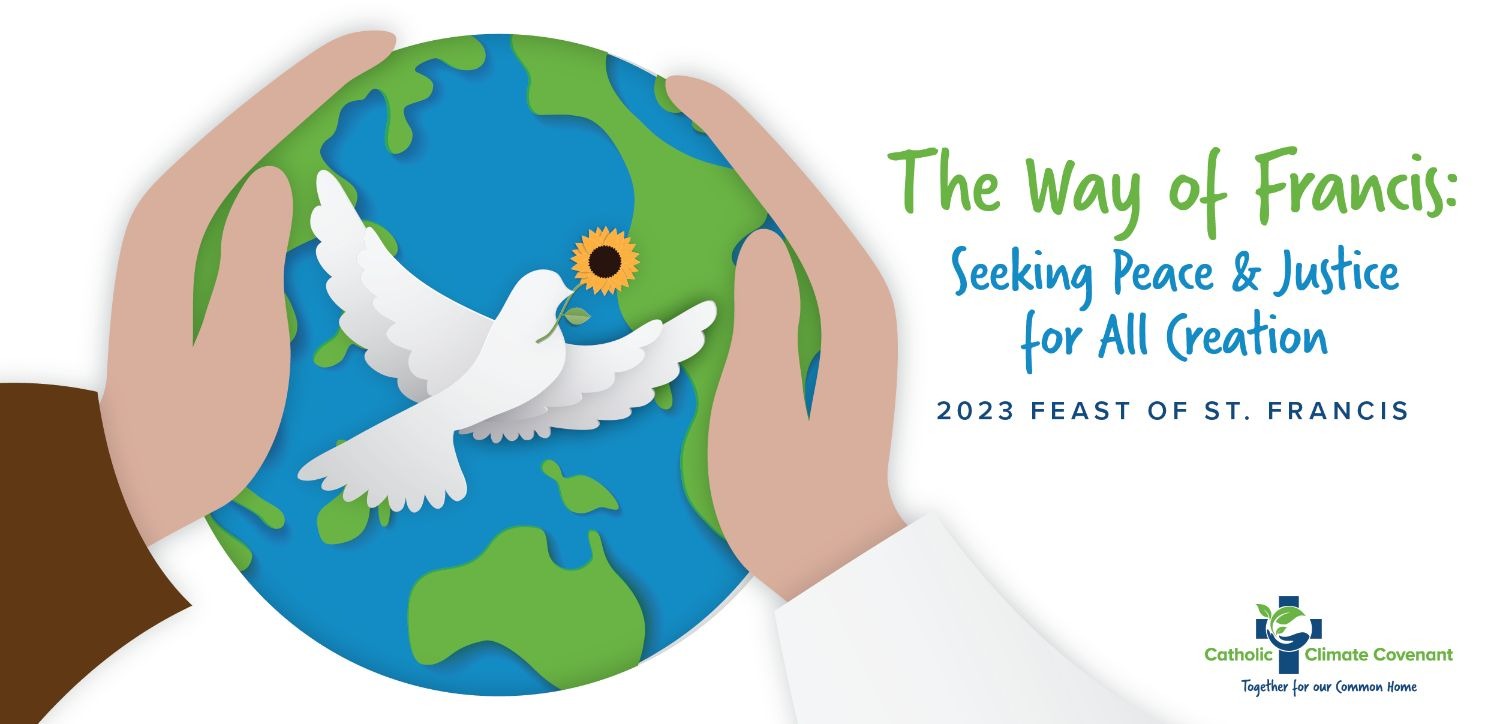 If you have not seen it yet, the 2023 Feast of St. Francis Program, "The Way of Francis: Seeking Peace and Justice for All of Creation," is designed to assist you, your family, parish, school, diocese, religious community, or other Catholic institution learn about Catholic nonviolence and the "Franciscan" call to seek peace and justice for all of creation.
The 90-minute program enables U.S. Catholics to host in-person or virtual sessions to grow in their understanding and call to care for creation as integral to the Catholic faith through prayer, education and action. Sign up to receive the program today!
Board Spotlight: Sharon Lavigne
We're excited to kick off our Spotlight Series, highlighting the awesome individuals who help our organization run. We're beginning with our Board Members, the newest of which is the incredible Sharon Lavigne of RISE ST. JAMES! Read on to learn all about her and follow us on social media to see all the spotlights! Facebook, X, Instagram, LinkedIn.
CCC in the News
Youth speak up and march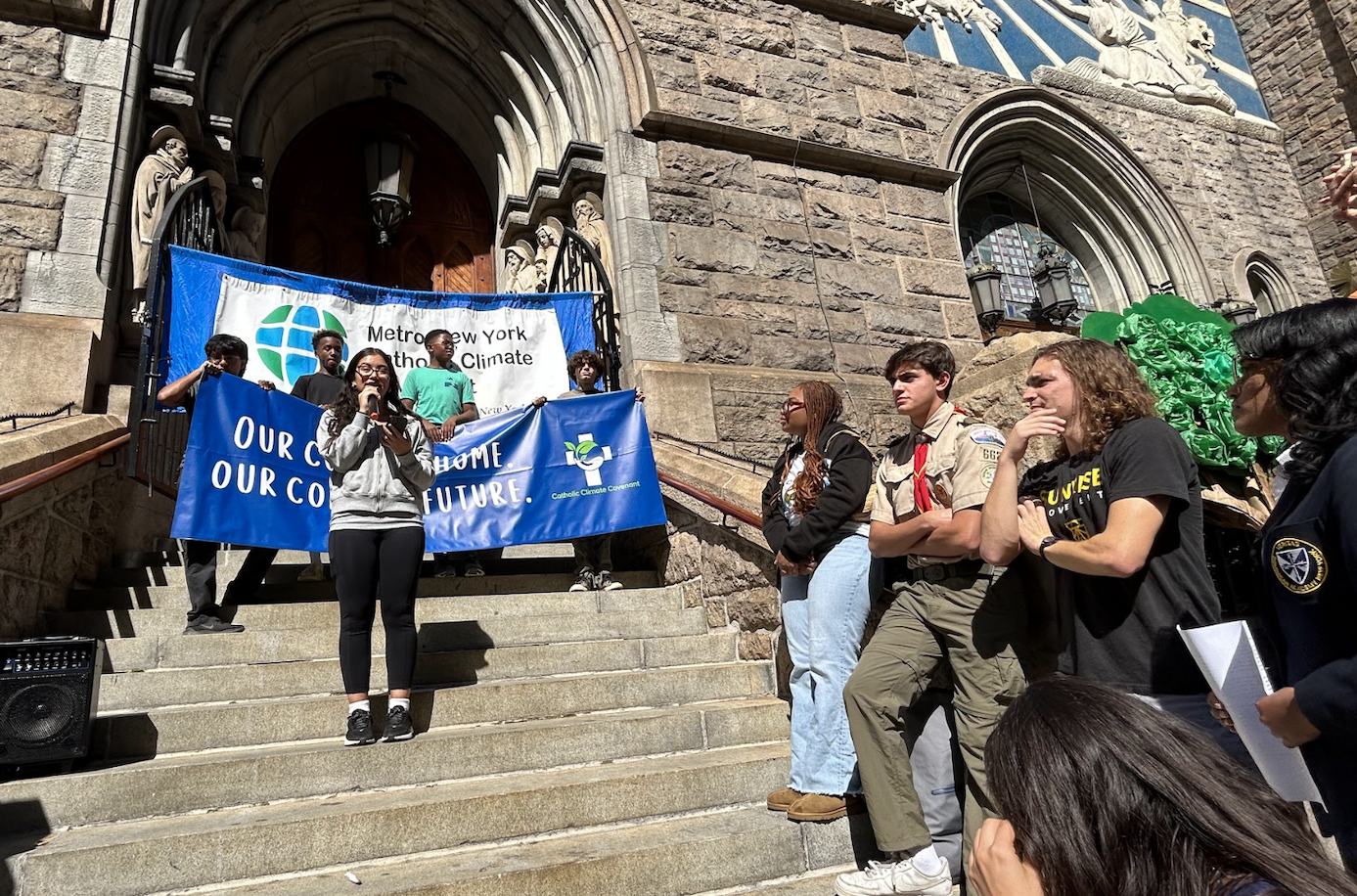 An estimated 75,000 demonstrators from 700 organizations and activist groups, including Catholic Climate Covenant, took to the streets of New York City on Sept. 17 in the March to End Fossil Fuels.
Before the march — and after a Mass at St. Paul the Apostle Church in Manhattan — Catholic Climate Covenant's Youth Mobilization program held a press conference on the steps of St. Paul before marching with the Catholic contingent organized by Metro NY Catholic Climate Movement. You can watch it here: https://youtu.be/_ctP1Z-48tQ The event featured young Catholics who called for climate action and shared powerful personal testimonies. You can view more photos and video from the event on our Instagram page: @catholic.climate.covenant.
And please be sure to check out this powerful Instagram interview with Sharon Lavigne, President of the environmental justice group Rise St. James.
Hopes for Climate Ambition Summit
Catholic Climate Covenant leaders also shared their thoughts on the United Nations' first-ever "Climate Ambition Summit" with OSV news.
"It is our hope that this Climate Ambition Summit generates a deeper appreciation for our climate predicament and that all leaders — business and political, secular and religious — feel and embrace the urgency of the climate crisis and provide hope for future generations," said Dan Misleh, founder of Catholic Climate Covenant.
"As a country and as the largest faith community in the country, we have an obligation to do all we can to reduce our own carbon footprint through ambitious energy transition programs, examination of our carbon intensive lifestyles, and a recognition that we have the means, if not the will, to care for those who suffer the most from our neglect."
A focus on debt relief
National Catholic Reporter covered Catholic Climate Covenant's campaign to convince President Joe Biden to use debt relief as a means to "unlock critical funding" for countries most vulnerable to the impacts of a rapidly heating Earth.
The letter campaign, organized by Catholic Climate Covenant and joined by seven co-sponsors, asks that the United States forgive or significantly restructure debts it holds with other nations as a central piece of its international climate policy at the upcoming U.N. climate summit, COP28.
"For us to have a climate solution that is of scale and commensurate with the actual need, we really need to be ambitious and innovative in unlocking this kind of funding," Catholic Climate Covenant executive director Jose Aguto told NCR's EarthBeat.
American Climate Corps announced
OSV news spoke to Kayla Jacobs, program manager of youth mobilization at Catholic Climate Covenant, about the Biden administration's creation of a new American Climate Corps, which the White House described as a "workforce training and service initiative … for good-paying careers in the clean energy and climate resilience economy."
"We know from experience working with youth in the faith and environment space that our efforts to address the climate crisis will go nowhere if the voices of young people, especially those from frontline communities, aren't front and center," Jacobs said.
Spanish-language address at Latin American church symposium
Paz Artaza-Regan, the Program Manager for Creation Care Teams at Catholic Climate Covenant made a short presentation at a Latin American Church Symposium focused on the transition to just energy. You can read her excellent presentation in English here: version
Great work, team!