Ignatian Family Teach In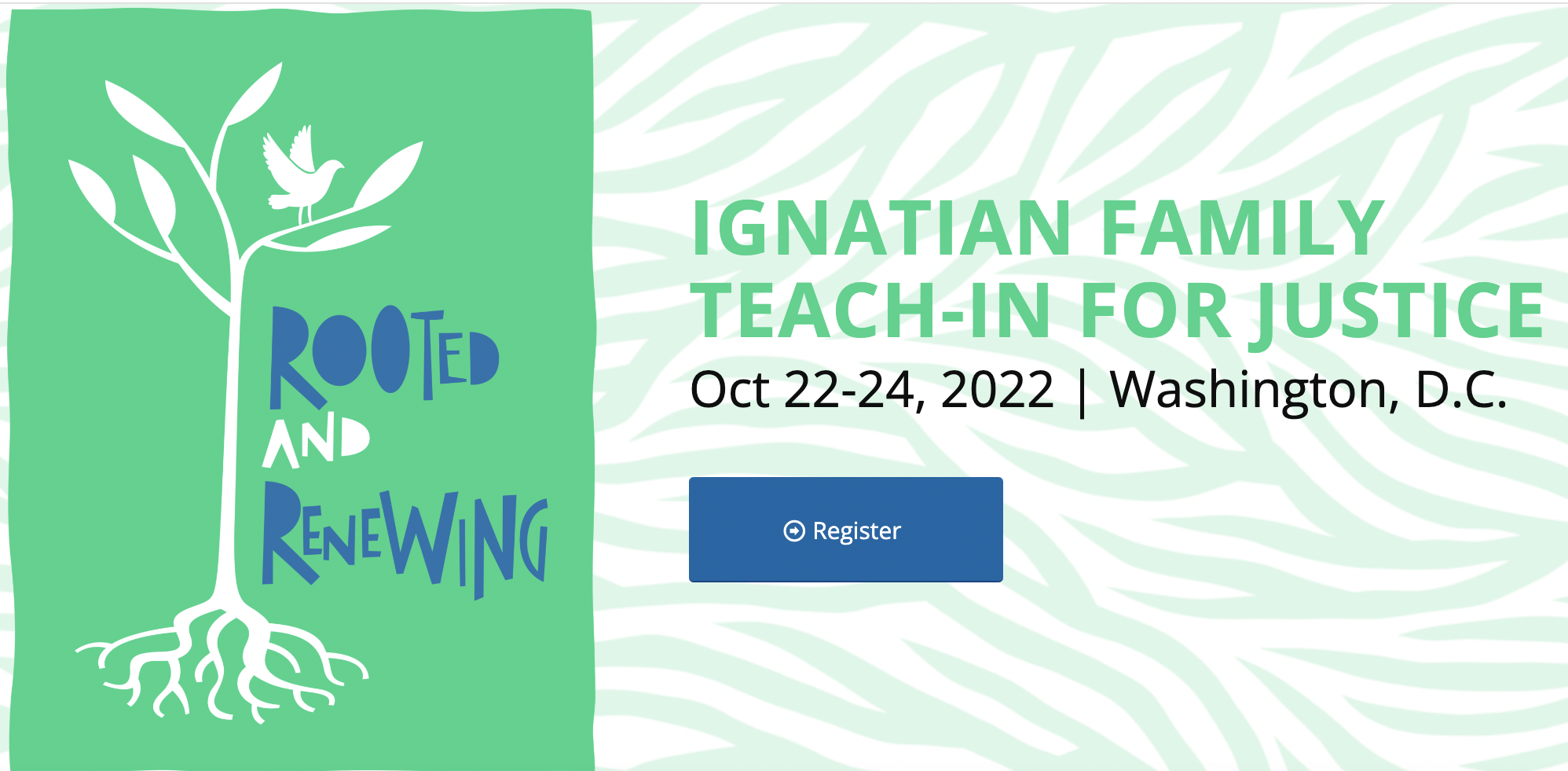 In a few short weeks, from October 22-24, the Ignatian family will gather in Washington, D.C., for the 25th annual Ignatian Family Teach-In for Justice—coming together to be transformed, connect with others who are passionate about faith and justice, and be inspired to take action to build a more just world.

If you're able to join the gathering in Washington this year, you are invited to: 
register for Solidarity on Tap @ IFTJ with guest speaker Michael O'Loughlin, author of Hidden Mercy: AIDS, Catholics, and the Untold Stories of Compassion in the Face of Fear.
If you can't join us this year in-person, you are welcome virtually via the FREE IFTJ Livestream! Subscribe by clicking here to receive livestream updates and info before and during IFTJ 2022.
Lear how to host a Climate Vigil in your community!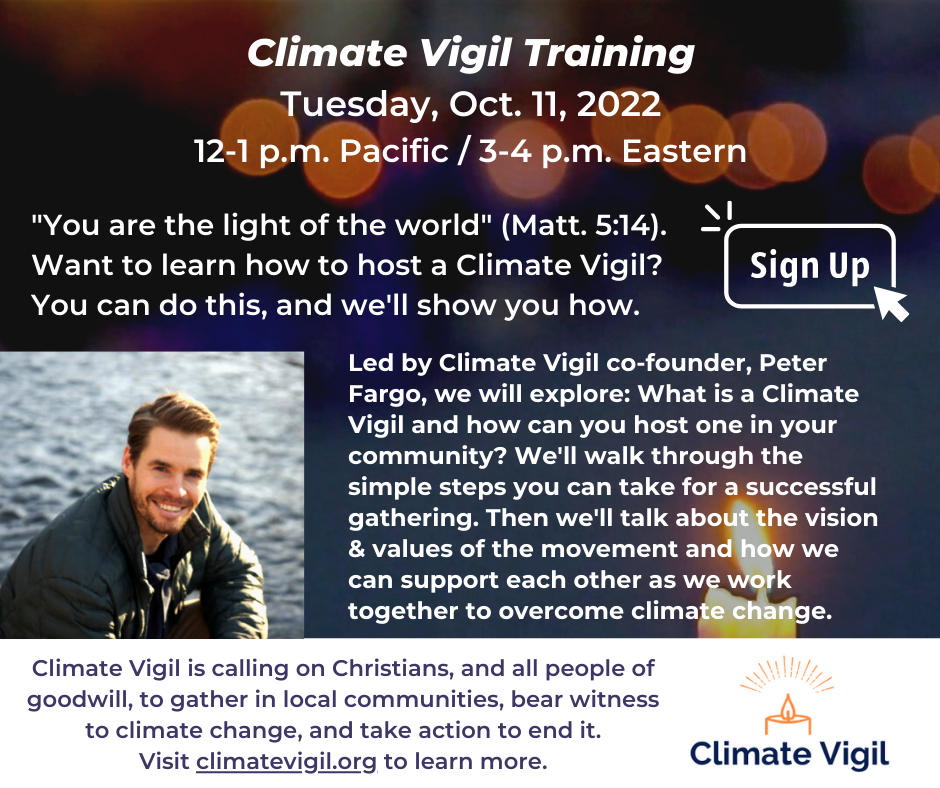 Want to host a Climate Vigil in your community? Sign up to learn how! (https://bit.ly/3UWBGja) You can join us live via Zoom on Tuesday, Oct. 11 @ 12-1 p.m. Pacific / 3-4 p.m. Eastern. Those who register will also receive the recording.
Details: Led by Climate Vigil co-founder, Peter Fargo, we will explore: What is a Climate Vigil and how can you host one in your community? We'll walk through the simple steps you can take for a successful gathering. Then we'll talk about the vision & values of the movement and how we can support each other as we work together to overcome climate change.
@ClimateVigil #BeTheLight
Join the Laudato Si' Movement for exciting divestment announcement 
The Laudato Si' Movement invites your institution to join their divestment announcement on November 2, to let world leaders at the UN climate conferences know we want change!
Already, trillions of dollars have been divested, and Catholics are the largest group among faith-based investors. That is because Pope Francis has led the way by hosting three conferences on impact investing at the Vatican and calls for all Catholics to divest. Learn about Dayton University, Georgetown, Seattle University, and Creighton University, who have all divested. Please get in touch with Joseph D'halluin, Laudato Si' Movement Divestment Officer, for further information, to register your interest, or to share your thoughts: Joseph@laudatosimovement.org. The deadline to join the announcement is October 25. 
Catholic Relief Services Speaker Series "We are Called To Care: Our Faith and Climate Change"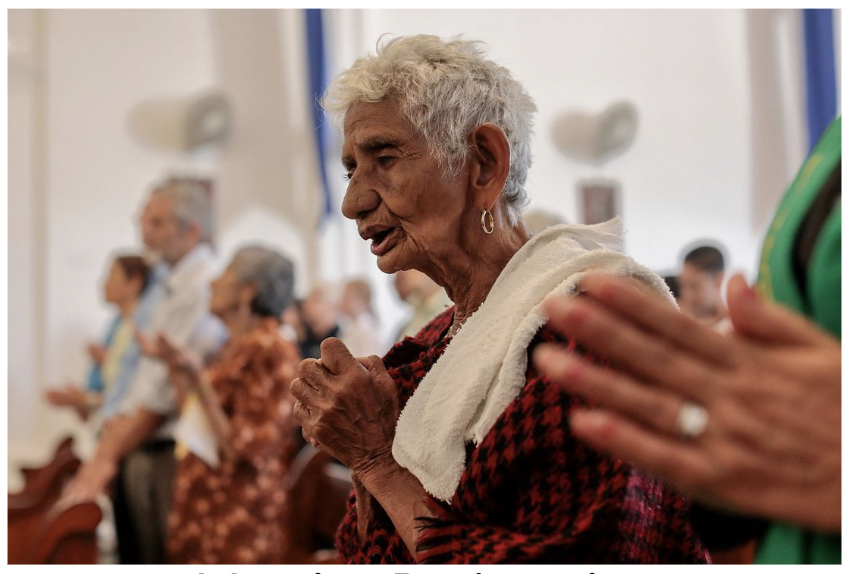 Join Catholic Relief Services for 15-minute lunch break talks to inspire learning and action on climate change. In three short but powerful talks, learn how you can partner with CRS to care for our common home, take action through advocacy and make an impact worldwide through community giving. Tune in each month starting this October for 15 minutes at noon EST. There will be simultaneous Spanish translation. Father Josh Cochran, CRS Global Fellow, will kick off this brief and uplifting series on October 19 as he frames climate change and the importance of caring from the perspective of our Catholic Faith. Register via this link.
Virtual speaker series on climate change: Caring for Our Common Home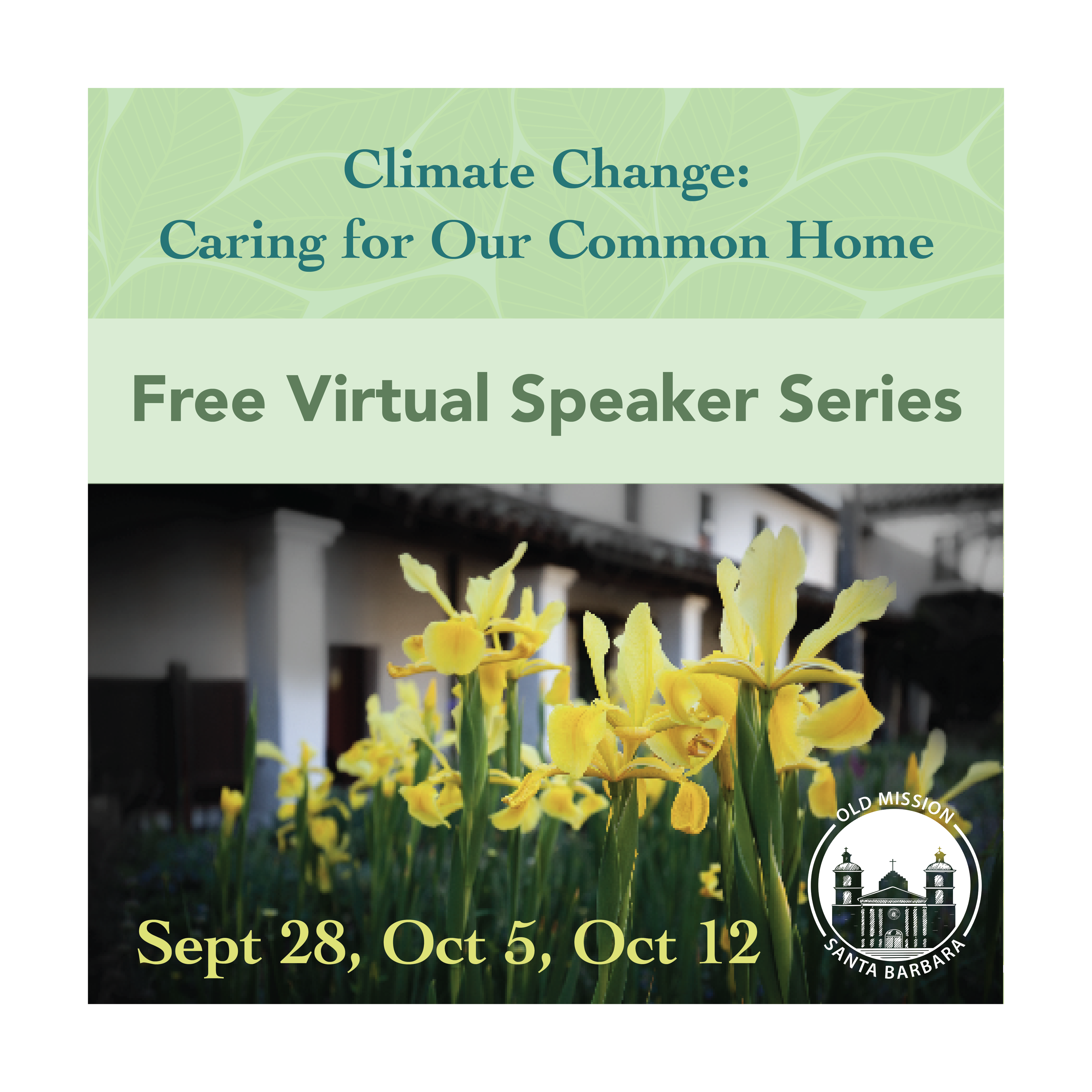 Old Mission Santa Barbara in California is presenting a free virtual speaker series called "Climate Change: Caring for Our Common Home." You'll hear from scientists, Franciscan friars, and spiritual leaders, as they discuss climate science, the cry of the Earth and the cry of the poor, ecospirituality and climate justice. Register here. A Zoom link will be provided via email upon registration. If you are unable to tune in for the live talk on Zoom, registering will also ensure you receive a link to watch the video of the talk after the event. 
PA Interfaith group invites you to join their annual conference 
Pennsylvania Interfaith Power and Light would like to invite all members of the Catholic Climate Covenant network to join their Annual Conference on November 13th. This year's theme is Environmental Justice & Human Resilience, and will feature a virtual keynote address, response panel session, and workshops at four, in-person locations designed to address regional issues. You can register via this link. 
For more online and in-person events, visit the God's Plan(et) website: https://godsplanet.us/events
Catholic groups protest deal to fast-track energy projects
After passage of the Inflation Reduction Act and its investments in combating climate change, Catholic groups turned their attention to stopping proposed legislation that would streamline the permitting process for energy infrastructure projects, according to National Catholic Reporter.  
The bill would pave the way for the Mountain Valley Pipeline, a project championed by Sen. Joe Manchin. Catholics with the Sisters of Mercy, the Maryknoll Office for Global Concerns, the Franciscan Action Network, and the Dorothy Day Catholic Worker house joined other activists in Washington on Sept. 8 to protest the deal. According to recent reports, it has been stripped out of the current spending bill but could be resurrected in other legislation later this year.
Cardinal calls for tourists to consider sustainable development and local needs 
On World Tourism Day on September 27, Cardinal Michael Czerny, prefect of the Dicastery for Promoting Integral Human Development, called for tourism that respects workers, protects the environment and enriches a country's cultural heritage. The Canadian cardinal continued, "The sustainability of tourism, in fact, is measured not only in terms of pollution, but also in the impact on the biodiversity of natural and social ecosystems."
Pope encourages young entrepreneurs to increase 'spiritual capital' 
Pope Francis encouraged nearly 1,000 young adult economists, entrepreneurs, financial advisers, scholars and scientists from 120 countries attending an Economy of Francesco event in Assisi to dedicate themselves to preserving and increasing their "spiritual capital."
At the end of the meeting, participants gave Pope Francis a pact, promising to work for "an economy of peace and not of war; an economy that counteracts the proliferation of weapons, especially the most destructive ones; an economy that cares for creation and does not plunder it; an economy at the service of the person, the family and life, respectful of every woman, man, child, the elderly and especially the frail and vulnerable."
Catholic governors called out for exploiting migrants 
Catholic columnist Phyllis Zagano took Govs. Greg Abbott and Ron DeSantis to task for using vulnerable migrants as political props by sending them to Massachusetts and New York, noting that many fled countries ravaged by climate catastrophes exacerbated by rich nations. From 1750 through 2020, greenhouse gas emissions totaled 1.7 trillion tons from the developed world's use of fossil fuels. 
Zagano writes, "All of that causes global warming, and global warming changes the weather. Lakes and streams disappear, and with them forests and vegetation. Livestock, let alone people, cannot survive in burgeoning deserts. Either they move or they die. …These escapees crowd the cities and find no work. They are the migrants."  
Catholic uniforms could have high levels of toxic chemicals, study says 
Clothing items typical of uniforms in Catholic schools, like polo shirts and plaid skirts, could be sources of high levels of toxic "forever chemicals" and pose potentially serious health risks for the millions of students wearing them, according to a new study reported in NCR.
Perfluoroalkyl and polyfluoroalkyl compounds, or PFAS, are human-made chemicals often referred to as "forever chemicals" because of their slow breakdown and buildup in people, animals and the environment. Some of the more than 12,000 different compounds have been linked to a number of health effects, including cancer and fertility issues in adults, and developmental delays in children.
Sisters Act!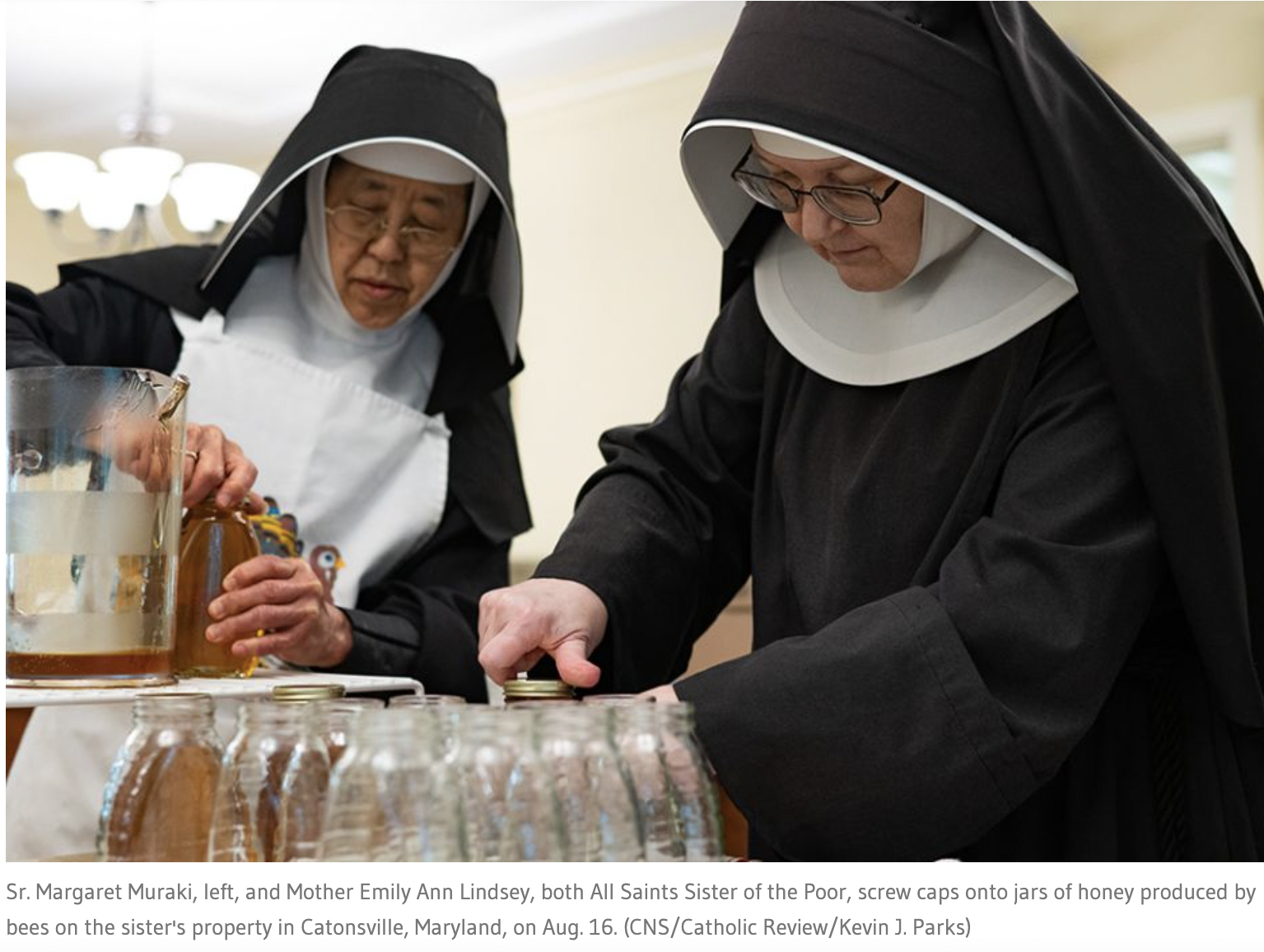 Global Sisters Report shares this story about honey produced by "bees-in-residence" at the All Saints Sisters of the Poor Convent in Catonsville, Maryland. The sisters have long nurtured bluebirds, raised monarch butterflies and rehabilitated injured or sick animals. "When you are interacting with creation, you are actually partaking in that creation in a different way," said Mother Emily Ann Lindsey, superior general of the religious community. "It feeds us spiritually because it brings us closer to our Lord through what he's created."
News from Parishes and Dioceses …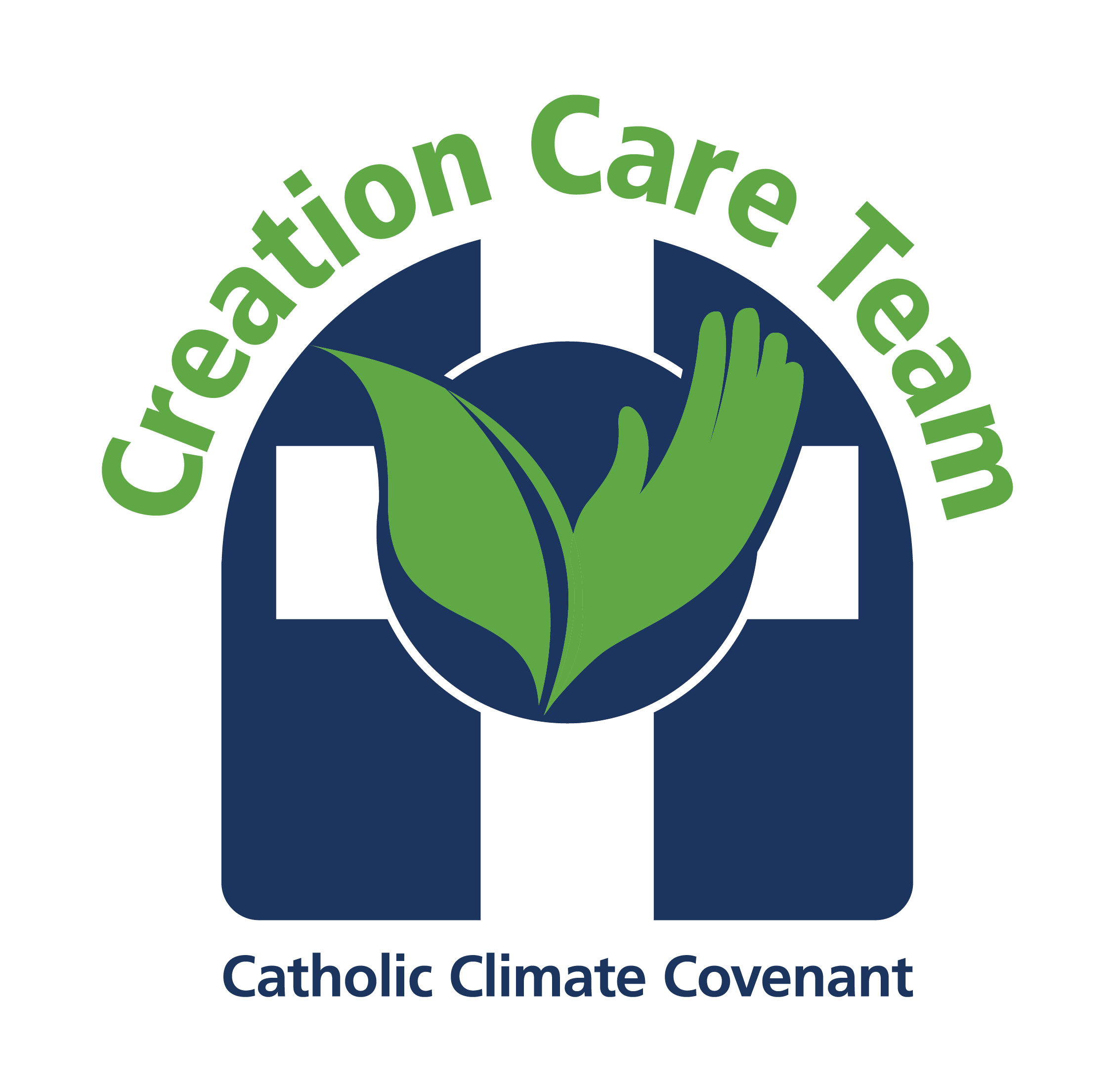 The Season of Creation began in San Diego with much celebration as Bishop Robert McElroy was elevated to Cardinal in Rome. Cardinal McElroy's strong understanding of climate change and environmental degradation, as well as his support for strong action, received much attention. The Creation Care Ministry is working with the diocesan Office of Construction on the Net Zero Pathway initiative to get diocesan buildings to net zero by 2050, hoping to draw on the resources made available by the Inflation Reduction Act. 
The Diocese of Davenport, Iowa continues to work on the Laudato Si' Action Plan, which it plans to release to the diocese in October. Additionally, the Creation Care team plans to begin Phase I & II energy use audits from Verdis in Omaha by way of the Catholic Climate Covenant. 
The Care for Creation Team serving the Archdiocese of Saint Paul/Minneapolis is building a proposal for a Laudato Si' Action Plan for the Archdiocese with a goal of having a Laudato Si' Action plan by November 2023. This plan will be guided and led by young adults. They are also fostering a collaboration with EnerChange to do energy audits for every parish who is interested at zero cost to the parish. 
The Diocese of Joliet hosted their annual Season of Creation Prayer Service in partnership with the Wheaton Franciscan Community, reporting that "it was a beautiful, intergenerational, and bilingual event." Here is a recording. 
The Archdiocese of Indianapolis Creation Care Ministry joined Archbishop Thompson and Alexander Mingus of the Indiana Catholic Conference at a meeting with Senator Mike Braun and continues working with the Archdiocese to develop a plan for the Laudato Si Action Platform. 
The Arlington Diocese in Virginia held an in person and virtual conference: "Why Should I Care for Our Common Home? Conversion, Prayer and Action" with Bishop Burbidge presiding at Mass and answering that question in his homily, followed by a conference and keynote address by Dan Misleh, founder of Catholic Climate Covenant. A pledge program was initiated to accept pledges from families and individuals to pray, learn and act.
The Atlanta Archdiocese continues to engage additional churches and schools into the Laudato Si Initiative with a rolling enrollment. Participating churches and schools receive energy and water audits and reports giving opportunities to reduce energy and water. Georgia Interfaith Power and Light provides grants to upgrade their facilities. A waste audit is being refined and will be used throughout the Atlanta archdiocese and available to other archdioceses.   
The Newark Archdiocese Environmental Justice Task Force reports that they are finalizing edits on the Laudato Si Action Plan, and Cardinal Joseph Tobin has agreed for the Newark Archdiocese to join. On October 26 the task force will host a webinar on "The Parish as Oasis," based on a new book by members of the Jesuit Center for Faith and Justice in Dublin, Ireland.  More on the book can be found here.
The Archdiocese of Washington, D.C. reports that Green Teams are focused on improving parish grounds as habitat for native plants and pollinators and developing parish vegetable gardens as a resource for local food banks.  St. Rose of Lima in Gaithersburg, MD, and St. Camillus in Silver Spring, MD, are part of an interfaith program ("Sacred Grounds") sponsored by the National Wildlife Federation that includes help in developing native plant gardens on parish sites and organizing native plant giveaways to parishioners who pledge to plant them at their homes.  Members of the Archdiocesan Care for Creation Committee are also engaging the Archdiocese in a discussion about the use of artificial turf at Catholic schools and facilities, growing out of concerns that artificial turf presents ecological, health and safety, and financial problems that should militate in favor of not installing any more such fields. The Archdiocese will be combining respect-for-life, disability awareness, and care for creation concerns in a special Archdiocesan Mass that will be celebrated by Cardinal Gregory on October 30.  This is seen as an opportunity to underline the fact that care for creation concerns are also pro-life concerns.