From the Founder: Delivering Support for our Common Home
Dear Friend,
I was honored to help deliver a letter addressed to President Biden to State Department officials last week with more than 4,000 signatures. Many of you added your name and we thank you! The letter was sponsored by nine national Catholic organizations urging the administration to take a leadership role during the upcoming United Nations summit on climate change in Sharm El Sheikh, Egypt.
The letter urged the Biden Administration to encourage all nations at this meeting to dramatically reduce global greenhouse gas emissions and provide meaningful assistance to the nations and peoples most impacted by climate change.
The global summit, known as COP27 (it's the 27th meeting of the Conference of Parties) comes at a critical time for our planet. A recent UN report found that just 26 of the 193 countries that agreed last year to increase their efforts to combat climate change have actually done so. Without drastic reductions, the UN report said, the planet is on track to warm by an average of 2.1 to 2.9 degrees Celsius, which will condemn the Earth -- and particularly poor people -- to a future filled with intense flooding, wildfires, drought, heat waves and species extinction. 
Join us in praying that political leaders across the globe will hear the cries of the poor and of the earth, as Pope Francis has eloquently said, and exhibit moral courage to protect both before more damage is done. 
In addition to our prayers, we must encourage our Catholic brothers and sisters to vote on November 8 and we must help Catholic institutions to take advantage of new incentives to reduce emissions through renewable energy and energy efficiency projects. Besides lowering emissions, such projects also save money and, most importantly, demonstrate to all that Catholics care for creation and our common future.
We will partner with you by providing resources including webinars and trainings, study guides and teachings.
But there is more. To continue offering these services and expand our reach, we need your help. If you believe our educational, organizing and advocacy efforts are important, then consider Catholic Climate Covenant in your year-end giving.
Our end-of-year fundraising campaign kicks off with Giving Tuesday on Nov. 29th – stay tuned for how to participate!
Grateful as always,
Dan
Dan Misleh
Founder
Catholic Climate Covenant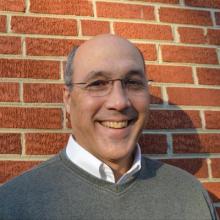 Catholic Climate Covenant Updates
NEWS UPDATES
Join us for final "Texting for Creation" tomorrow, November 2nd!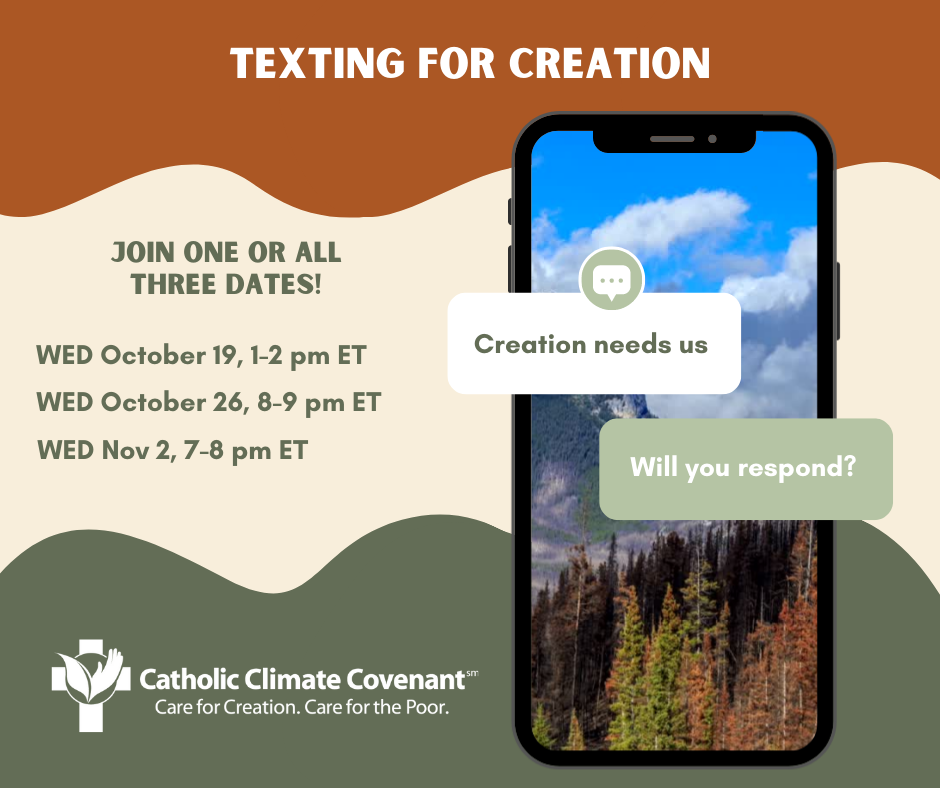 Catholic Climate Covenant warmly invites you to participate in our final "Texting for Creation" event tomorrow, on November 2nd, a week before the November 8 midterm elections. We invite you to connect with other U.S. Catholics and encourage them to vote to protect our common home. The event will be interactive, fun, and low-stress – and they don't take any special technology skills! We hope you will join us! 
When: Wednesday, November 2, 7:00-8:00 PM ET: texting Arizona voters – register here!
Where: on Zoom! Texting voters is quite simple, and training will be provided on each call.
How: Together on Zoom, we will use an easy-to-navigate website to send pre-filled text messages to thousands of Catholics in AZ. Your personal phone number will not be during this process.
Why: In Evangelii Gaudium, Pope Francis reminds us that participation in political life is a moral obligation for Catholics. Voting is a key expression of our faith, especially on behalf of our common home. The ecological crisis is on the ballot this and every election, asking us to prudently consider the options before us and make an informed decision. Encouraging fellow Catholics to vote is a form of evangelization and love.
Sign up for the webinar on "Faith, Food, and the Environment" this Thursday, Nov 3rd!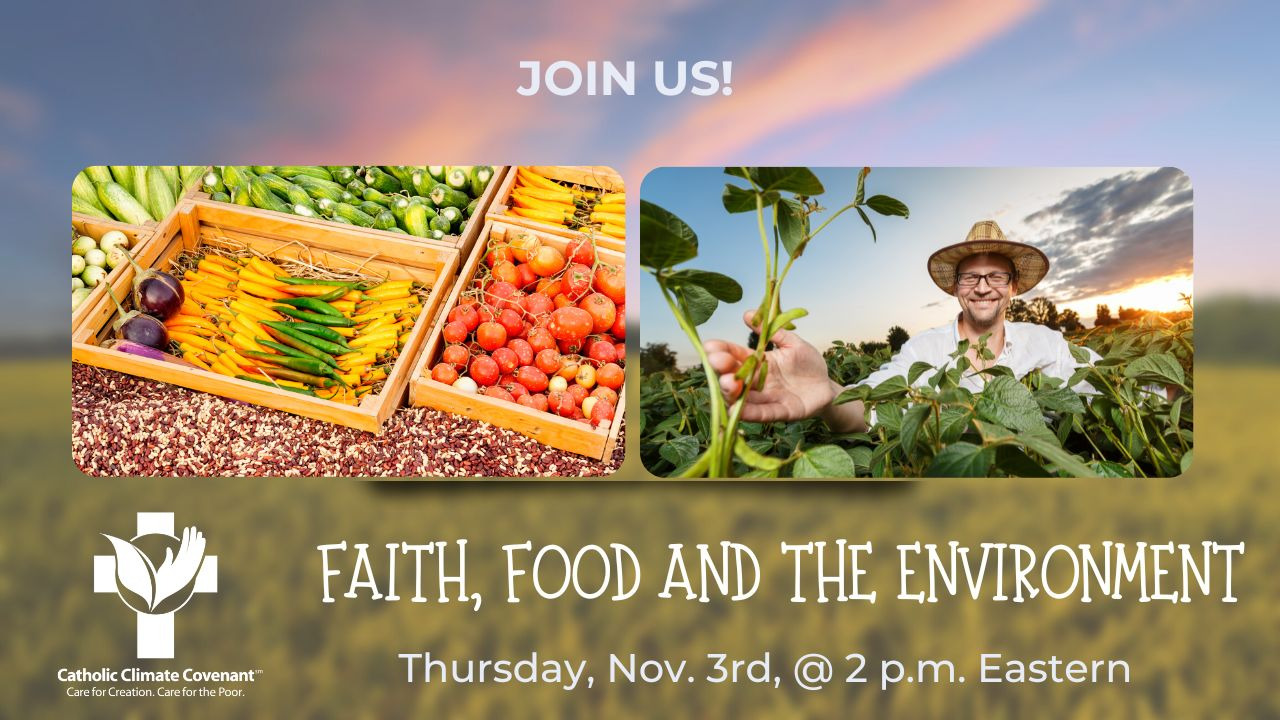 At a time of an ongoing global pandemic, armed conflicts, climate change, chemical pollution, rising food practices, and the ever-growing loss of land for food production, the need to build sustainable and just agricultural and food systems has never been more urgent. Please join our Faith, Food, and the Environment webinar on Thursday, November 3rd from 2:00-3:00 p.m. (Eastern). Catholic Rural Life has focused on answering the critical questions:
Can our farming methods give back as well as take from creation?

Can we rediscover a more intimate, conscious, and respectful relationship to Earth, its biodiversity, and its creatures? 
Come learn how Catholic Rural Life inspires and supports the good work that today's agricultural leaders are doing for the glory of God, and hear how one Catholic farmer is leading the change of how we grow our food. The webinar will be recorded and all who register will receive a link! Register here.
Delivered! Thank you for signing our letter to President Biden ahead of COP27

Our U.S. Catholic Letter, co-sponsored by nine Catholic organizations and signed by more than 4,000 U.S. Catholics and people of faith, was delivered to the Biden Administration on October 27th, urging them ahead of COP27 to encourage all nations to dramatically reduce global greenhouse gas emissions and provide meaningful assistance to the nations and peoples most impacted by climate change.
In the photo below, Jesse Young, Senior Advisor, Special Presidential Envoy for Climate, State Department, receives the letter and signatures from the interfaith leaders who delivered it, including Rev. Susan Hendershot of Interfaith Power and Light, our founder Dan Misleh, and steering committee member Marianne Comfort with Sisters of Mercy. Read the signed Letter.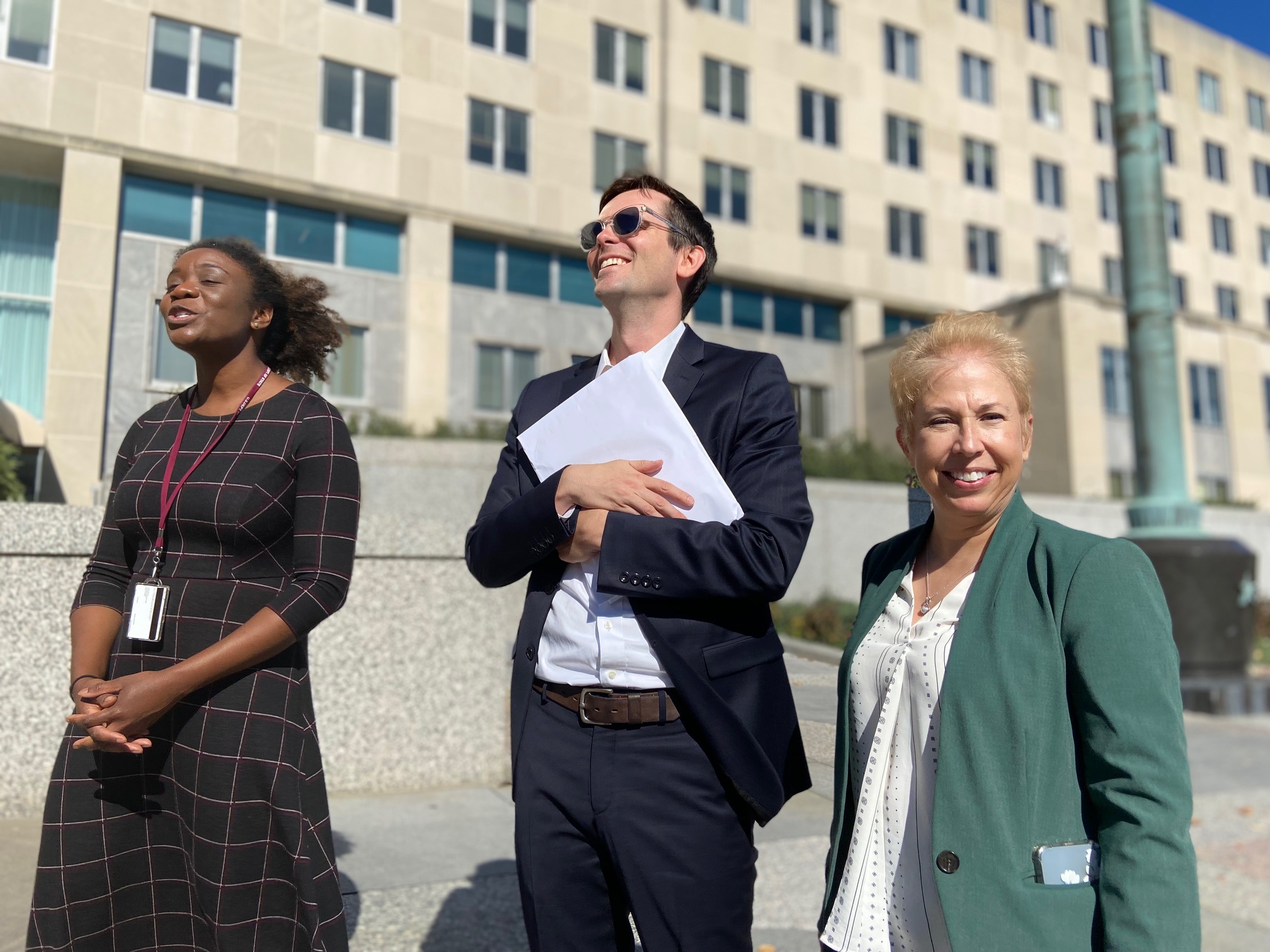 As Catholics guided by the call to care for our vulnerable neighbors and our common home, we asked the Biden Administration to exercise leadership at the upcoming UNFCCC Conference of Parties (COP27) with moral courage and exceptional ambition.
CO-SPONSORED BY: Catholic Climate Covenant, Sisters of Mercy, Franciscan Action Network, Catholic Health Association, Carmelite NGO, Maryknoll Office for Global Concerns, Leadership Conference of Women Religious, Ignatian Solidarity Network, Laudato Si' Movement.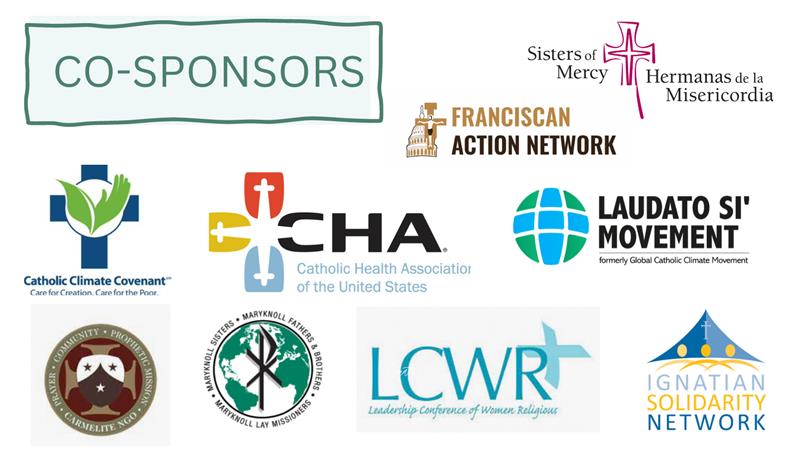 Catholic Climate Covenant's social media manager writes about 'unmuting Creation'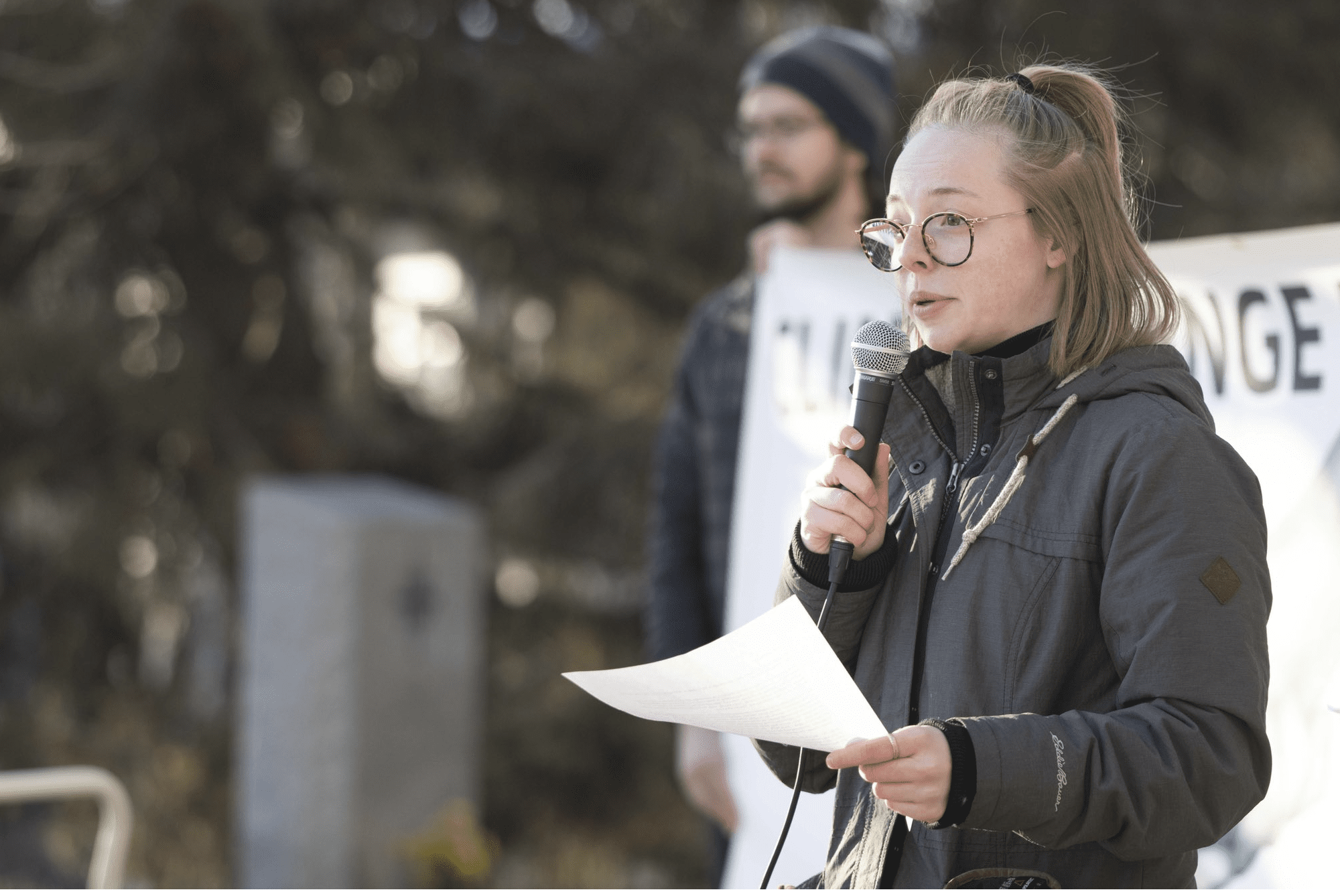 Emily Burke, Catholic Climate Covenant's social media manager, wrote an insightful essay for Jesuits.org, explaining how her Creation Care work is an example of the Ignatian idea of "contemplation in action." Emily writes: "For each of us, the doing will look different, but our journeys start the same — with unmuting. Unmute creation and listen to the voices of the Earth, of vulnerable communities and of young people. I promise we have a lot to say." 
From our Blog: Catholics in Oakland launch air quality study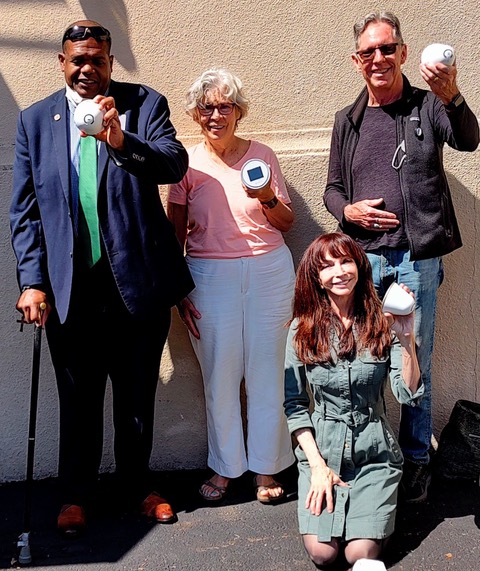 According to health experts, air pollution causes nearly one in five deaths worldwide, not only because it leads to lung and heart diseases, but also dementia and other ailments.
Now Dr. Janice Kirsch, a member of St. Augustine's Social Justice Ministry in Oakland, CA, is doing something about it by following the pope's lead, combining her faith with her concern for Creation. This summer she piloted a parish-based program to study air quality in Oakland, whose particle pollution from car traffic, waterfront ports, wildfires and oil refineries have led the American Lung Association to regularly rank it as among the top five worst urban areas for breathing.
From our Social Media on All Saints' Day and All Souls' Day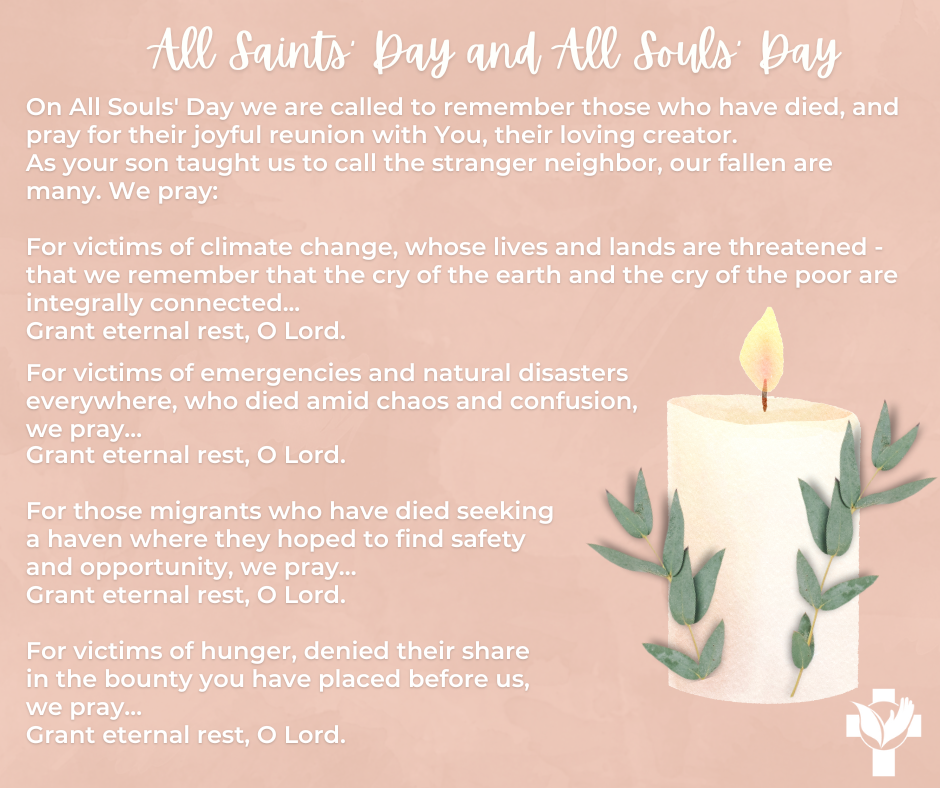 For the latest prayers, resources, programs, and news, be sure to follow us on social media!
How socially responsible investing can save the Earth -- and save you money! 
Do your investments really make a difference for the Earth, human rights and in lobbying corporations? On Nov 8, 2022 at 6:30 p.m. Central, join Sister Barbara Jennings of the Sisters of St. Joseph of Carondelet for the Franciscans for Earth Eco-Series presentation entitled "Successes & Stalls; Leaders & Laggards." The discussion will focus on the moral impact of your investments, and how sustainable investment saves money in the short and long term. Register for the presentation on Zoom here.
Register Now for the 2023 Catholic Social Ministry Gathering!
"Blessed are the Peacemakers": January 28 – 31, 2023, Washington, D.C. Don't miss this transformative annual gathering for leaders in Catholic social ministry and advocacy! This year, we will gather in person to pray, learn, and advocate together on our Catholic call to help heal a world broken by conflict, division, and inequality. Dynamic presentations and workshops will invite us to work together as a Church to think creatively and boldly about how we can create opportunities for healing and renewed encounters. Then, we'll raise our voices in solidarity by advocating with our members of Congress.
This year's in-person gathering will include:
Inspiring leading voices in Church and society.

Workshops with policy experts and community leaders

Intentional opportunities for best practice-sharing including one on the Covenant's Wholemakers program for young adults

Resources from dozens of Catholic social ministry organizations.

Advocacy visits with elected officials.
Financial assistance is available for leaders from under-represented ethnic, cultural, or disability communities. The program at CSMG 2023 will include offerings for Hispanic/Latino leaders who play an important role in forming disciples on mission in their communities. Act now to be part of our special initiative for young leaders in Catholic social ministry and learn more about our Diversity Outreach Initiative. Join the discussion and be part of the solution! Don't wait, register before November 15, 2022, to take advantage of special early bird registration.
PA Interfaith group invites you to join their annual conference  
Pennsylvania Interfaith Power and Light would like to invite all members of the Catholic Climate Covenant network to join their Annual Conference on November 13th. This year's theme is Environmental Justice & Human Resilience, and will feature a virtual keynote address, response panel session, and workshops at four, in-person locations designed to address regional issues. You can register via this link.  
For more online and in-person events, visit the God's Plan(et) website: https://godsplanet.us/events 
Sisters Act! 
The Adorers of the Blood of Christ are arguing in federal court that a pipeline company that seized its land through eminent domain is violating their religious beliefs and commitment to care for the Earth. "With hearts attentive to the life giving Gift of Jesus' Precious Blood, we Adorers of the Blood of Christ encourage and call on all of God's people to honor the gift of Creation and the dignity of every human person by joining us in calling on the panel of judges of the United States Court of Appeals for the Third Circuit to allow the merits of our Religious Freedom and Restoration Act (RFRA) case to be heard," the sisters said in a statement. The Adorers legal battle dates back to the summer of 2017, when Transco seized the sisters' land under eminent domain to build an extension of the Atlantic Sunrise pipeline. 
More Creation Care News ...
Boston College's School of Theology and Ministry is offering a full-tuition scholarship for a master's program called the Care for Our Common Home Scholarship. The award provides support for students who hear both the cry of the Earth and the cry of the poor and act with courage and conviction to meet creation's urgent need for care. Applicants must demonstrate interest in the intersection of theology and ecological ethics and/or demonstrate a deep commitment to ecological justice in pursuit of care for our common home in order to be named a recipient of this scholarship. Apply Today! 
Environmental activist and writer Bill McKibben addressed 1,500 Jesuit and Catholic school students on Oct. 22 at the 25th annual Ignatian Family Teach-In for Justice. "You guys have the possibility to build an extraordinary new world. But you have to do it — we have to do it — fast. This is a timed test," he said. "Once we've melted the Arctic, nobody has a plan for how we freeze it back together again. So we need action fast." 
Environmentalists in the Philippines are urging Catholics who flock to cemeteries on All Souls' Day to take only biodegradable materials. "We urge our fellow Christians to be mindful of the environment during our visit to the graves of our deceased relatives and loved ones. We know everyone is excited, but let us be mindful of the waste we will leave in the cemetery," Jovert Donglao, executive director of the Group for the Environment, told ECA News. 
Religious leaders in Ghana called for a week of fasting and prayer for the environment to draw attention to the devastation illegal mining is causing to public health and the economy.
"For many years now, our sovereign country Ghana has been witnessing, under our very naked eyes, the saddest environmental coup d'état ever unleashed upon our nation, heralding a programmed and complete ecological disaster or destruction," said Archbishop Philip Naameh, president of the Ghana Catholic Bishops' Conference, speaking on behalf of interfaith leaders.
Congolese Cardinal Fridolin Ambongo Besungu urged developed nations to address the global climate crisis, describing it as "a tragic and striking example of structural sin" driven by indifference and greed. Ambongo Besungu, archbishop of Kinshasa, spoke in an online news conference, ahead of the Nov. 6-18 U.N. Climate Change Conference (COP27) in Sharm el-Sheikh, Egypt. The cardinal said the climate crisis is a lived reality for the people across Africa, highlighting the continent's summer heat waves, devastating storms and cyclones, and the worst food crisis in generations.
Metropolitan Congregations United, a coalition of religious communities around St. Louis, has launched an online air quality monitoring tool to track pollutants. Low-cost sensors are placed on the roofs of churches to measure particulate matter, a mixture of solid particles and liquid droplets found in the air. Through the new digital map, the data collected by these sensors is publicly viewable.
Pope Francis appointed several recently created cardinals to be members of the dicasteries of the Roman Curia, and Cardinal Robert W. McElroy of San Diego will serve as a member of the Dicastery for Laity, the Family and Life as well as the Dicastery for Promoting Integral Human Development, the Vatican announced on October 7. Cardinal McElroy has been a strong advocate for both the poor and creation in his leadership of the Diocese of San Diego, in California, and nationally. He offered the opening address to our Laudato Si' and the U.S. Catholic Church conference at Creighton University in June of 2019. 
Catholic Climate Covenant provides all its programs and resources free of charge. We rely on the generosity of our supporters to inspire and equip people and institutions to care for creation and care for the poor. Through our 19 national partners, we guide the U.S. Church's response to climate change by educating, giving public witness, and offering resources. Thank you for giving to care for creation and care for the poor.
Contact Us
Catholic Climate Covenant
1400 Quincy St. NE
Franciscan Monastery Attn: Catholic Climate Covenant
Washington, District of Columbia 20017
202-987-7581
info@catholicclimatecovenant.org