From the director: Faith and justice in our children's future
Dear Friend,
Last week, many of us from the Catholic Climate Covenant gathered at Bon Secours Retreat Center in Marriottsville, MD for a staff retreat. Interspersed across the country, some of us encountered each other in person for the very first time - a blessed time for us to share, laugh, break bread, and discern in community. Among the fruits of our discernment are revisions of our mission and vision statements (coming soon), and identification of some of our core values: Catholicism, collaboration, justice and hope.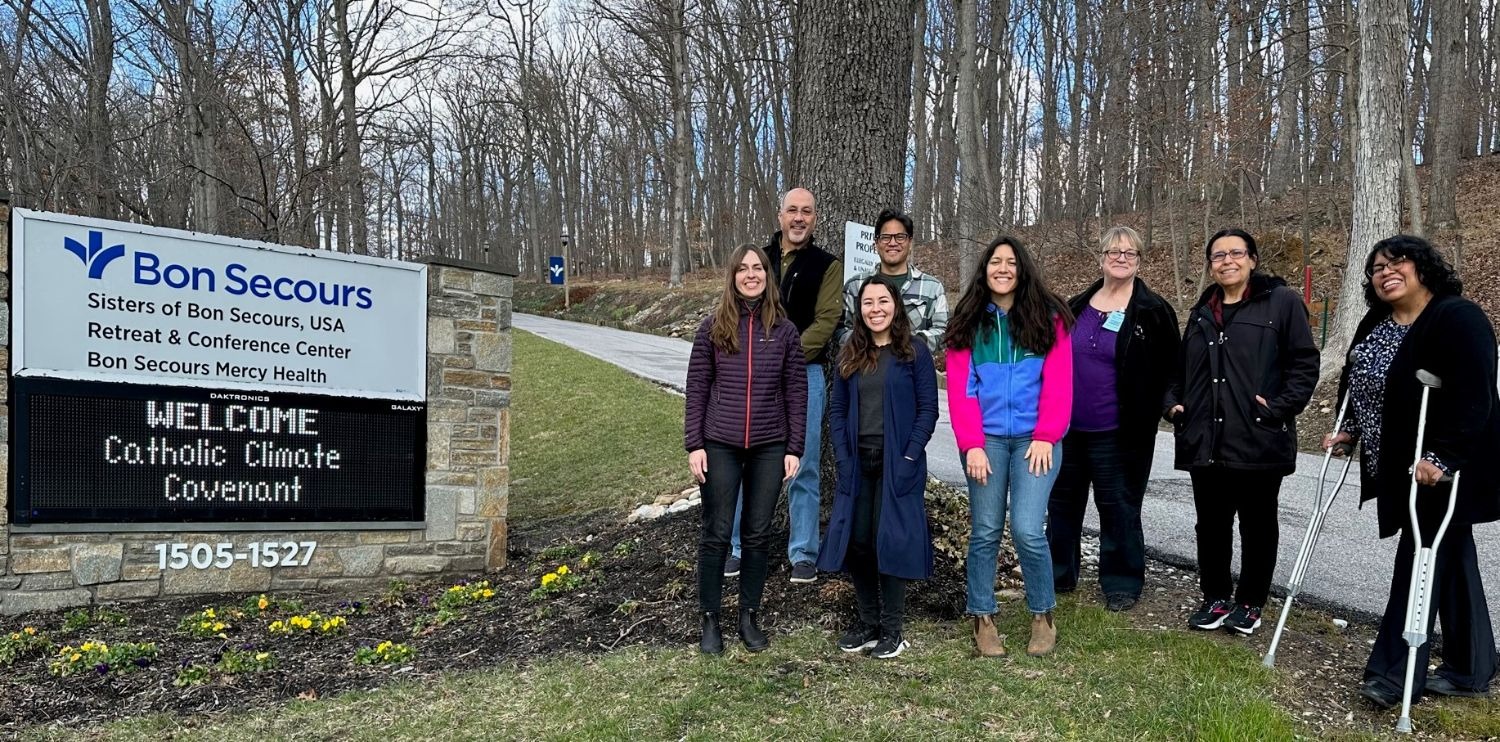 We are already stepping into these values. Just before coming to the retreat, our youth mobilization program manager Kayla Jacobs convened a climate summit in Chicago attended by some 70 students from Catholic high schools in the area who are eager to lead and act on climate change through the lens of our Catholic faith. More youth activities are soon anticipated, as high schoolers in other dioceses are seeking similar opportunities to collaborate with us.
Our young adult program manager Diana Marin is reviewing a bounty of applications from people seeking to join our Common Home Corps, a new year-long leadership and spiritual formation program for young adults to mobilize around climate action in their local communities.
Finally, as climate action moves along the continuum from aspirations, to policy, to implementation across our nation and world, we will seek to gather to the fullest extent possible the fulness of these expressions within the U.S. Catholic community through our nascent "Big Tent" initiative. We seek to do our part to manifest "one body, one spirit in Christ." We are in dialogue with many across our community, including members of the Encounter for Our Common Home campaign, and leaders and representatives of other national Catholic organizations.
During this Lenten Season, we join with you in prayer, fasting, and almsgiving, thanking God for the blessing of our collaboration, striving to refrain from judging others (per this week's Gospel reading), and seeking to give of ourselves to others in the wholeness of our Catholic faith.
In shared faith, hope, and love,
Jose
Jose Aguto
Executive Director
Catholic Climate Covenant
Catholic Climate Covenant Updates
ACTION OF THE MONTH
The EPA Wants to Hear Your Ideas on Climate Justice
The Environmental Protection Agency wants to hear your ideas for its Environmental and Climate Justice program, which provides about $3 billion in grants and technical assistance for overburdened communities. The EPA is soliciting public input on strategies and approaches for community engagement and equitable distribution of financial resources.
Marianne Engelman-Lado, from the EPA's Office of Environmental Justice and External Civil Rights, said the agency wants to use the Inflation Reduction Act to make "significant investments in the health, equity, and resilience of all communities" and to "address past, current, and future environmental and climate justice challenges."
"This Request for Information allows us to hear from communities and their partners on how our grant programs can work better for the communities that need this support the most," Engelman-Lado said.
The deadline to provide input is March 17. To share your ideas, visit www.regulations.gov.
There's still time to go greener this Lent

If you're looking for creation care resources for Lent this year, check out our
2023 Lent resource
s page. It includes prayer and action calendars, programs for study and reflection, and materials for liturgy.
From our Blog: Meatless meals are good for the body, soul and our Common Home

For centuries, the Catholic Church has taught that abstaining from meat on Fridays is good for the soul. Later, Catholic leaders praised meatless meals as good for the body as well. Now a growing number of Catholics say there's yet another reason to cut our consumption of meat: it's good for our Common Home.
A Cambridge university study found that Meatless Fridays in the United Kingdom resulted in a reduction of 55,000 tons of carbon annually, the equivalent of 82,000 fewer people flying round-trip from London to New York. The study's author said that if Catholics in the U.S. adopted year-around meatless Fridays, the reduction in emissions could be as much as 20 times greater.
ICYMI: Biden's oil comments drew laughs, but our children's future is no joke
As our executive director Jose Aguto wrote in a column published by National Catholic Reporter, some still cannot envision a future without fossil fuels. While delivering his State of the Union address a few weeks ago, President Joe Biden drew guffaws when he said that the country would need oil energy for at least another 10 years. But the president wasn't joking -- and the dire future facing young people today is no laughing matter.
Young Americans aren't waiting for their elders to combat climate change anymore. They are taking the matter into their own hands, and, inspired by young Catholics' energy, Catholic Climate Covenant is helping to direct their efforts. For instance, our new yearlong fellowship opportunity — the Common Home Corps — is dedicated to teaching young Catholics how to engage church leaders on climate change.  Read full essay here.
Coming Summer 2023! Laudato Si' and the U.S. Catholic Church: A Conference Series on Our Common Home

Save the Date for this summer and be the first to know when registration opens for our summer 2023 conference! The conference will once again be virtual and feature U.S. Catholic speakers, actions, and teachings toward the Vatican's "Laudato Si' Action Platform" goals of caring for our common home.

"Laudato Si' and the U.S. Catholic Church: A Conference Series on Our Common Home" is a biennial conference series sponsored by Creighton University and Catholic Climate Covenant to convene, equip, and inspire Catholics to more deeply integrate Laudato Si' and its climate change and integral ecology teachings into the U.S. Church. The first convening was held at Creighton University in June 2019. The second gathering was held virtually in July 2021.
For 2023, presentations will take place over a series of evenings in June and July. Ms. Christiana Figueres, a Catholic and former Executive Secretary of the United Nations Framework Convention on Climate Change (UNFCCC) who brokered the Paris Agreement, will deliver the opening keynote address on June 7.
Catholic Youth Climate Summit a Success!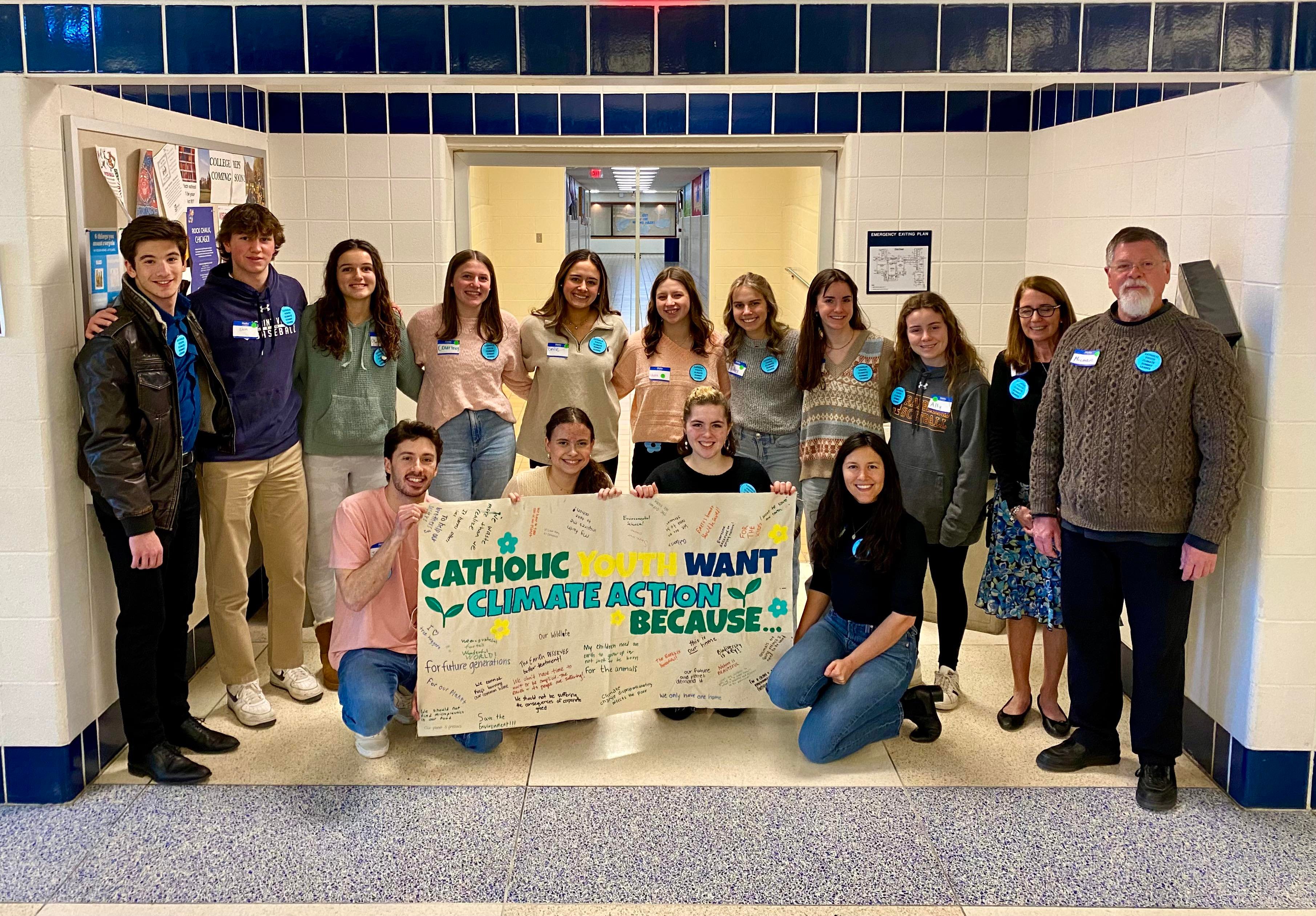 Catholic youth call us, the Church, and the world to bold climate action, and the Youth Climate Summit last weekend in the Chicago Area was a huge success! The Archdiocese of Chicago partnered with Catholic Climate Covenant on February 26th to host the summit in Chicago. Our youth mobilization program manager Kayla Jacobs helped host the gathering attended by some 70 students from high schools in the area who are eager to lead and act on climate change inspired by our Catholic faith.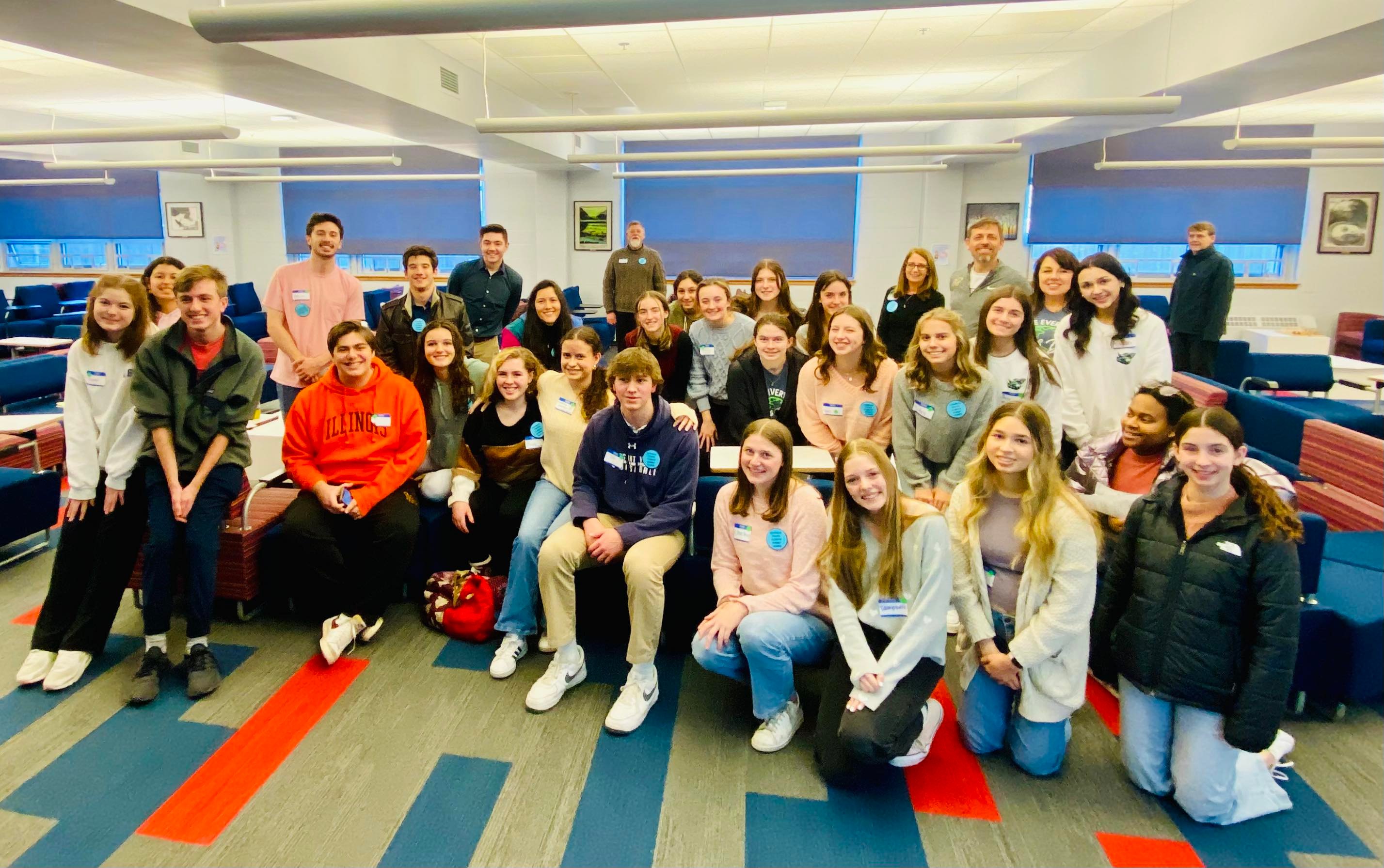 We were overjoyed to see all the young Catholics who gathered and brainstormed ways to turn their faith into action for our common home! More youth activities are soon anticipated, as high schoolers in other dioceses are seeking similar opportunities to collaborate with us.
Cardinal Michael Czerny will speak March 9 at Gonzaga University in Spokane, Washington. Appointed by Pope Francis to lead the Catholic Church's efforts to become a better caretaker of the planet and all its creatures, Czerny's talk is titled "Caring for Our Common Home, in This World and with This Climate." It is free and open to the public, but tickets are required. Tickets and more information at Gonzaga.edu/Cardinal.
Cardinal Czerny will also speak at Georgetown University on March 13. Hosted by the Initiative on Catholic Social Thought and Public Life, the dialogue will be in-person and live streamed online. Register: https://bit.ly/3KOjDsU
Melissa Vatterott, Policy Director of the Missouri Coalition for the Environment, will speak during the Franciscans for Earth Eco-Series event on March 14, online via Zoom or in-person at Tau Center. She will share updates on the Missouri Legislature, answer questions, and provide ways to take action on bills that are moving. Register at www.fsolph.org/events/
The Catholic Native Boarding School Accountability and Healing Project is hosting an on March 20, with Dr. Amy Bombay, Anishinaabe from Rainy River First Nations, who will address "Intergenerational Transmission of Trauma and Resilience in First Nations Communities." Register here to join the online session: https://tinyurl.com/AHPsession2
Tomás Insua, co-founder and leader of the Laudato Si' Movement, will step down as executive director this year, he announced in a letter on Feb. 18. He remains part of the Catholic lay-led movement, which has established more than 40 national chapters, 200 prayer and action groups, and has trained more than 11,000 local leaders known as Laudato Si' animators. As National Catholic Reporter notes, Insua also helped lead a campaign to encourage 200 Catholic institutions to divest from the fossil fuel industry, and the LSM worked closely with the Vatican to create the Laudato Si' Action Platform.
""It fills me with joy to know that thousands of leaders are animating their organizations and local communities to live Laudato Si' across the world, ranging from small rural villages in the Global South to large urban centers in the Global North, in all kinds of creative ways," he said," Tomás told EarthBeat.
Well done, Tomás. Thank you for your leadership and service!
Maryknoll Affiliates LSAP Goals Worksheets

For Families, Couples, and Individuals. Maryknoll Affiliates has created and compiled resources to help you and family progress meet the seven action goals of Laudato Si'. This month's goal, Ecological Spirituality, has just been posted with prayer books, an Ignatian ecological examen and images to help visualize your goals. Check it out here!
A poll shows Catholics are divided on Climate Change
While more than 8 in 10 Catholics Democrats say global climate change is a very serious problem, just a quarter of Republican Catholics agree, according to a 2022 Pew Research Center survey. In another finding, 40% of U.S. Catholics who regularly attend religious services said there is often no discussion of climate change.
Charge while you worship
As drivers switch to electric vehicles, churches' large parking lots are attracting attention as prime recharging spots, according to National Catholic Reporter. Houses of worship are often centrally located, making them ideal partners for expanding EV access, said a company partnering with the Baltimore-Washington Conference of the United Methodist Church to install charging stations on church campuses.
News you might have missed
During the two-week COP15 summit in Montreal, two new guides were issued to support faith communities who want to join larger efforts to protect the world's ecosystems through reforesting and facilitating conversations around environmental restoration. The guide, available in 10 languages, outlines six steps to help religious communities grow trees.
Dozens of Catholic bishops from Oceania gathered this February in Suva, Fiji, and offered a unanimous consensus that "the ecological crisis is an existential threat for our people and communities" and the church must respond.
Jonathan Meyaard-Schaap, vice president of the Evangelical Environmental Network, has a new book, Following Jesus in a Warming World: A Christian Call to Climate Action, that offers personal accounts, theological frameworks and practical advice for Christian climate action. Religion News Service spoke to Meyaard-Schaap about his book.
Opportunity: Earth Ministry/WAIPL is seeking to fill two positions
The Advocacy Manager is full-time and will be responsible for implementing and growing Earth Ministry/WAIPL's faithful advocacy program with collaboration from the Executive Director. The Advocacy Manager organizes strategic multifaith involvement in state and federal environmental justice policy processes. Working alongside the Multifaith Program Manager, the Advocacy Manager will engage community members, congregations, and partner organizations in Earth Ministry/WAIPL's 501c3 advocacy priorities. This position is a flexible full-time (40 hrs/week) staff position that includes some evenings and weekends. View the full job description and application instructions here.

The Contact Grant Writer will manage Earth Ministry/WAIPL's grant prospecting, writing, and reporting activities. The Grant Writer will be responsible for writing letters of inquiry and grant proposals, researching public and private grant opportunities, and managing grant reporting. The position will work across the organization, partnering primarily with the Executive Director to craft and submit proposals. This is a contract position that will work in collaboration with and report to EM/WAIPL's Executive Director. View the full job description and application instructions here.
Sisters Act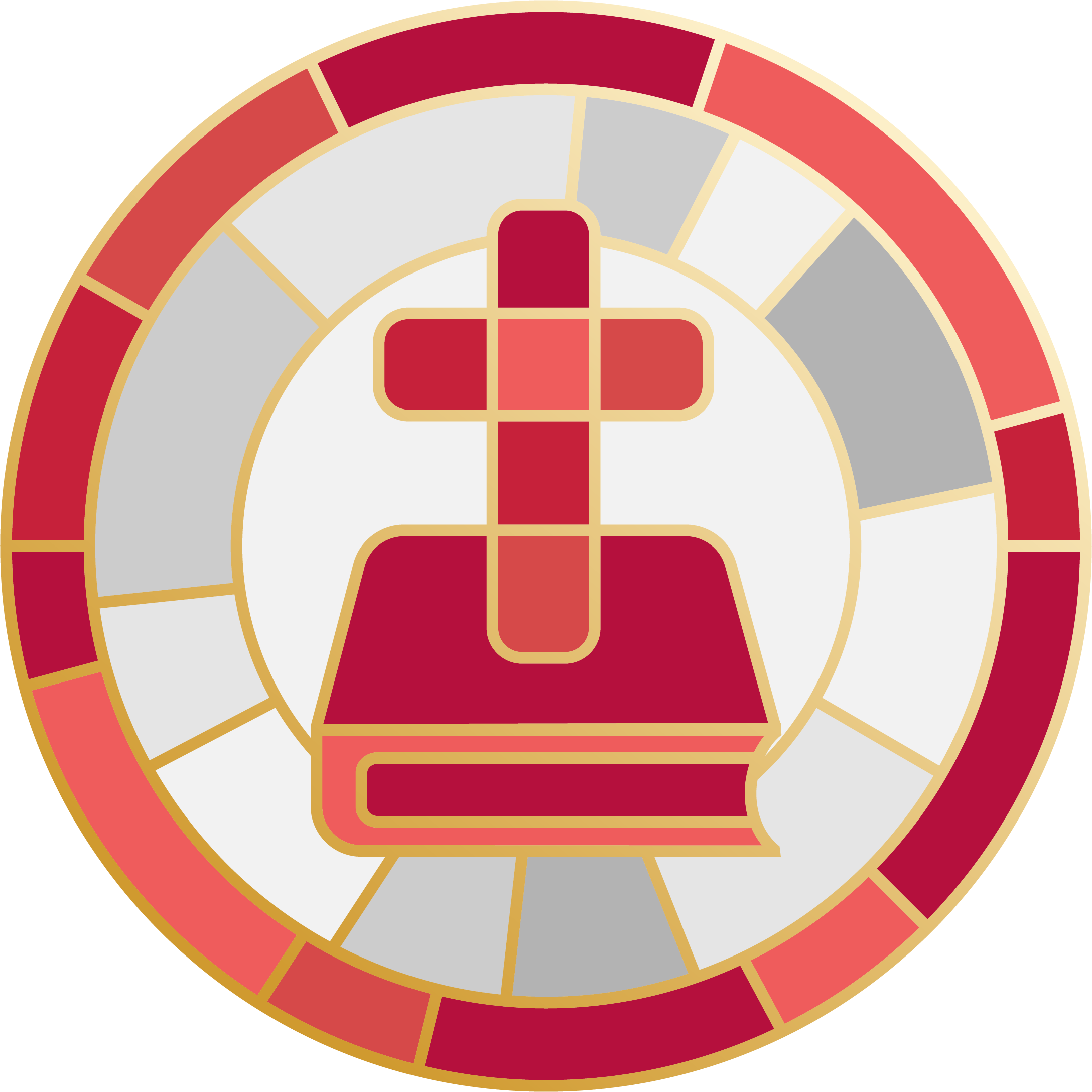 As Indigenous groups in the Philippines began a nine-day march to protest a dam planned on their ancestral domain, a community of contemplative nuns prayed a novena in solidarity at their Carmelite monastery. In a statement posted to Facebook on Ash Wednesday, the nuns said: "As Carmelite contemplative nuns living in the embrace of nature, at the foothills of Sierra Madre, our hearts echo the words of St. John of the Cross in his poem, Spiritual Canticle, 'My beloved is the mountain and the lonely wooded valleys.'"
Interdiocesan Creation Care Network
The Creation Care Team in the Archdiocese of Saint Paul/Minneapolis is hosting listening sessions, conducting interviews, and planning a conference this summer to prepare for the crafting and distribution of a Laudato Si Action Plan. The diverse team, which has several new initiatives this year, is also in collaboration with EnerChange on a program to educate business administrators in the Archdiocese about energy efficiency.
The Creation Care Team in the Archdiocese of Indianapolis has been working with the Indiana Catholic Conference on a state bill to create a climate solutions task force.
Catholics in the Archdiocese of Washington have joined once again with the Archdiocese of Baltimore and the Diocese of Wilmington under the banner of "Maryland Catholics for Our Common Home" to lobby for new environmental laws. MCCH selected 10 bills to focus on, all of which are responsive both to environmental concerns and broader concerns for the poor.
The Atlanta Laudato Si Initiative Workshop gathered 50 Creation Care Team Leaders for a day of celebration and learning focused on "Bringing Laudato Si to Life." Archbishop Hartmayer welcomed the group with an opening prayer and talk. The day focused on what parishes and schools are doing to reduce energy use, water use and waste.
Congrats to the Archdiocese of Atlanta for being selected one of 30 semi-finalists in ecoAmerica's competition for organizations creating reproducible, large-scale models for mitigating climate change. The model the Archdiocese submitted for the competition is their step-by-step guide for the Laudato Si' Initiative. Very cool!
In the Archdiocese of St. Louis, Catholic parishes and congregations will be staffing a booth at the St. Louis Earth Day Festival, advocating for better air quality and air permitting reform.
In the always-active Diocese of San Diego, this will be their first year asking participants to reflect during Lent on their Laudato Si' Action Platform self-assessment, discern a parish, school or household plan during the spring, and upload their plan by Laudato Si' Week.
The Diocese of Davenport has been asked to share their ideas and practices by six dioceses and three religious orders, including sisters in Northern Uganda pursuing a solar project for the school they run. "We are inspired by their commitment to renewable energy and their clear articulation of the damage dependency on fossil fuels has done," reports Deacon Kent Ferris.
The Arlington Diocese in Virginia hosted Catholic Climate Covenant founder Dan Misleh to describe the Cath Cap program to an inter-diocesan group. Parishes will be able to use the program to collect voluntary carbon offset donations from parishioners and use the funds for sustainability projects at their parish. See Dan's short presentation here: https://youtu.be/i3vgUpdye5g
A number of parishes and groups, including in the Dioceses of Charlotte and Raleigh, North Carolina and in the Archdiocese of Boston, are promoting and participating in the Greener Lent Program, which enables us to contribute to a collective action by reducing meat consumption during Lent. Parishes plan to post the amount of C02 saved on Earth Day. https://greenerlent.org
A number of parishes are hosting screenings of The Letter. The 80-minute documentary film produced by an Oscar-winning team in collaboration with Laudato Si' Movement and the Vatican is now available on YouTube. The film brings to life the transformative vision of Laudato Si', Pope Francis' encyclical letter on the environment, to inspire lasting action for our common home. You can register to host a screening here.
Catholic Climate Covenant provides all its programs and resources free of charge. We rely on the generosity of our supporters to inspire and equip people and institutions to care for creation and care for the poor. Through our 19 national partners, we guide the U.S. Church's response to climate change by educating, giving public witness, and offering resources. Thank you for giving to care for creation and care for the poor.
Contact Us
Catholic Climate Covenant
1400 Quincy St. NE
Franciscan Monastery Attn: Catholic Climate Covenant
Washington, District of Columbia 20017
202-987-7581
info@catholicclimatecovenant.org