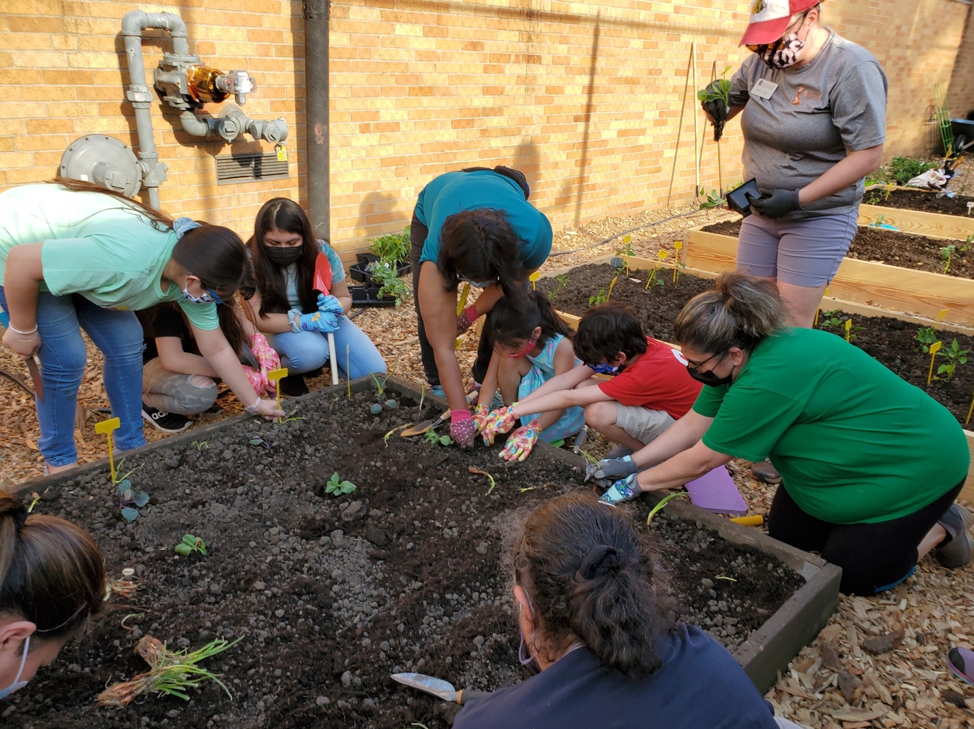 Archdiocese of Chicago Laudato Si' gardens growing
The Pastoral Migratoria office in the Archdiocese of Chicago celebrated the blessing of the garden at St. Mary of Czestochowa's social center vegetable garden on May 24th, where more than 30 people from different organizations and parishes attended. They thanked all the volunteers and organizations who offered their time, effort, and donations: Catholic Climate Covenant, University of Illinois Extension, Archdiocese of Chicago Laudato Si' Committee, Catholic Charities, Ascension Parish Garden Committee, Peace and Justice Committee, Pastoral Migratoria, Southwest Cluster, Ascension Knights of Columbus, Chicago Botanic Garden, and St. Mary of Czestochowa Garden Committee and Volunteers. "We are responding to God's call to take care of the Earth and hear the cry of the poor by teaching them sustainability and donating produce to food pantries in the area. At the same time, we are practicing our rights to grow our own produce. We will promote solidarity with each other by working together for the needs of the church as members of one body of Christ. In addition, the children in our community will learn to respect, care and protect God's creation," said Maria Dolores Huguet Gonzalez of Pastoral Migratoria.
Laudato Si' Week Recordings
Laudato Si' Week 2021 was an unforgettable week filled with moving dialogues, inspirational leaders, and ways all of us can keep caring for our common home. Laudato Si' Week featured so much. If you missed any of the fascinating dialogues, you can now watch all of the recordings whenever you want. Go here to view. And if you missed it, Global Catholic Climate Movement and partners launched the Creation Care Prayer Network, a network of communities committed to the healing of our common home.
Spirituality of Biodiversity recording
The Columban Center for Advocacy and Outreach (a Covenant partner) hosted a webinar and conversation last month called "What is a spirituality of biodiversity?" Anna Robertson, Director of Youth and Young Adult Mobilization with Catholic Climate Covenant, led the conversation in the exploration of this important issue. You can now watch a video recording of the webinar here. You can also download the webinar PowerPoint here. In addition to Anna's presentation, the PowerPoint includes links to a number of resources that explore the intersection of faith and biodiversity. To learn more about the Missionary Society of St. Columban's work around biodiversity, visit their website.
Creation Care Team member in the news
Creation Care Team member Marilyn Kott recently had an article published in her local newspaper on how our faith calls us to protect our common home: "As a Catholic, and someone who always thought I cared about the environment, I took notice when I learned the pope had written a book on the subject. I did my best to read through it. Not being familiar with papal documents at that point in my life, it was a little bit of a task, and what I learned was to go slowly, re-read, and discuss it with others.
"The first thing I noticed was that Pope Francis is far from the only religious figure to speak on this topic. Laudato Si' is filled with references from Scripture, and from past and present religious thinkers, describing humanity's relationship with the earth and all that fills it. Read the full piece: "Matters of Faith: A call to act for the good of all creation".
Prayer Resource in honor of World Environment Day
Covenant partner, the Carmelite NGO has put together a beautiful prayer resource, World Environment Day of Prayer, which includes questions to prompt reflection, Scripture, prayers and readings, all surrounded by images of God's creation. The resource is free and available for download, and is also available in Spanish: "Día de Oración – Día Mundial del Medio Ambiente."
Blessing of Seeds and creation care plan coming soon in Washington, DC
From the Catholic Standard: "At a Mass May 24 marking the end of a week celebrating Pope Francis's environment-focused encyclical Laudato Sí, Cardinal Wilton Gregory blessed small boxes of seeds in compostable pots that will be a shared with Archdiocese of Washington parishes as part of the gradual rollout of a comprehensive action plan to care for creation. During the noon Mass at the Cathedral of St. Matthew, Cardinal Gregory said in his homily that the archdiocesan plan to work toward the Earth-protecting vision of Pope Francis's 2015 encyclical Laudato Sí will be released this summer. He thanked [all] who are working on developing the plan. He also acknowledged the collaboration of academics and others in the faith community who are working with the Catholic Church on protecting the Earth." Read the full article.
Catholic Committee of Appalachia Summer Speaker Series
The Catholic Committee of Appalachia is hosting a Summer Speaker Series, "Pray with the Pastorals: Three Mini-Retreats on the Appalachian Pastoral Letters" on the second Thursday of each month. The first retreat, "This Land is Home to Me," will be held this Thursday, June 10th, on Zoom from 7-8:30 pm EST with Joe Holland, author of the document. Carol Warren will follow on July 8, and Jess Wrobleski will follow on August 12. Read here for more information.
Canadian Catholic leaders express sorrow over deaths of Indigenous children
This week, this story reminded the world of one horrific legacy of harm with the discovery of the remains of more than 200 indigenous children in a mass grave at a former residential boarding school in Canada run by a Catholic religious order. Understanding and repenting for the violence of colonization of the natural world and its indigenous inhabitants and for the ways we as a church have been complicit in that violence is crucial to a deeper understanding of how we must more clearly hear both the cry of the earth and the cry of the poor.
In his encyclical Laudato Si', Pope Francis decries our throwaway culture for its role in both creating our snowballing environmental crises and stymieing attempts to reverse their impacts. The throwaway culture that treats creation as a collection of discrete resources awaiting extraction is the same throwaway culture that for centuries has sought to eradicate the presence of indigenous peoples on these lands, whether by the violence of genocide or forced assimilation. Today, many in the world of environmental advocacy recognize that the practices and spiritualities of indigenous communities represent needed antidotes to the throwaway consumer culture in which we are so enmeshed. To borrow these ways of relating to the Earth without attending to the significant and ongoing histories of harm perpetrated upon indigenous communities, risks replicating the very extractive dynamics we seek to disrupt.