Coming soon! Worship Guide for Climate Vigil Songs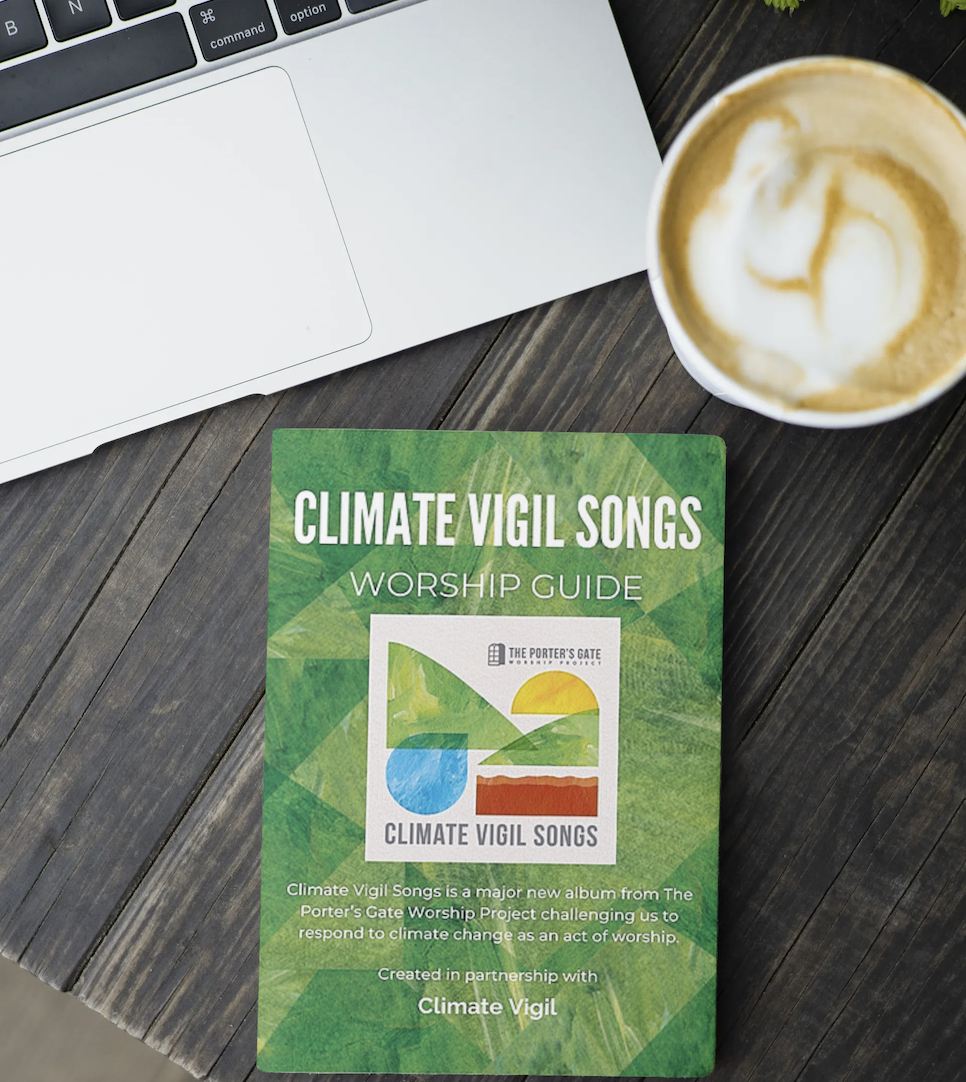 Last month The Porter's Gate Worship Project released Climate Vigil Songs – a new album to inspire prayer and action in response to our climate crisis. Amazingly, but not surprisingly for those who have heard and been inspired by the songs, the music has already been streamed over a million times!
Catholic Climate Covenant would like to equip you and your faith community to engage with the album in meaningful ways to your creation care work. In partnership with Climate Vigil, we will be offering (free) resources to support worship, teaching, Bible studies, and dialogue related to climate change.
In that vein, we are excited to introduce you to the new Climate Vigil Songs Worship Guide, which you can access online starting this Thursday, July 14!
The Worship Guide will include:
Song links, lyrics, and artist reflections

Song-specific devotions by Christian authors

Access to the sheet music for each song

Critical information about climate change and why it matters to Catholics

Opportunities to participate in Climate Vigil events in your community
You can sign up to receive the Worship Guide directly at climatevigil.org/album starting Thursday, July 14th. Enjoy the music while you're there!
Catholic Relief Services Campaign on Climate Change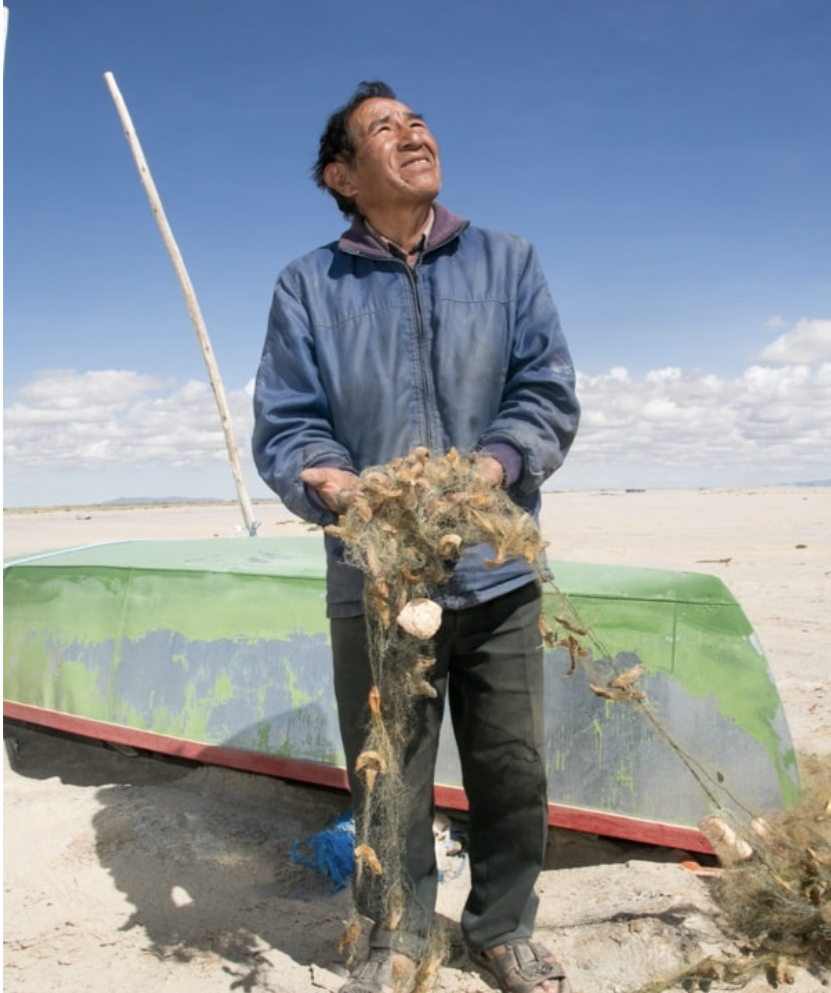 Across the world, Catholic Relief Services is working shoulder-to-shoulder with communities to survive in the face of climate change. But surviving is not enough. We must work together and act now to protect our planet so our sisters and brothers can thrive.
Now our friends at Catholic Relief Service have a new helpful Campaign on Climate Change resource center intended to provide parishes/dioceses with a global perspective and opportunities for prophetic action. It has tools for prayer, formation and action with a global perspective for a common good. Check it out here!
More Christians are divesting from fossil fuels
A growing number of Christian churches, dioceses, religious orders and organizations are announcing they will divest from fossil fuels, according to National Catholic Reporter. In total, 35 faith institutions from six countries with more than $1.25 billion in combined assets announced their divestment from fossil fuel companies. The divesting institutions include five Catholic dioceses in Ireland, two in Canada and 11 Catholic religious orders. Globally, approximately 300 Catholic institutions have committed to divest their finances from or to avoid future investments in fossil fuel companies, according to NCR. The announcement was a joint project of the Laudato Si' Movement, the World Council of Churches and GreenFaith, a U.S.-based organization.
Catholic Theological Society votes to halt new investments in greenhouse gasses
In June, the Catholic Theological Society of America, the world's largest organization of theologians, voted to halt new investments in oil, gas and coal companies and to sell existing investments by 2025. "Given the global environmental disaster that grows more urgent each day, it was necessary that the CTSA finally make these decisions and thus move irreversibly toward divestment," said Jesuit Fr. Francis Clooney, incoming CTSA president. Seven U.S. Catholic universities have made public divestment pledges, as have the Association of U.S. Catholic Priests, the SSM Health medical system and the philanthropic network FADICA.
Indigenous people lose court appeal to protect sacred land
A coalition of Native American people said they will go to the Supreme Court after a federal appeals court ruled the government can proceed with the transfer of an Apache sacred site in Arizona, to a private venture that's planning an underground copper mine. The 9th U.S. Circuit Court of Appeals, in a 2-1 ruling on June 24, held that Apache Stronghold — a coalition of Apaches and other Native peoples opposing the land transfer — failed to show a substantial burden on their religious exercise. The indigenous groups' lawsuit argues that destruction of Oak Flat violates the Religious Freedom Restoration Act.
Pope says we need interfaith cooperation needed to tackle threats to people, planet
Interreligious dialogue and cooperation are needed more than ever during this time when people and the planet are facing multiple threats, Pope Francis told a delegation of Buddhists from Thailand as reported in National Catholic Reporter. "Our task today is to guide our respective followers to a more vivid sense of the truth that we are all brothers and sisters," he told the group during an audience at the Vatican June 17. "The Buddha and Jesus understood the need to overcome the egoism that gives rise to conflict and violence."
Honduran sentenced in murder of environmental activist
A Honduran court sentenced a former business executive and army intelligence officer to 22 years in prison for his role in the 2016 murder of Honduran environmental activist Berta Cáceres. Cáceres, an indigenous Lenca and leader of the Civic Council of Popular and Indigenous Organizations of Honduras was murdered in her home by a death squad. She had led the opposition to construction of a hydroelectric project that threatened traditional Lenca territory. For years, Catholics advocated for accountability. "The witness of #BertaCáceres continues to inspire us to stand in solidarity with Hondurans as they work for justice and accountability in their country," the Sisters of Mercy — who have raised attention for causes in Honduras — tweeted in 2021, on the fifth anniversary of Cáceres' death.
Sisters Act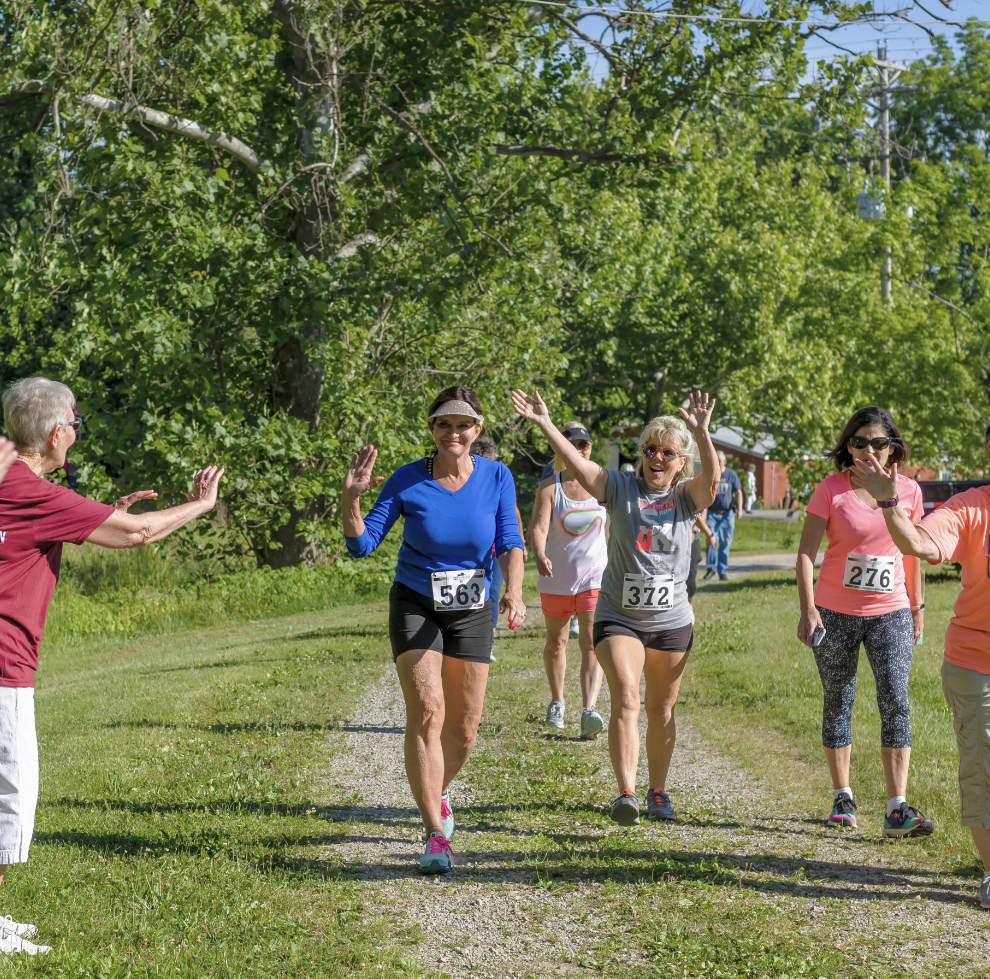 The Sisters of Charity of Nazareth hosted a zero waste, eco-conscious Run with Mission 5K in June, supporting their mission to Care for Earth. This event was intentionally zero waste – 100% of the materials used for the race were either compostable, recyclable, or reusable such as snacks of fresh fruit, compostable water cups, and Tyvex race bibs that will go back to the manufacturer to be recycled. Further, the race course featured sustainability and conservation-focused initiatives at Nazareth, such as fields converted to pollinator habitat, planted with native grasses and wildflowers; a bioswale to manage rainwater more sustainably; buildings with green roofs and solar panels; and natural areas the Sisters are managing for wildlife habitat and carbon sequestration.
The Shinnecock Indian Nation says their ancestors have been living in Shinnecock Bay on Long Island for more than 12,000 years. Now they are determined to protect the bay and the surrounding land from encroaching development. In this, the Shinnecock women have important allies: the Sisters of St. Joseph, Brentwood, who have started a kelp farm to protect the bay's ecosystem and embraced a strong environmental ethic. The congregation has also offered space in their cemetery to rebury Shinnecock ancestors whose bodies had been displayed at a local museum. Read more here.
Job opening at the Maryknoll Office for Global Concerns
The Maryknoll Office for Global Concerns has a job opening at their office in Washington DC:
Communications Manager: Will develop and coordinate production of MOGC publications (bimonthly newsletter, weekly action alerts) and additional materials as needed, among other duties. The Maryknoll Office for Global Concerns represents the Maryknoll Sisters, Maryknoll Fathers and Brothers, Maryknoll Lay Missioners and works closely with the Maryknoll Affiliates.
Creation care team member wins Catholic Media Association Book Award
Gary Gardner, a member of the Integrity of Creation Team at Our Lady Queen of Peace in Arlington, VA, was awarded First Place in the category "Catholic Social Teaching" by the Catholic Media Association for his book,The Earth Cries Out: How Faith Communities Meet the Challenges of Sustainability.
The reviewers said "Very thorough review of the threats to climate change and the grounding of and strategic responses faith communities can offer. A very thick book rich with encouraging and counter examples. Would serve well as a text for environmental ethics or CST course."
More here: https://www.catholicmediaassociation.org/book-awards/ The book can be ordered at 1-800-258-5838.
OSV to Launch a new Catholic News Service 
Our Sunday Visitor, Inc. (OSV) announced that it will launch OSV News, a new Catholic news service, on January 1, 2023. OSV News will provide national and international news, analysis, editorials, commentary, and features from a Catholic perspective every day. Subscribers to the new service will access OSV News at CatholicNews.com, the current site of Catholic News Service (CNS). The announcement was made by OSV Publisher Scott P. Richert at the annual Catholic Media Conference in Portland, Oregon.
"After the United States Conference of Catholic Bishops decided to bring the domestic operations of Catholic News Service to a close at the end of 2022," Richert said, "we started talks with the USCCB and have reached an agreement to acquire rights to the platform that CNS uses to produce and distribute its content."
Rhode Island now has nation's boldest renewable energy law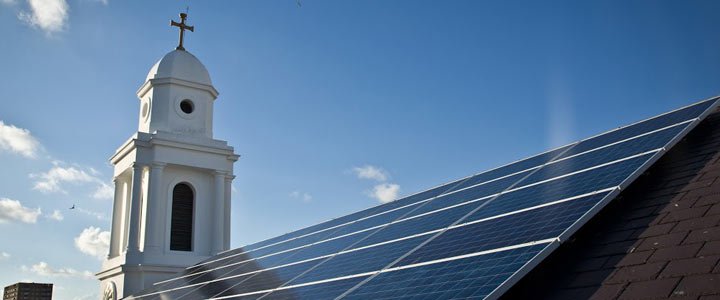 The State of Rhode Island just passed a 100% Renewable Energy bill. This means that there are significant incentives for building owners to go solar.
Last month Gov. Dan McKee enacted the most aggressive plan to ramp up renewable energy of any state in the nation, according to the Providence Journal. McKee signed a bill that requires Rhode Island to gradually increase its purchases of renewable energy, with a goal of offsetting all of the state's electric usage with solar, wind and the like by 2033.
If your parish or Catholic organization has a presence or partners in the state, please let them know about our nonprofit Catholic Energies program that makes it easy to package solar and energy savings for Catholic facilities. Like DC and Illinois, Rhode Island is now one of the best states for solar with plenty of incentives!
Contact the Catholic Energies team with any questions.
Villanova Hiring a Campus Minister for Hispanic/Latinx Ministry & Outreach
As a member of Mission & Ministry, the Campus Minister for Hispanic/Latinx Ministry & Outreach promotes and supports the Augustinian, Catholic mission of the University, with particular attention to the Augustinian charism and spirituality and concern for building community that is inclusive, respects and celebrates diversity, and fosters an atmosphere that demonstrates care for our common home. In doing so, the Campus Minister for Hispanic/Latinx Ministry & Outreach will work specifically to meet the spiritual needs of Hispanic and Latinx people on campus (students, both graduate and undergraduate, staff, and faculty), helping to create an environment that fosters the rich diversity expressed in faith and culture. Find out more and apply here.
Holy See becomes contracting party to UNFCCC and Paris Agreement
We close with a bit of Vatican news: A statement released by the Holy See last week describes the Holy See's accession to the Climate Convention and the Paris Agreement.
"On July 6, 2022 His Excellency Archbishop Gabriele Giordano Caccia, Permanent Observer to the UN, deposited before the Secretary-General of the United Nations the Instrument with which the Holy See, in the name and on behalf of Vatican City State, accesses to the United Nations Framework Convention on Climate Change (UNFCCC). At the earliest possible date, considering the legal requirements of the Paris Agreement, the Holy See, in the name and on behalf of Vatican City State, will deposit the instrument of accession to the latter. ...
"The Holy See, in the name and on behalf of Vatican City State, intends to contribute and to give its moral support to the efforts of all States to cooperate, in accordance with their common but differentiated responsibilities and respective capabilities, in an effective and appropriate response to the challenges posed by climate change to humanity and to our common home. Such challenges have "not only environmental, but also ethical, social, economic and political relevance, affect[ing] above all the life of the poorest and most fragile. In this way they appeal to our responsibility to promote, through collective and joint commitment, a culture of care, which places human dignity and the common good at the centre" (Pope Francis, Video-Message for the Climate Ambition Summit, 12 December 2020)."