Dear Friend
Last week, we saw a positive breakthrough in Senate negotiations over climate provisions and budget reconciliation with the introduction of the Inflation Reduction Act of 2022. As people of faith, we now have an opportunity to help get these climate provisions over the finish line! But we must act now!
JOIN US this Wednesday, August 3rd and Thursday, August 4th, as the Laudato Si' Movement in the U.S. and Catholic Climate Covenant are sponsoring two call-in days to U.S. Senators and Congresspersons to support the Inflation Reduction Act. We are at a critical moment for this bill to pass the Senate.
The calls must be made before the recess beginning August 8.
[CLICK HERE] TO MAKE YOUR CALLS ON WEDNESDAY AND THURSDAY, IDEALLY BETWEEN 10:00 AM AND 2:00 PM YOUR LOCAL TIME. [CALL NOW]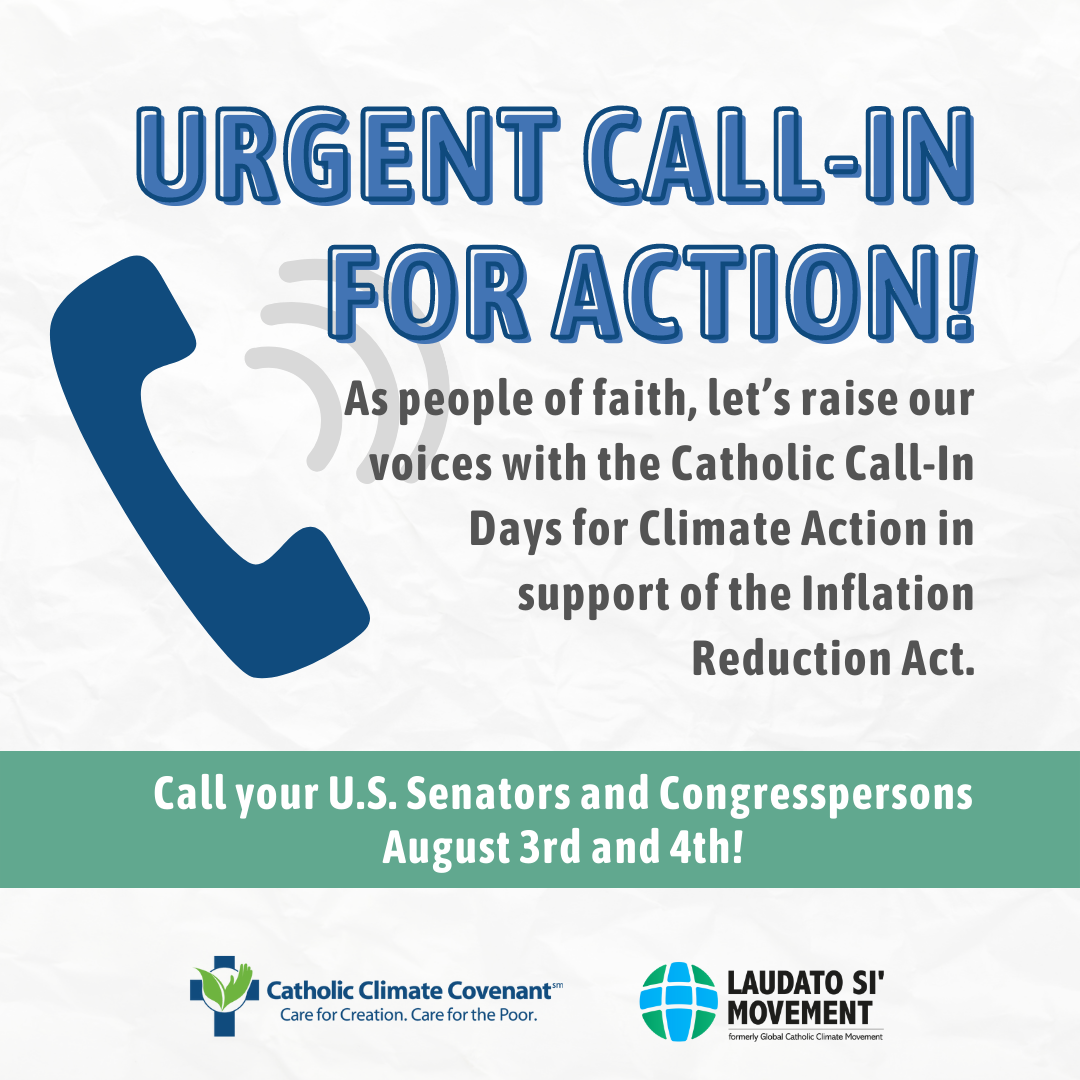 ABOUT THE BILL
The Inflation Reduction Act includes $369 billion in climate change investments, and will lower greenhouse gas emissions more than any piece of legislation in history. You can learn more about its contents here.
If passed, it will be the largest climate change package ever passed by Congress and will reduce U.S. greenhouse gas emissions 40% by 2030 over 2005 levels and put us on track to meet the Paris Accords. The legislation includes $60 billion for clean energy manufacturing, a fee on methane emissions, and consumer incentives for purchasing electric vehicles. Also included is $30 billion to help rural communities implement climate smart practices in agriculture, forestry, and coastal management, and $60 billion to empower communities experiencing environmental injustice. In so many ways, this legislation answers the Gospel call to love our neighbors, especially those in need.
THE CALL-IN
As people of faith, let's raise our voices with the Catholic Call-In Days for Climate Action on August 3 and 4 in support of the Inflation Reduction Act.
CLICK HERE TO MAKE YOUR CALLS ON WEDNESDAY AND THURSDAY, IDEALLY BETWEEN 10:00 AM AND 2:00 PM YOUR LOCAL TIME. [CALL NOW]
The timing of our effort is critical. Senators will be voting on a spending bill in the coming days. We need to reiterate the Catholic principle to "Care for Our Common Home" that Catholic Climate Covenant and Laudato Si' Movement have been offering lawmakers through the Encounter for Our Common Home campaign since April - the time to act is now!
MORE CATHOLIC INSPIRATION
Archbishop Paul S. Coakley, representing the priorities of the US Conference of Catholic Bishops (USCCB), said in his June 8th letter to Congress:
"Care for creation, and especially the climate which affects all life on earth, is integral to the care for humanity. The United States, …. one of the world's top carbon emitters, has a distinct responsibility to address climate change. This is a critical time for investments in climate mitigation, adaptation, and innovation."
ACT NOW
We urge you to join this Catholic effort to contact your legislators.
The calls only take a few minutes and here is a prayer we invite you to say before calling. Plan to make your calls on:
Wednesday and Thursday, August 3 and 4.
If you cannot call on these dates, call when you can - as soon as possible!
THE SCRIPT
During your call, keeping with the Encounter campaign's consistent message of caring for creation, you should emphasize that as a Catholic/person of faith, you consider the climate issue a moral issue. Tell the staffer/senator why this issue is important to you personally. You don't have to know all the details of the bill to make the call. It is not a perfect bill, but it is an acceptable bill that will do more to reduce greenhouse gasses than any bill so far. The next generation is depending on us to take this action!
ALSO TO NOTE ON IMMIGRATION AMENDMENT
Some legislators have expressed desire to propose amendments to the IRA that would continue the use of Title 42, a tool blocking all asylum seekers from entering the US due to pandemic precautions. Protecting human rights, especially of those most vulnerable and marginalized, is a top Catholic priority. The US Catholic community does not support these possible amendments to the bill that could come during open-floor sessions in the Senate this week. If you desire, you can ask your senators and representatives about their knowledge of this possibility during your phone call.
CLICK HERE TO MAKE YOUR CALLS TODAY. [IPL link]
Last, share this email message widely and quickly. Thank you for participating.
Please note
A partner organization, Interfaith Power and Light, IPL, is providing the platform for these call-in days. We are grateful for their collaboration. Once you give your address, the platform connects you to the offices of your legislators. You will automatically be put on the IPL email list, which you can unsubscribe to if you wish. You can also call without using the platform, but then please let us know that you made the calls by emailing Teresa Flores at Tere@laudatosimovement.org. If you go to the platform, a script will be in front of you on the screen once you sign in.
Have a blessed week, and if you have any questions, please reach out to us at info@catholicclimatecovenant.org - we look forward to hearing from you!
In faith,
Encounter for Our Common Home U.S. Catholic Partners