Dear Friends,
On Sunday Sept 17th Catholic youth will join the March to End Fossil Fuels in New York City with thousands of concerned people and climate activists, part of the Catholic Contingent organized by Metro NY Catholic Climate Movement and Pax Christi Metro NY. The march is happening before the UN Climate Ambition Summit on Sept. 20 in NYC.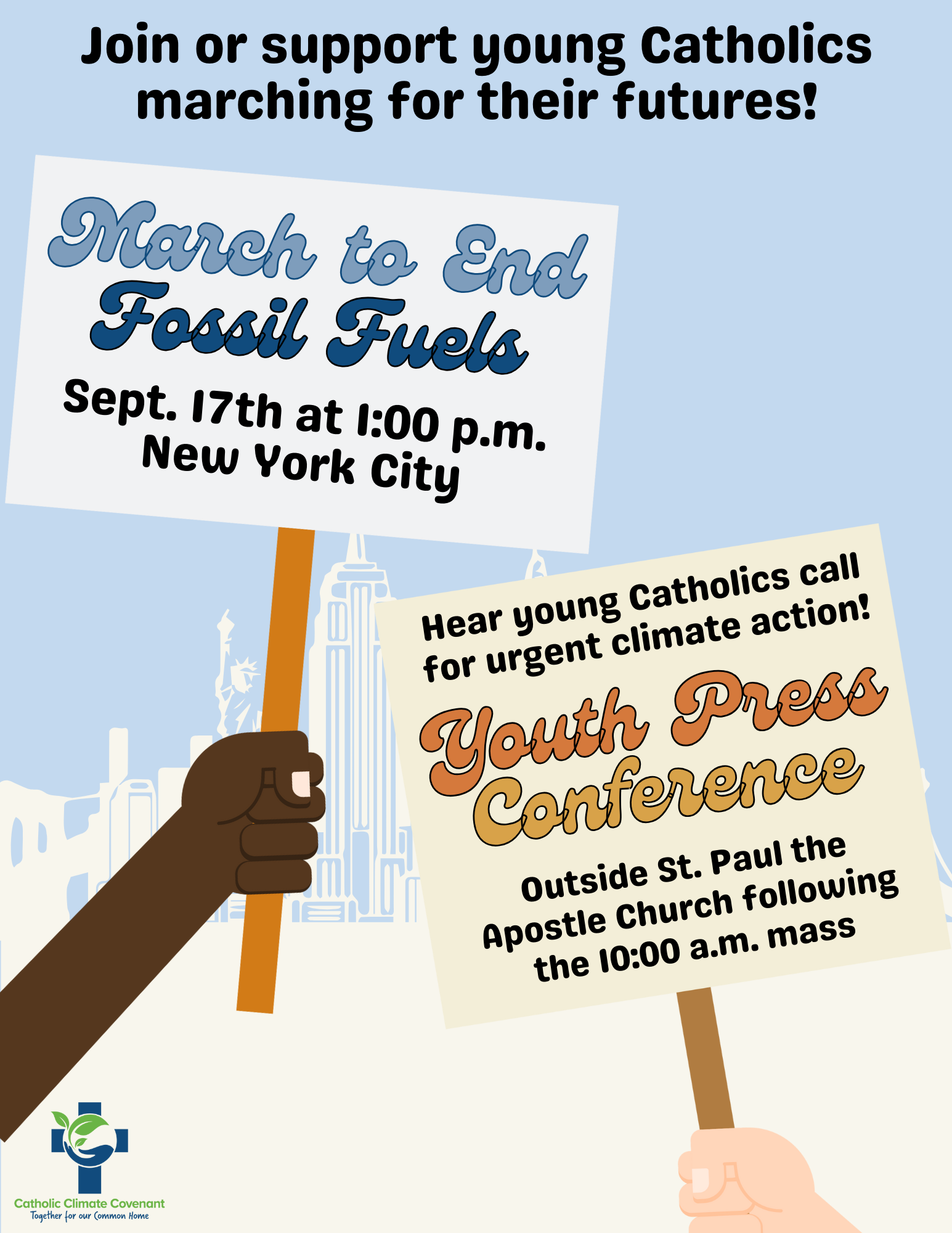 After historic heat waves this summer, and inspired by their faith, young Catholics are calling for urgent action to address the climate crisis and an end to reliance on fossil fuels. The youth are urging global leaders and all people to act on the climate crisis and promote climate solutions that prioritize the wellbeing of their future, our common home, and its people around the world and nationally.
Before the march, the Catholic youth will attend Mass and then hold a press conference in NYC calling for urgent climate action, organized by Catholic Climate Covenant's Youth Mobilization program. ​​
If you are in the New York area that day, we invite you to join the youth in the march, or support them at the press conference. If you cannot attend in person or are outside the area, tune in on social media to hear directly from young Catholics on why they march.
What: Catholic Youth Press Conference with U.S. Catholic youth inspired by their faith speaking on their climate asks. The press conference will be streamed live on our Instagram Page: https://www.instagram.com/catholic.climate.covenant/
Date: Sunday, Sep 17, 2023
Time: Press conference begins at 11:10 AM Eastern
In-person location: St. Paul the Apostle, 405 W 59th St, New York, NY 10019
Other in-person March/Route details:
● 10 am - Catholic Mass at St. Paul the Apostle address: 405 W 59th St, New York, NY 10019
● 11:10 am - Catholic youth press conference at St. Paul the Apostle, outside
● 11:30 am - Catholic group walks over to Interfaith prayer service hub, 53rd Street between Broadway and 7th Ave
● 1 pm - March begins