Creighton University announces it will fully divest from fossil fuels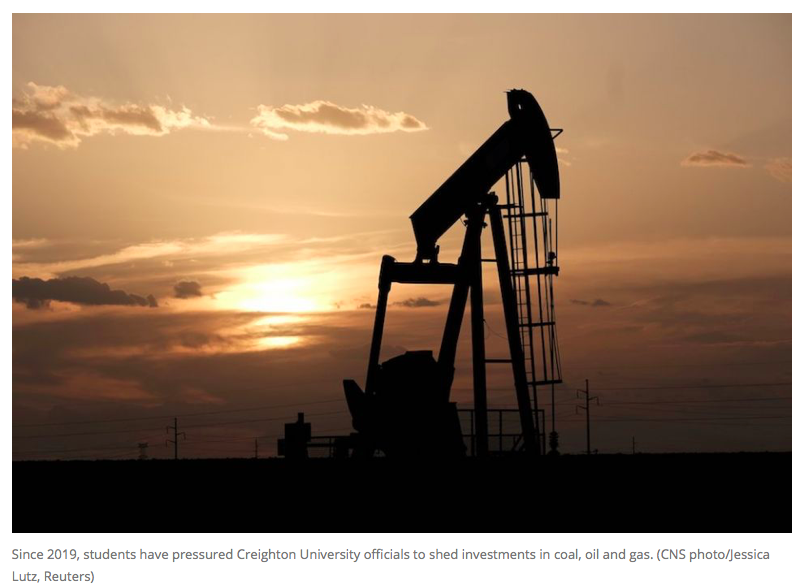 "Creighton University announced it plans to phase out all investments in fossil fuels from its $587 million endowment within the next 10 years and target new investments in sustainable energy" wrote reporter Brian Roewe in a National Catholic Reporter story on the announcement.
"Under the new investment policy, Creighton will sell off public securities of fossil fuel companies within five years and end holdings in private fossil fuel investments within 10 years. At the same time, it plans to seek out new investments in renewable energy and energy efficiency."
In a statement, Creighton President, Rev. Daniel S. Hendrickson, SJ, PhD, said: "This modified policy signifies our strong commitment to sustainable investing – and sustainability in general across the University."
In the NCR story, Roewe adds: "Besides Creighton, three other Catholic schools in the U.S. — the University of Dayton, Seattle University and Georgetown University — have publicly committed to divesting their endowments of fossil fuels. In December, alumni of Boston College asked the Massachusetts attorney general to investigate the school's investments in fossil fuels, arguing that continuing to hold such stocks went against the college's fiduciary responsibilities and its mission as a Jesuit and Catholic school."
Halki Summit IV - COVID-19 and Climate Change: Living with and Learning from a Pandemic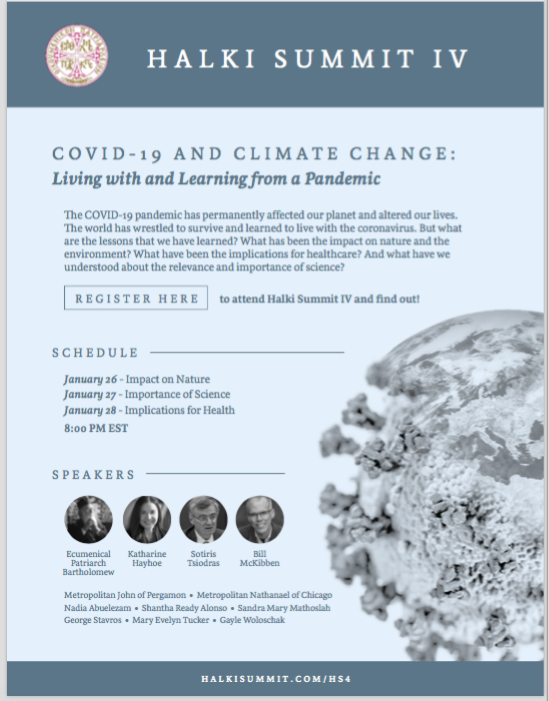 COVID-19 has lowered global carbon emissions; but it hasn't slowed climate change. Our response to COVID-19 has precipitated the discovery of a vaccine, but it has left the world with a staggering number of deaths. The pandemic of Covid-19 has permanently affected our planet and altered our lives. The world has wrestled to survive and learned to live with the coronavirus. But what are the lessons that we have learned? What have been the impact on nature and the environment? What have been the implications for healthcare? And what have we understood about the relevance and importance of science? This year's Halki Summit IV will explore these questions with speakers over the course of three days. This registration will allow you to register once for all sessions. The Halki Summit is a gathering of activists, scientists, journalists, business leaders, theologians, and academics engaging and working across intellectual boundaries to bring the global environmental discussion to a new and richer place.

Session 1: Impact on Nature - January 26, 2020 @ 8:00 PM EST
Session 2: Importance of Science - January 27, 2020 @ 8:00 PM EST
Session 3: Implications for Health - January 28, 2020 @ 8:00 PM EST
A 2021 calendar to walk together for Creation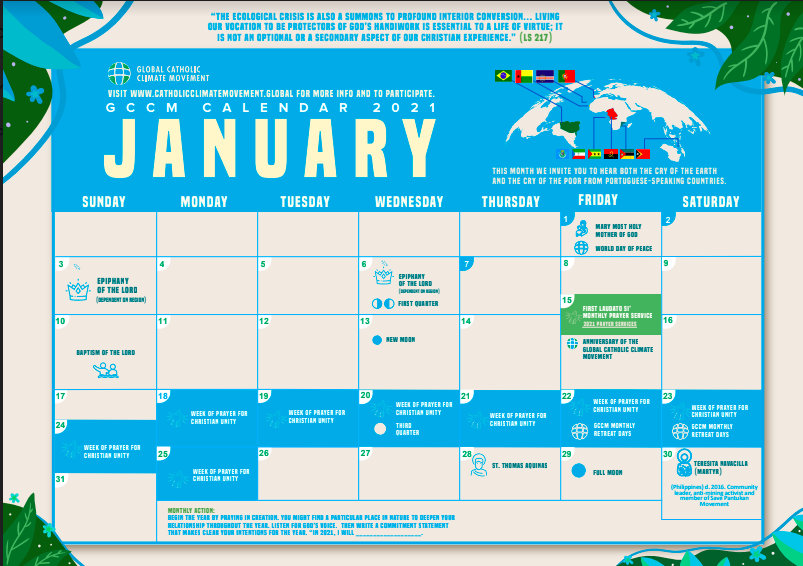 As we continue the "Year of St. Joseph," as Pope Francis recently proclaimed, the Global Catholic Climate Movement has produced a new 12-month calendar that will help us walk together in our ecological conversion journey in 2021. The calendar features key GCCM moments, saints to inspire our journey, and eco-martyrs to remember those who have given their life doing what God asks us all to do: to love and protect creation. You can click here to download the free PDF calendar for January 2021.
Webinar: Faith and the Faithful in a Time of National Crisis and New Leadership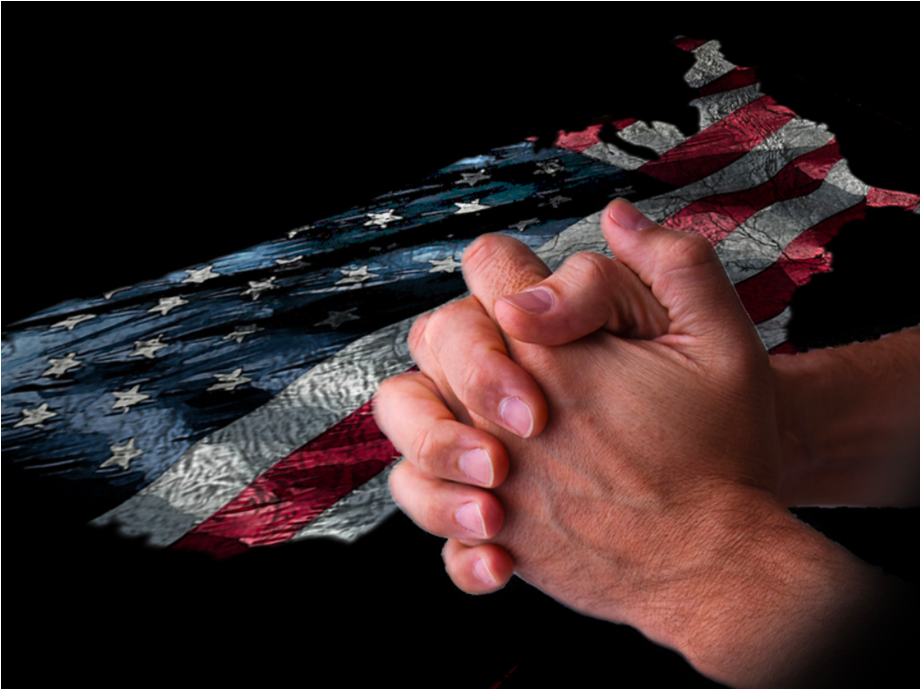 The Initiative on Catholic Social Thought and Public Life at Georgetown University presents an online dialogue: Faith and the Faithful in a Time of National Crisis and New Leadership on Thursday, January 14 at 12:30 p.m. Eastern. In the midst of violence and attacks on democracy itself, an ongoing pandemic and economic crisis, and a racial reckoning and bitter divisions, how should diverse parts of the Christian community assess their responsibilities for the current crisis, explore ways faith and the faithful can lift up the "least of these" (Matthew 25:40), and contribute to the common good, working with a new administration and a new Congress? Religious values and voters were at the center of the 2020 election. How will faith and the faithful shape the agendas and actions of the Biden-Harris administration and the 117th Congress? To RSVP visit here.
Loyola University Chicago Launches New School of Environmental Sustainability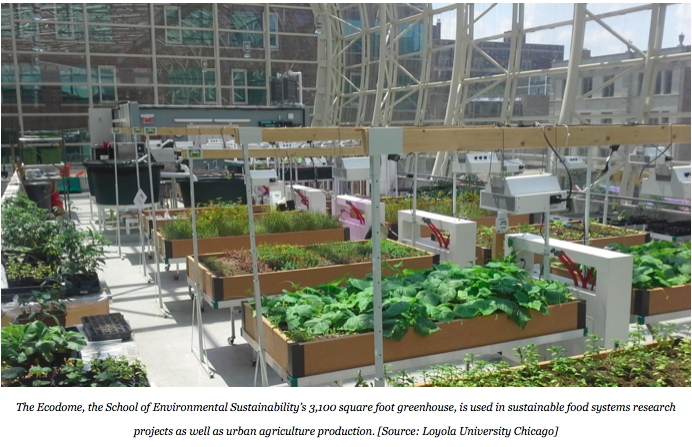 Loyola University Chicago has formally announced the launch of its new School of Environmental Sustainability (SES), the first-ever school dedicated to environmental sustainability across Jesuit institutions worldwide. At the helm of the school is Covenant board member, Nancy Tuchman, Ph.D. The new school builds on the strong foundation of the Institute of Environmental Sustainability (IES). In the Institute's seven years, IES has demonstrated success at the undergraduate level and more recently at the graduate level, putting Loyola on the map as a leader in environmental sustainability. Other notable achievements of the Institute include the founding of its annual Climate Change Conference, the establishment of a student-run farmer's market and greenhouse, and developing hand sanitizer during the COVID-19 pandemic. Read more from ISN here.
Vatican commits to reducing net emissions to zero before 2050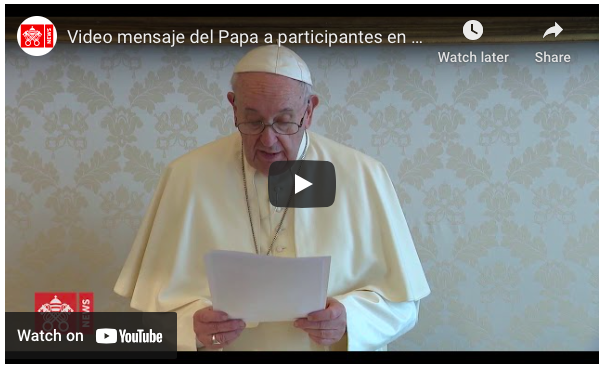 In his recent video message, Pope Francis said the Vatican is committed to reducing net emissions to zero before 2050, intensifying environmental efforts that have been in process for some years. He also repeated the Vatican's commitment to promoting education in integral ecology, announcing the Global Education Pact to accompany Catholic schools and universities, attended by more than seventy million students in all continents. Finally, Pope Francis shared his support for the "Economy of Francesco", through which young economists, businesspeople, and experts in finance and the workforce promote new solutions to overcome energy poverty, and which place care for common goods at the center of national and international politics, and favor sustainable production in countries with a low income. Watch the address here.