From the Founder: Why 2023 is a momentum year
Dear Friend,
There's no doubt, last year was big for those of us invested in caring for our Common Home -- politically, spiritually and of course, ecologically.
Politically, in the United States, the Inflation Reduction Act put our nation on the path to cut greenhouse gas emissions 40% by 2030, create millions of good-paying clean energy jobs, invest in environmental justice, and reduce energy bills for working families across the country. Thousands of Catholics across the country mobilized and met with their representatives to help push this crucial law across the finish line.
Spiritually, Pope Francis continued his inspiring leadership on behalf of the environment, "starring" in a moving documentary called "The Letter: A Message For Our Earth," that has been viewed by more than 8.3 million people on YouTube. But we also saw impressive efforts from young Catholics, who held a historic dialogue with the Holy Father about protecting the environment and gathered to press political leaders to enact planet-saving policies. Internationally, dioceses around the world -- including 15 in the United States -- signed onto the Laudato Si' Action Platform, a Vatican-led initiative to achieve lasting solutions to the ecological crisis.
And ecologically, though our world remains in great peril, there were small rays of hope. Renewable energy production hit record highs. World leaders agreed to establish a fund to help developing countries that are particularly vulnerable to climate change and protect at least 30% of the world's land, inland waters, coastal areas, and oceans. And the European Union – the world's third-largest emitter behind China and the US -- passed sweeping legislation and adopted new rules that will put its 27 member states on track to reduce carbon emissions by 55% by 2030.
These are all important measures. But promises are one thing and implementation is another. And that's why 2023 will be so important.
We must build on these successes and ensure that our political leaders carry through on their plans. In a sense, the success of these measures is in our hands. Without our vigilance, work and care, we will not change the status quo.
If you haven't already, please consider joining our Encounter for Our Common Home campaign. There has never been a more important time to be active and protect our planet. As Pope Francis has said, "Living our vocation to be protectors of God's handiwork is essential to a life of virtue; it is not an optional or a secondary aspect of our Christian experience."
Grateful as always,
Dan
Dan Misleh
Founder
Catholic Climate Covenant
Catholic Climate Covenant Updates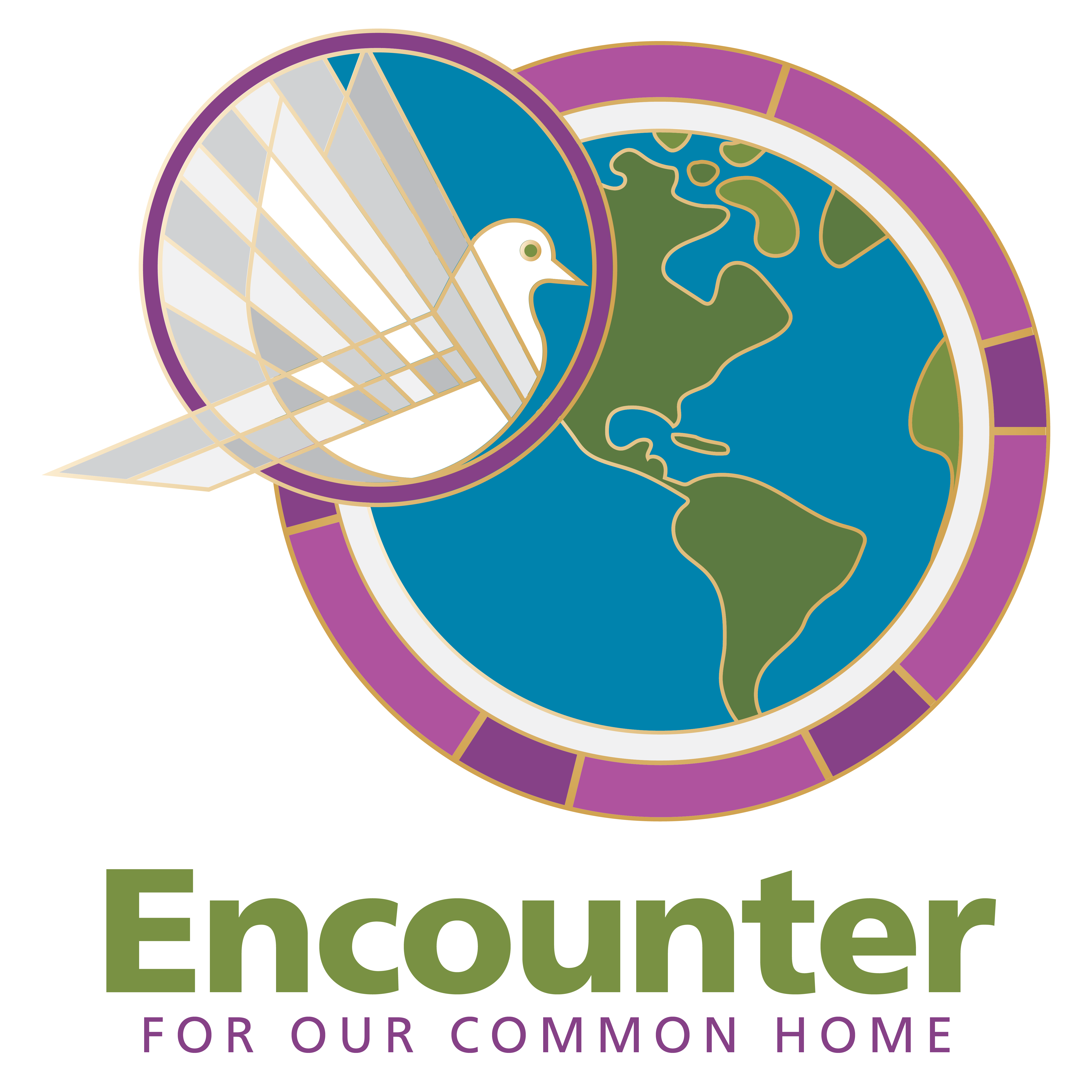 Action of the Month: Now is a good time to join the Encounter for our Common Home campaign!
Thank you to those who attended the first Encounter for Our Common Home monthly call in January. Just over 50 of us shared conversation about policy issues, prayed and planned our priorities for the new year. You can find the recording of the call here. Over 1,000 people have now joined the Encounter community! We invite you to join us, and share this sign-up link with others in your parish or professional communities so we can continue to grow our advocacy efforts – our strength comes in numbers.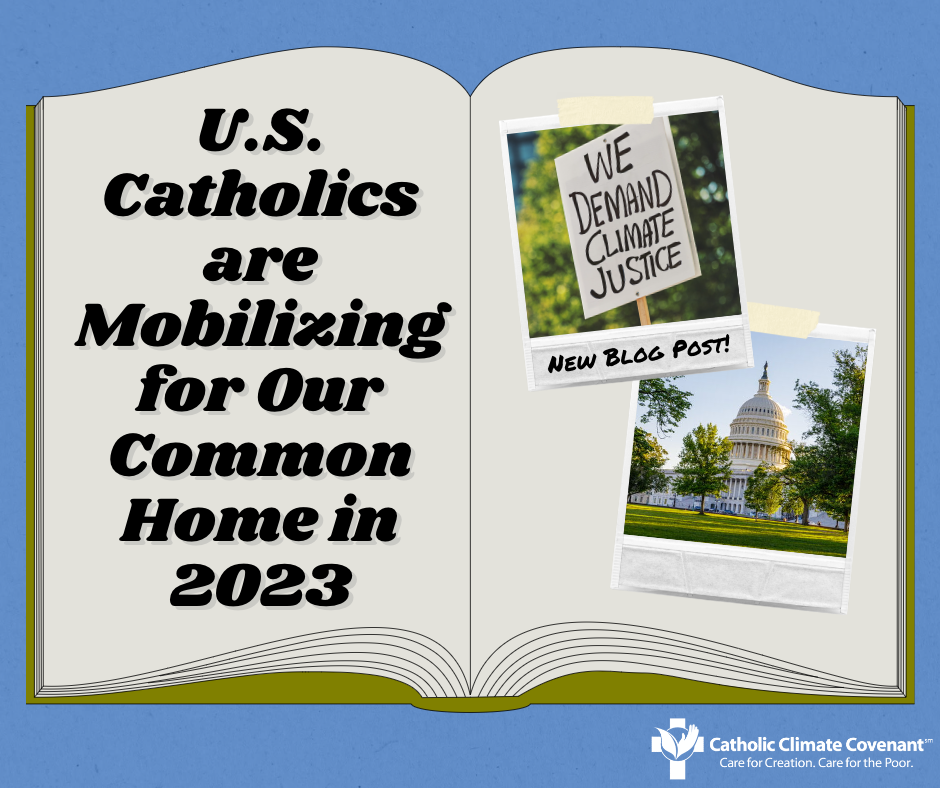 Last year was monumental for climate action. 2023 can be just as big
Henry Glynn, Catholic Climate Covenant's Policy Advisor, shares that 2022 was monumental for climate action, in large part because of the passage of the Inflation Reduction Act. This year has the potential to be just as significant, Henry notes, pointing to three particular efforts:
First, the Vatican-led Laudato Si' Action Platform (LSAP), which gives all Catholics and Catholic organizations an opportunity to examine their ecological impact and make necessary changes out of the moral obligation to care for creation through integral ecology. (See LSAP annual report here.)

Secondly, 15 dioceses have signed up to participate in the LSAP and some have agreed to take their LSAP commitments to the next level. Working with Catholic Climate Covenant and Verdis Group, an environmental consulting firm based in Omaha, NE, the Diocese of Davenport and Diocese of San Diego have begun "Net Zero Pathways" to measure their current diocesan greenhouse gas emissions and formulate a plan for reaching net zero emissions by 2050.

Finally, young Catholics are calling on leaders to act commensurate with the scale of the climate crisis, and Catholic Climate Covenant is helping to empower young voices across the country. Catholic young adults now have a year-long fellowship opportunity, Common Home Corps, to receive education and engage Church leaders on climate change and concrete mitigation actions. Apply or nominate someone for CHC by February 28!
7 key resources for enlisting your parish or diocese in the Laudato Si' Action Platform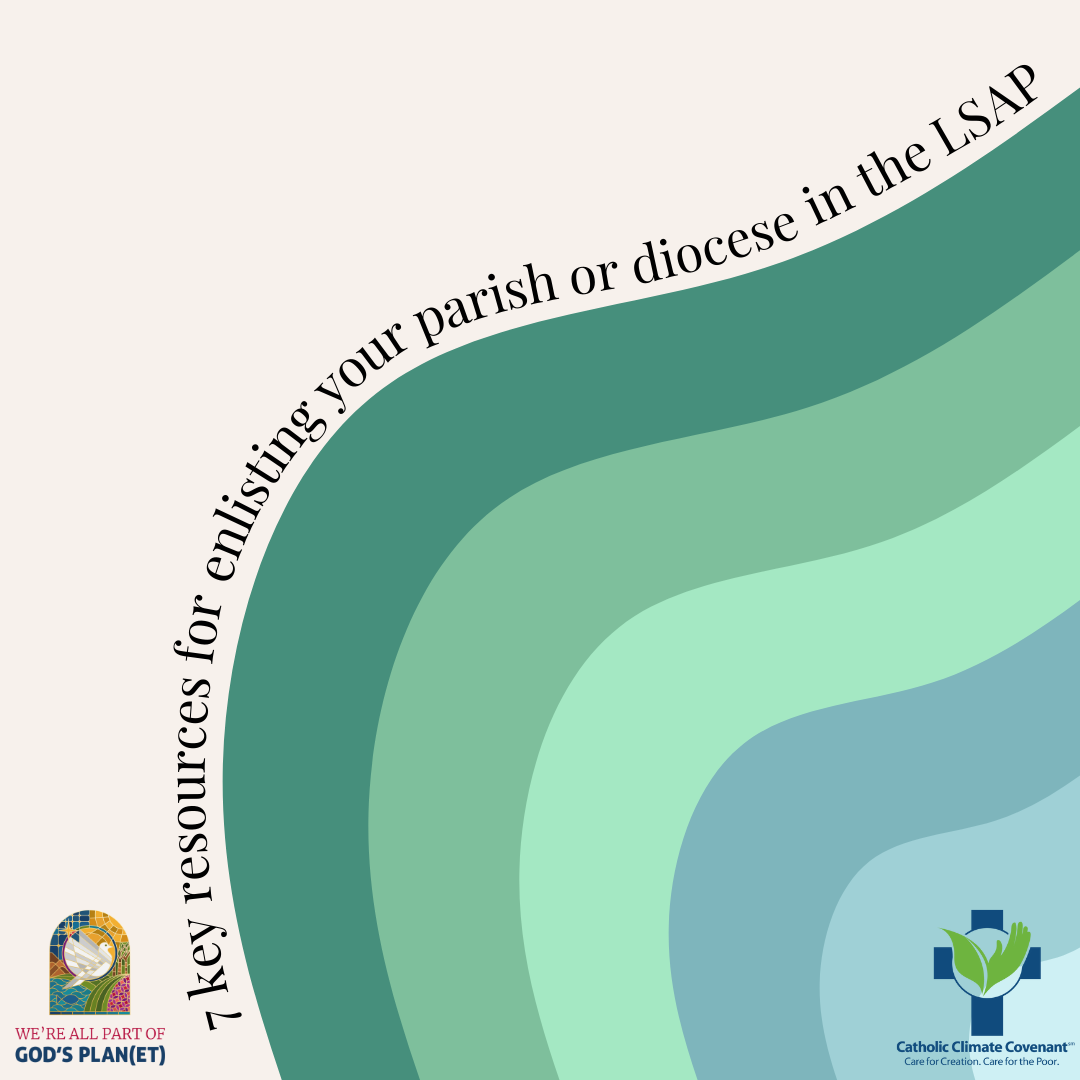 If you're eager for your parish or diocese to participate in the Vatican's Laudato Si' Action Platform, but don't know where to start, we have some good news. We've collected some excellent resources from parishes and dioceses, sharing everything from spiritual insights and practical tips to action items and accountability measures. Check out these helpful resources here.
The Future of Catholic Climate Advocacy: Implementation Done Justly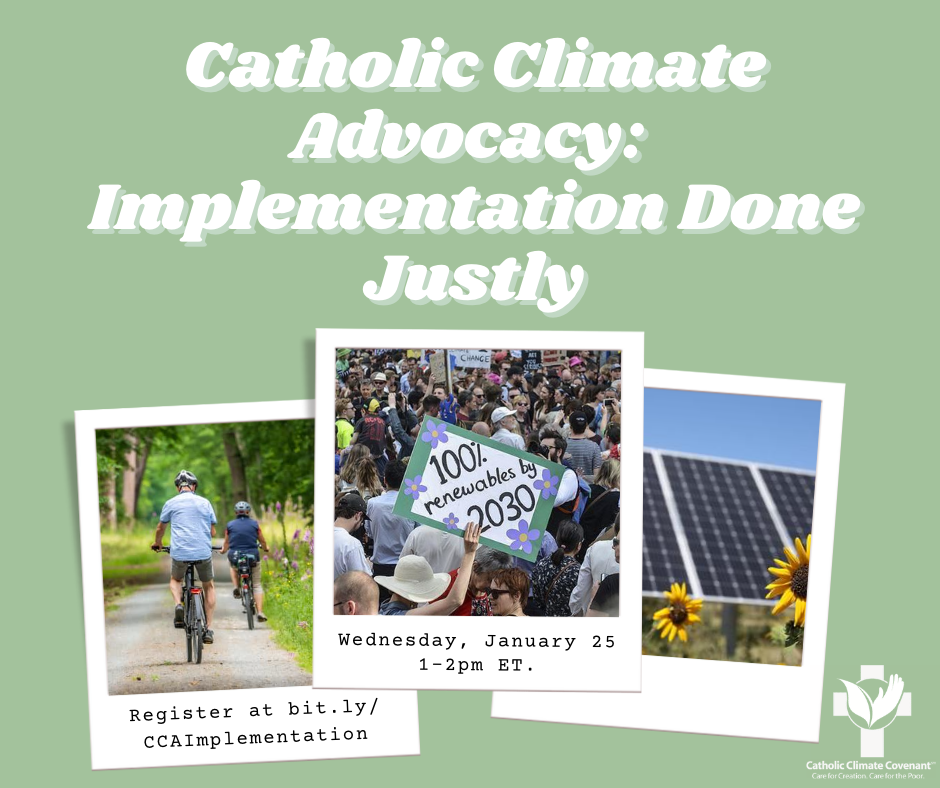 In January Catholic Climate Covenant hosted an inspiring conversation with John Mundell (Laudato Si' Action Platform), Christina Slentz, PhD (Diocese of San Diego), and Deacon Kent Ferris OFS (Diocese of Davenport) about how to implement the clean energy transition in the Church as the new year begins. Through discussion about the Inflation Reduction Act and the Laudato Si' Action Platform, we discussed concrete actions toward Catholic sustainability. You can find a video recording of the dialogue along with information-packed slides here.
Lent Resources 2023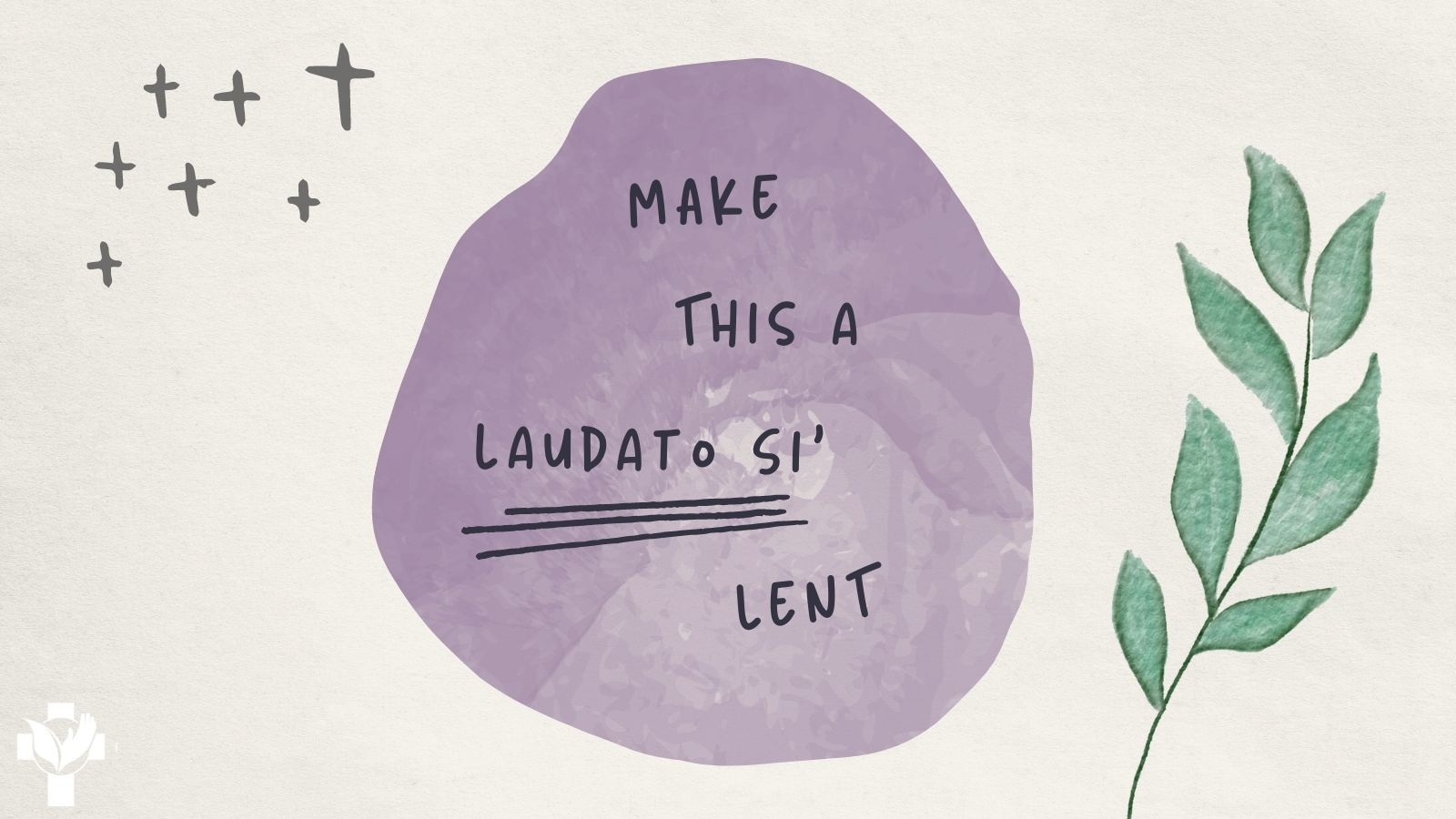 If you are looking for creation care resources to plan out your Lent this year, check out our new 2023 Lent resources page full of resources such as a Greener Lent interactive program out of Raleigh, NC; prayer and action Lenten calendars from parishes and partners; programs to take you on a reflection journey; and creation care liturgy and study materials.
Chicago Catholic Youth Climate Summit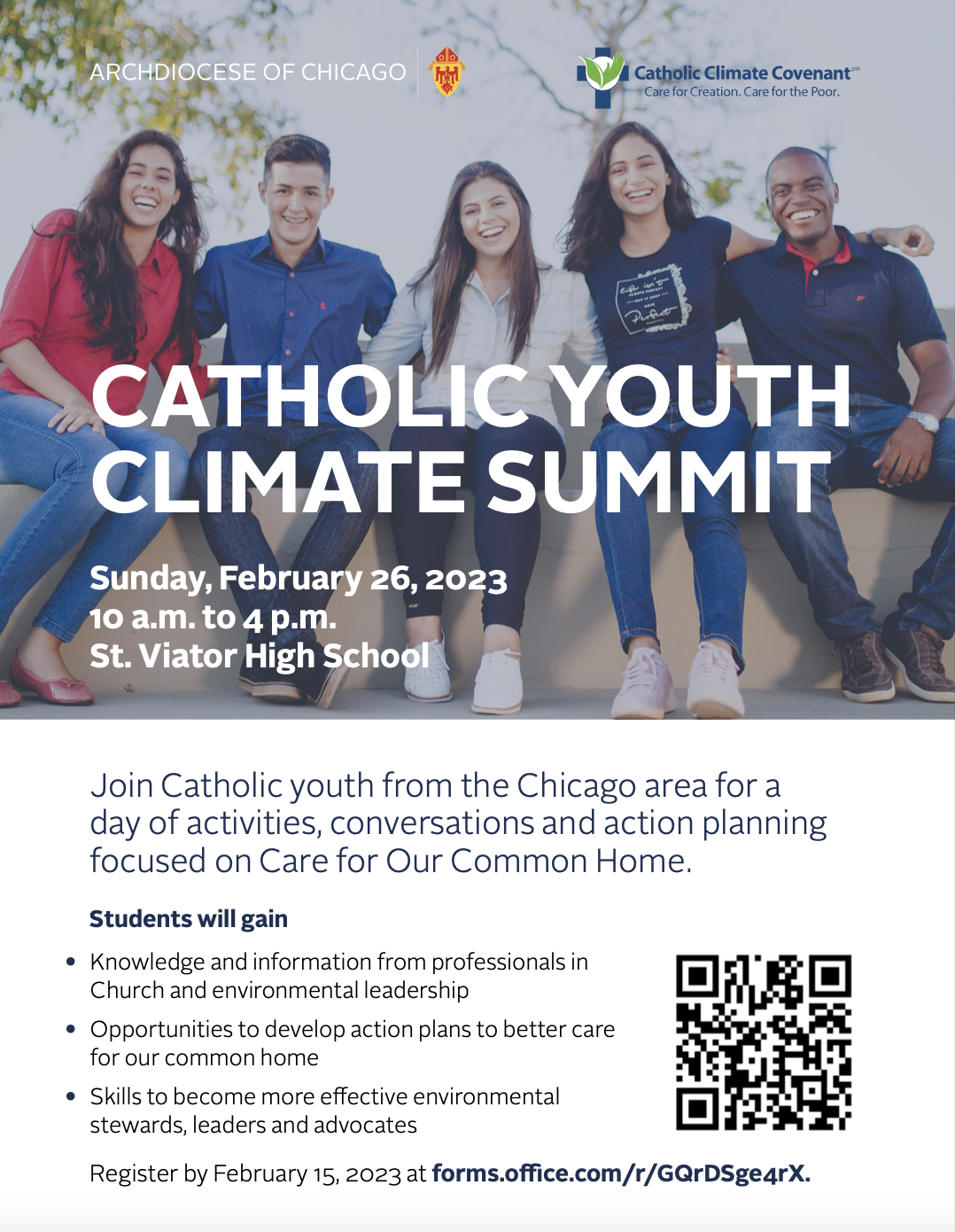 Catholic Climate Covenant and the Archdiocese of Chicago invite high-school age Catholics from the Chicago area for a day of sessions, conversations and action plans focused on Care for Our Common Home.
Students will gain
•     Mentorship by professionals in Church and environmental fields
•     Opportunities to develop action plans to better care for our common home
•     Skills to become more effective environmental stewards, leaders and advocates
The Summit will take place on February 26, from 10:00 A.M. - 4:00 P.M at St. Viator High School in Arlington Heights, Illinois. Register here by February 15.
Coming Summer 2023! Laudato Si' and the U.S. Catholic Church: A Conference Series on Our Common Home



Save the Date for this summer and be the first to know when registration opens for our summer 2023 conference! The conference will once again be virtual and feature U.S. Catholic speakers, actions, and teachings toward the Vatican's "Laudato Si' Action Platform" goals of caring for our common home.

"Laudato Si' and the U.S. Catholic Church: A Conference Series on Our Common Home" is a biennial conference series sponsored by Creighton University and Catholic Climate Covenant to convene, equip, and inspire Catholics to more deeply integrate Laudato Si' and its climate change and integral ecology teachings into the U.S. Church. The first convening was held at Creighton University in June 2019. The second gathering was held virtually in July 2021.
For 2023, presentations will take place over a series of evenings in June and July. Ms. Christiana Figueres, a Catholic and former Executive Secretary of the United Nations Framework Convention on Climate Change (UNFCCC) who brokered the Paris Agreement, will deliver the opening keynote address on June 7.
Cincinnati Laudato Si Action Platform summit
The Archdiocese of Cincinnati is inviting people of all ages to a Laudato Si' Action Platform Conference on March 4, from 9am - 4:30 pm at Curran Place at the University of Dayton. Participants can pray, grow in fellowship, learn about the Laudato Si' Action Platform and act together in parishes, schools, homes, and congregations to care for God's creation. See the schedule. Register here: tinyurl.com/LSAPMar423
DePaul University faith and ecology talk
On February 15, DePaul University's Center for World Catholicism and Intercultural Theology will host a talk with Daniel P. Scheid titled "Divine Cosmos, Sacred Earth: Hindu and Christian Approaches to Ecology." The event will be livestreamed. Register at http://DivineCosmos.eventbrite.com.
Notre Dame Catholic Social Tradition Conference
The University of Notre Dame will hold its Catholic Social Tradition Conference on March 23–25. The Justice Sown in Peace conference will recognize the 60th anniversary of the Catholic social tradition encyclical, Pacem in Terris, with a special focus on migration, violence, racism and the role of political structures. The registration deadline is March 10. More information: https://socialconcerns.nd.edu/CST2023
Cardinal Michael Czerny at Gonzaga
Cardinal Michael Czerny will speak March 9 at Gonzaga University in Spokane, Washington. Appointed by Pope Francis to lead the Catholic Church's efforts to become a better caretaker of the planet and all its creatures, Czerny's talk is titled "Caring for Our Common Home, in This World and with This Climate." It is free and open to the public, but tickets are required. Tickets and more information at Gonzaga.edu/Cardinal.
Franciscans for Earth Eco-Series screening
The documentary "Greta Thunberg: Rebel with A Cause," will be February's free Franciscans for Earth Eco-Series event. A special viewing and discussion of the film will take place on February 14 at 6:30 pm CT, online via Zoom or in-person at Tau Center. Register at www.fsolph.org/events/
Franciscans for Earth Eco-Series talk
Melissa Vatterott, Policy Director of the Missouri Coalition for the Environment, will speak during the free Franciscans for Earth Eco-Series event on March 14, online via Zoom or in-person at Tau Center. She will share updates on this session of the Missouri Legislature as it relates to public health and the environment, answer questions, and provide ways to take action on bills that are moving.
Register at www.fsolph.org/events/
In Congo, Pope calls for an end to plundering of natural resources
During his three-day visit to the Democratic Republic of Congo, Pope Francis has been calling attention to the plundering of the African country's natural resources as the poor Christian nation is besieged by "a war unleashed by an insatiable greed for raw materials and money that fuels a weaponized economy and requires instability and corruption."
From cobalt to gold, Congo has a treasure trove of minerals that armed groups, and neighboring countries like Uganda and Rwanda, continue to exploit and export, according to the United Nations.
Catholics in the predominantly Christian nation hope Francis also pressures the world's two leading superpowers, China and the United States, according to National Catholic Reporter.
"There's a race between China and the U.S. because of critical natural resources like lithium, cobalt and copper," said Congolese Jesuit Fr. Jacques Nzumbu. "To win the competition, you need these minerals. And Congo is suffering because of this competition."
Despite its natural treasures, Congo is one of the world's poorest countries, where more than 77 percent of the population live below the international poverty line. An estimated 10 million Congolese have died due to ongoing wars and armed conflict.
"The pope can alert the world to this situation, which can only increase suffering and wars in the Democratic Republic of Congo, taking away true peace," said Nzumbu.
New US law lifts requirement that drugs be tested on animals
New federal legislation eliminates a requirement that investigational drugs must be tested on animals before humans receive them in drug trials. The FDA Modernization Act 2.0 reflects the Catholic Church's teaching on care of God's creation — evoking questions about both the treatment of animals, and the role of machine learning in medical advances. "As stewards of God's creation, we have an obligation to do justice to animals according to the way God created them," Charles Camosy, professor of medical humanities at the Creighton University School of Medicine and author of "For Love of Animals: Christian Ethics, Consistent Action," told OSV News.
Sisters of Loretto set aside 650 acres in Kentucky for conservation
The National Catholic Reporter writes Sisters of Loretto will place more than 80% of the congregation's nearly 800 acres of land in Nerinx, Kentucky, under an easement, a legally binding agreement that restricts development for conservation purposes. Approximately 654 acres in all, the newly preserved area of farm fields, forest, native grasses, lakes and creeks is more than six times larger than the Vatican City State. The decision, decades in the making, is part of the Loretto Sisters' participation in the Laudato Si' Action Platform. Jessie Hancock, executive director of the Bluegrass Land Conservancy, called the 650 acres "a significant tract of land," and one of the larger conservation efforts among the 32,600 acres the conservancy has helped permanently protect.
Religious groups unite to protect sacred Native American land in Arizona
A coalition of religious and Native American organizations is uniting to support the nonprofit group Apache Stronghold in its fight to save the sacred site of Oak Flat, a 7-square-mile stretch of land east of Phoenix, Arizona, that a multinational corporation is seeking to turn into an underground copper mine. Christian, Muslim, Sikh and Indigenous groups filed amicus briefs on Jan. 9 urging the 9th U.S. Circuit Court of Appeals to protect the site that the Apache people deem sacred.
New global youth interfaith climate group launches at Duke
Faith For Our Planet, a global interfaith coalition, launched a new global Youth Interfaith Program on climate change at Duke University Divinity School on January 17. Participants came from the United States, Ghana, Burkina Faso, India, Columbia, Philippines and the Netherlands, among other nations. Iyad Abumoghli, Director of the UN Environment Program's Faith for Earth Initiative, said at the opening ceremony that "Nature is sacred in all world religions. Islam, Christianity, Hinduism, Buddhism and other world religions see humans as stewards of the planet and its natural resources."
Maryland Catholics for Our Common Home Petition
The Maryland Catholics for Our Common Home is collecting signatures for its petition advocating for 11 key bills in the state in the areas of clean transportation, increased energy efficiency, clean electricity, lands, water and environmental equity.
Stay informed easily about what they are doing to advance these bills and other efforts by joining the MCCH Facebook group.
The Sisters of Charity of Leavenworth are looking for a Community Engagement Coordinator to work with its Office of Justice, Peace, and Integrity of Creation. The position's primary responsibility is to implement the Laudato Si' Action Platform and help the community live its mission of doing justice through the lens of integral ecology. Applicants should email a resume and cover letter with salary requirements to recruiting@scls.org.
Catholic Climate Covenant provides all its programs and resources free of charge. We rely on the generosity of our supporters to inspire and equip people and institutions to care for creation and care for the poor. Through our 19 national partners, we guide the U.S. Church's response to climate change by educating, giving public witness, and offering resources. Thank you for giving to care for creation and care for the poor.
Contact Us
Catholic Climate Covenant
1400 Quincy St. NE
Franciscan Monastery Attn: Catholic Climate Covenant
Washington, District of Columbia 20017
202-987-7581
info@catholicclimatecovenant.org