Join Catholic Climate Covenant at the 2021 Catholic Social Ministry Gathering!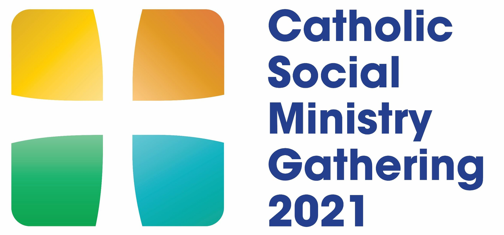 "Make justice your aim" (cf. Is. 1:17): Rebuilding Together
February 6-9, 2021, Virtual Gathering
This year's Catholic Social Ministry Gathering will offer attendees abundant opportunities to learn about and engage with the Church's mission of creation care, including a community workshop featuring Covenant staff Jose Aguto, Associate Director, and Anna Robertson, Youth and Young Adult Mobilization Director, on advancing the vision of Laudato Si' in the Church.
Don't miss this transformative annual gathering for leaders in Catholic social ministry and advocacy!
This year, we will pray, learn, and advocate together on the disparities revealed by COVID-19 and re-imagine new models of justice and solidarity.
For more than 30 years, the Catholic Social Ministry Gathering (CSMG) has brought together hundreds of participants whose faith inspires them to address pressing current domestic and global challenges affecting our most vulnerable brothers and sisters at home and around the world.
This year's virtual gathering will include:
Inspiring leading voices in Church and society.

Workshops with policy experts and grassroots community leaders.

Intentional opportunities for sharing best practices among participants.

Resources from dozens of Catholic social ministry organizations.

Virtual advocacy visits with elected officials.

And much more!
Act now to be part of the special initiative for young leaders in Catholic social ministry and learn more about our Diversity Outreach Initiative.
To register or for more information visit https://cvent.me/Xkb5g4.
Join the discussion and be part of the solution!
Emergence: Join first event hosted by Catholic Climate Covenant's new Youth and Young Adult Mobilization effort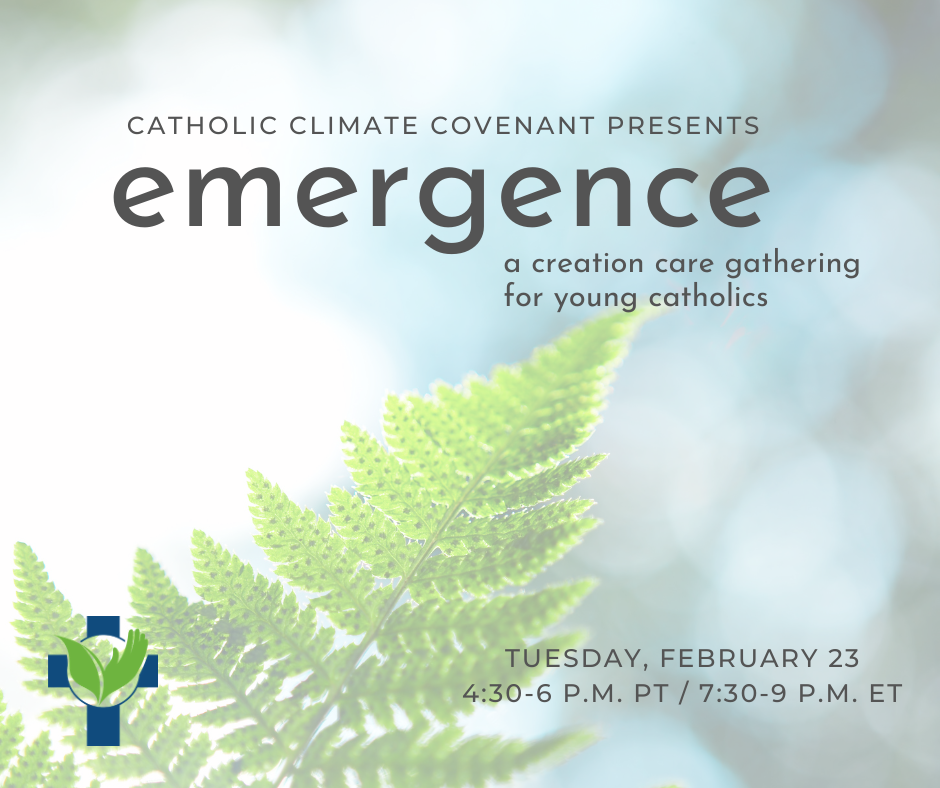 Are you a young Catholic* between the ages of 18 and 39 who...
Cares about the climate crisis and environmental justice?

Is looking for spiritual resources to help you navigate today's challenges?

Has a desire to connect with other young people with similar concerns?

Wants to play an active role in shaping a flourishing future for this planet and those of us who call it home?
Join Catholic Climate Covenant for "Emergence: A Creation Care Gathering for Young Catholics," on Tuesday, February 23 from 4:30–6 p.m. Pacific Time / 7:30–9 p.m. Eastern Time. This event will serve to kick off our 2021 initiatives with our new Youth and Young Adult Mobilization program, which seeks to inspire, animate, and nourish creation care among young Catholics in the United States. Information on accessing the Zoom meeting will be sent by email upon completing your registration.
Register online to join this event!
Attendees will have the opportunity to connect with one another in meaningful conversation, to learn about and engage in a prayer practice inspired by the Catholic tradition and Pope Francis' Laudato Si', and to engage in collective dreaming about the emerging possibilities for Catholic Climate Covenant's new Youth and Young Adult Mobilization efforts.
*Devout Catholic? Lapsed Catholic? Catholic-curious? Cultural Catholic? Catholic-adjacent? Our generation's relationships to Catholicism are complex, many, and varied. However you define your relationship to Catholicism, you are welcome at this event.
New creation care guidebook available, and online dialogue planned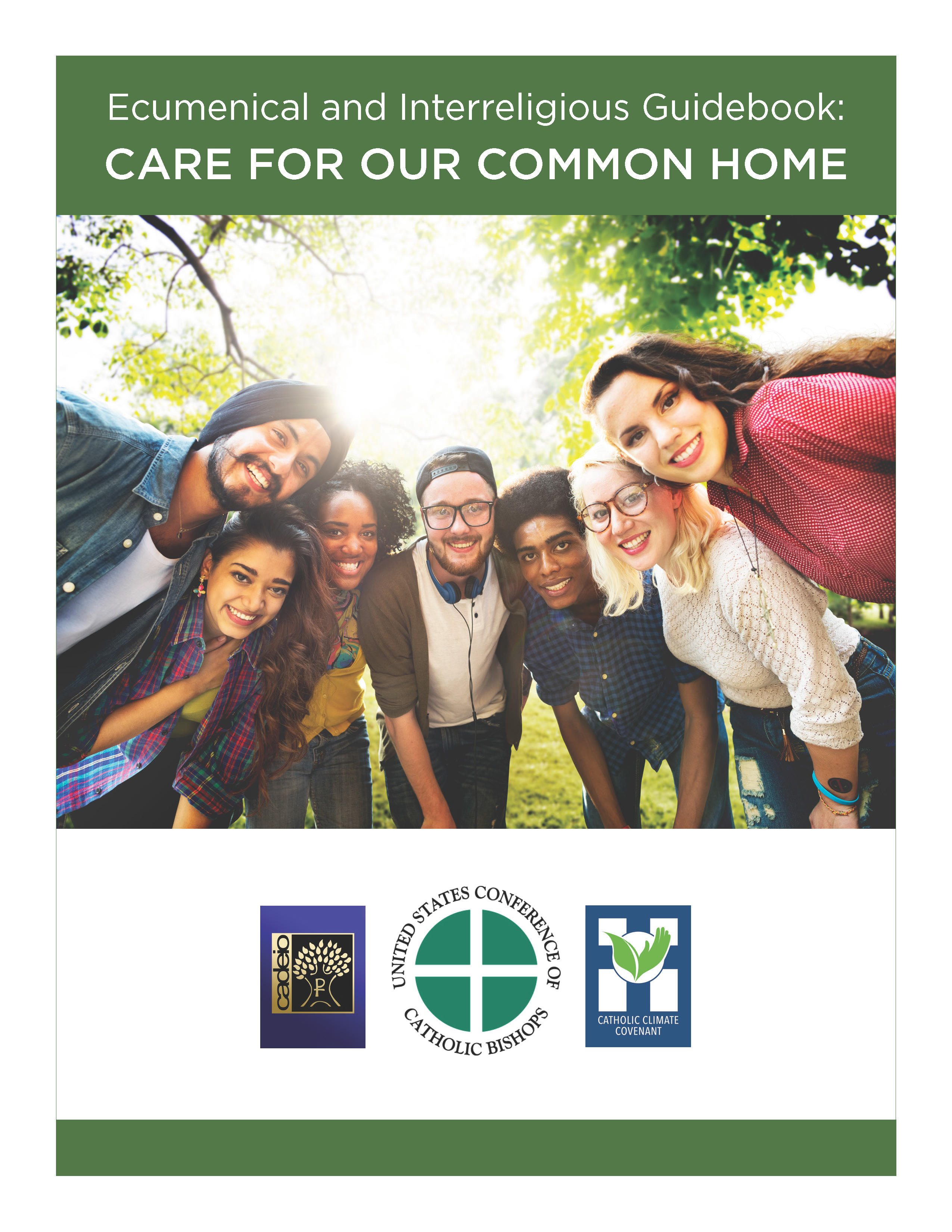 The United States Conference of Catholic Bishops, the Catholic Association of Diocesan Ecumenical and Interreligious Officers, and Catholic Climate Covenant have published a new Ecumenical and Interreligious Guidebook: CARE FOR OUR COMMON HOME. The new guidebook offers diocesan ecumenical and interreligious officers, pastors, parish groups and the faithful at large a number of theological and practical resources to put the ecological and creation care counsels of Pope Francis and Catholic magisterial voices, along with selected interfaith voices, into practical action. "This guidebook has been prepared with a sense of urgency about the health of planet Earth and the wellbeing of its people, particularly the most vulnerable," states the opening summary of the guidebook.
Read the news story in National Catholic Reporter here on the publication launch and webinar discussion.
And on Tuesday, Feb. 23, from 11 a.m-Noon. Eastern join Cardinal Blase J. Cupich of Chicago; Rabbi David Rosen, former Chief Rabbi of Ireland and International Director of Interreligious Affairs of the AJC; and Imam Saffet Abid Catovic, a long-time American Muslim Community Organizer/Activist and Environmental Leader – all in an online conversation hosted and facilitated by Fr. Walter F. Kedjierski, USCCB, Executive Director, Secretariat of Ecumenical and Interreligious Affairs to celebrate the publishing of the new guidebook.
Click here to register and to obtain the event link.
Video: A Laudato Si' Lens on Environmental Justice, Part 1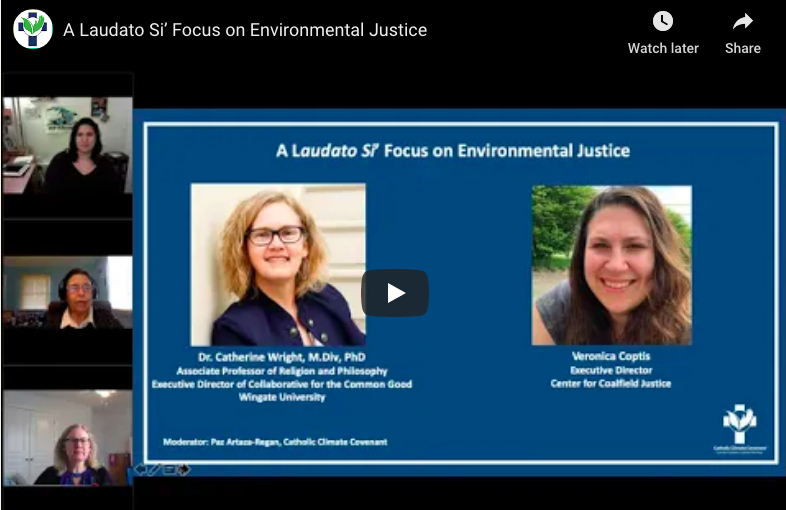 In case you missed our webinar: A Laudato Si' Lens on Environmental Justice, Part 1, a video recording is now available! In this first part of the series, Dr. Catherine Wright, Associate Professor of Religion and Philosophy and Executive Director of Collaborative for the Common Good, Wingate University, unpacks the meaning of environmental justice and how Catholic Social Teaching (in particular Laudato Si') gives us a helpful lens to view and act on this important issue. Veronica Coptis, Executive Director of the Center for Coalfield Justice, presents on her organization's collaboration with area residents living with the daily impacts of fossil fuel extraction, to improve oversight of and accountability for fossil fuel extraction and use, and protect public and environmental health. Watch the video here.
How to Evaluate Your Parish or Catholic Nonprofit for Solar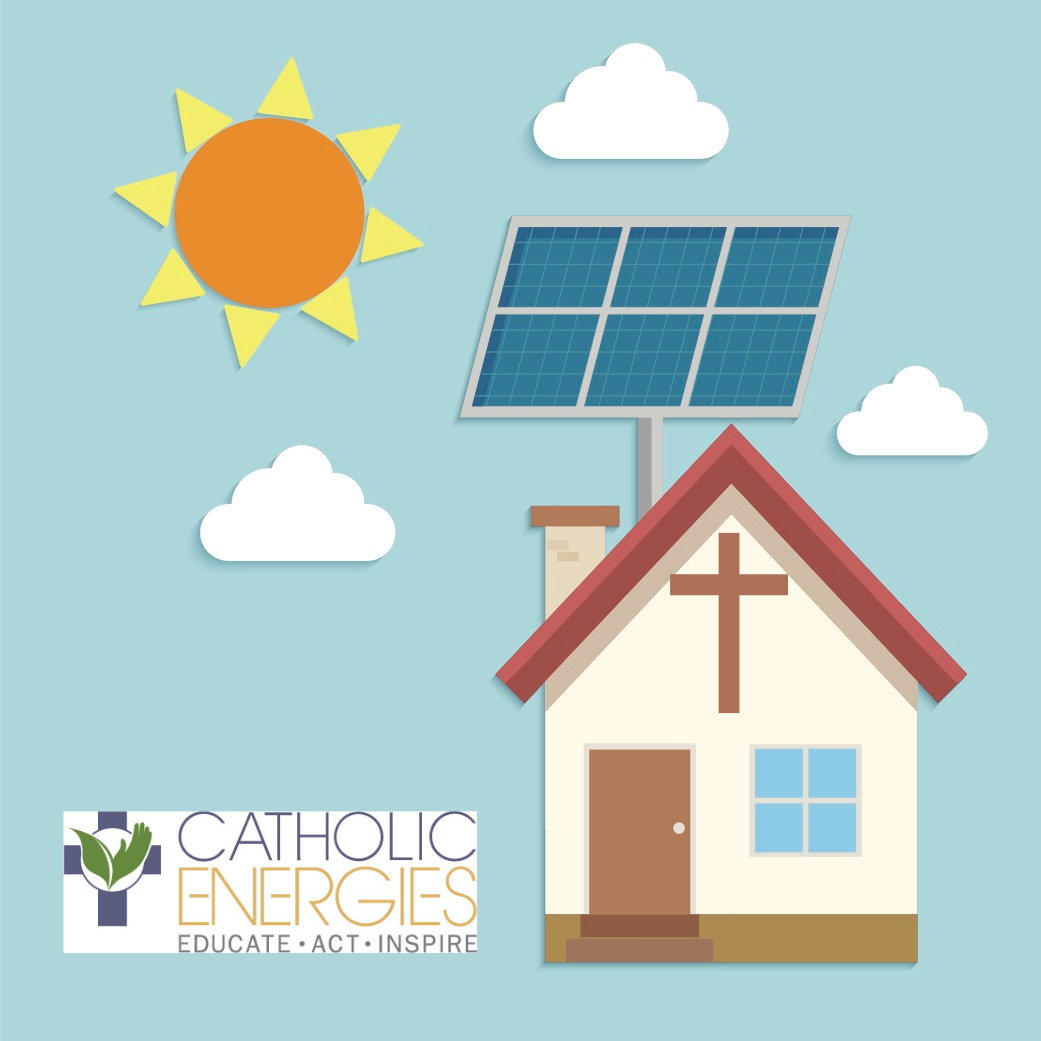 Solar installations offer churches and Catholic nonprofits, as well as other nonprofits, ample opportunities to reduce their energy costs and create income without any need for capital expenditures. These solar opportunities are directly impacted by the state your properties are located in and the utility serving your properties. The Covenant's Catholic Energies program makes it very simple for Catholic institutions to navigate the process and see if solar makes sense for them!

Mission Energy, which operates the Catholic Energies program, is hosting a webinar on February 25th at 12 p.m. Eastern to educate church leaders and nonprofit organizations on 1) the most important factors to consider when it comes to the economic and environmental benefits offered by solar installations, and 2) the methods available for nonprofits to avoid upfront capital costs to pay for these installations. The conversation will be hosted by Page Gravely, President, and Robert Quist, Chief Investment Officer, at Mission Energy . The presentation will be about 20-30 minutes followed by any audience questions.
Go here to register. Upon registration, Mission Energy will send you the Zoom link for the webinar.
In addition, to read the latest on Catholic Energies and learn more about this dynamic program, Catholic Energies just released its quarterly newsletter to keep the Catholic community informed of faithful organizations going solar. The newsletter includes updates on upcoming Catholic solar projects, such as the Sisters of St. Joseph in Brentwood, NY, expanding their campus-wide use of solar energy; and the Healy-Murphy Center for youth in San Antonio, TX, moving forward on its solar project. Read the full newsletter here.
Lenten resources for 2021 now available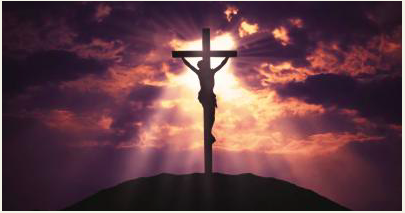 Catholic Climate Covenant is starting to collect 2021 Lenten Resources here. We wil continue to update the page as we receive resources, so check back often and please share any resources we may have missed! info@catholicclimatecovenant.org
Hope for Creation
The Covenant continues our virtual initiative of hope in these challenging days to invite prayers, meditations, stories, essays, statements, reflections, art, poems, songs, photos, and videos to celebrate creation, and each other. Share the Hope for Creation initiative with friends, school, or your parish, which we are extending throughout Laudato Si' Year, through May 24, 2021.