ACTION OF THE MONTH
Celebrate Earth Day!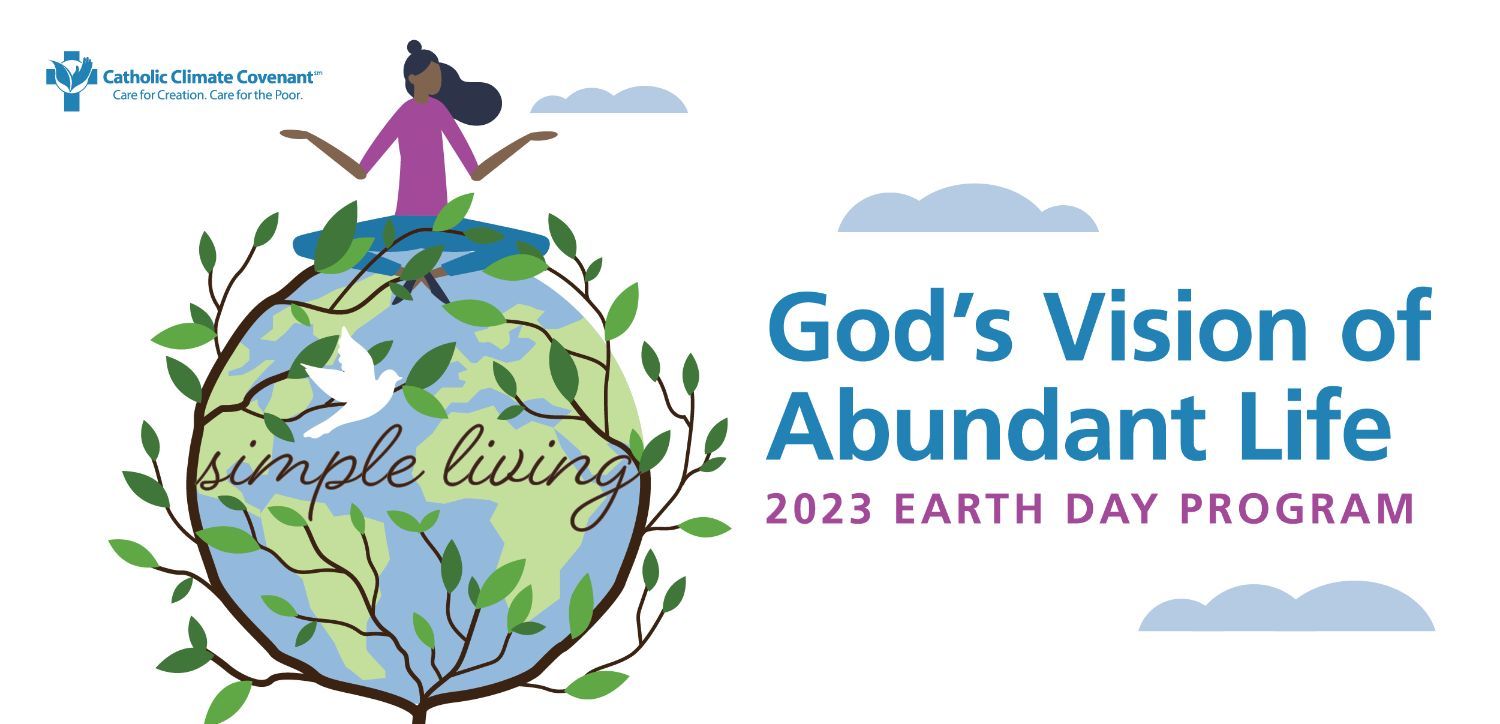 We are pleased to share Catholic Climate Covenant's 2023 Earth Day program, "Simple Living: God's Vision of Abundant Life." This program offers a respite from our busy lives and inspires us all to live with less. It addresses the Adoption of Sustainable Lifestyles goal of the Laudato Si' Action Platform.
The hour-long interactive program (with prayers, readings, discussion questions, and activities) may be used to celebrate the 53rd anniversary of Earth Day on April 22, or the 8th anniversary of Laudato Si' (May 21-28) or any time that fits your community's schedule. Download it today!
Save the Date! "Together for Our Common Home" Spring fundraising campaign kicks off on Earth Day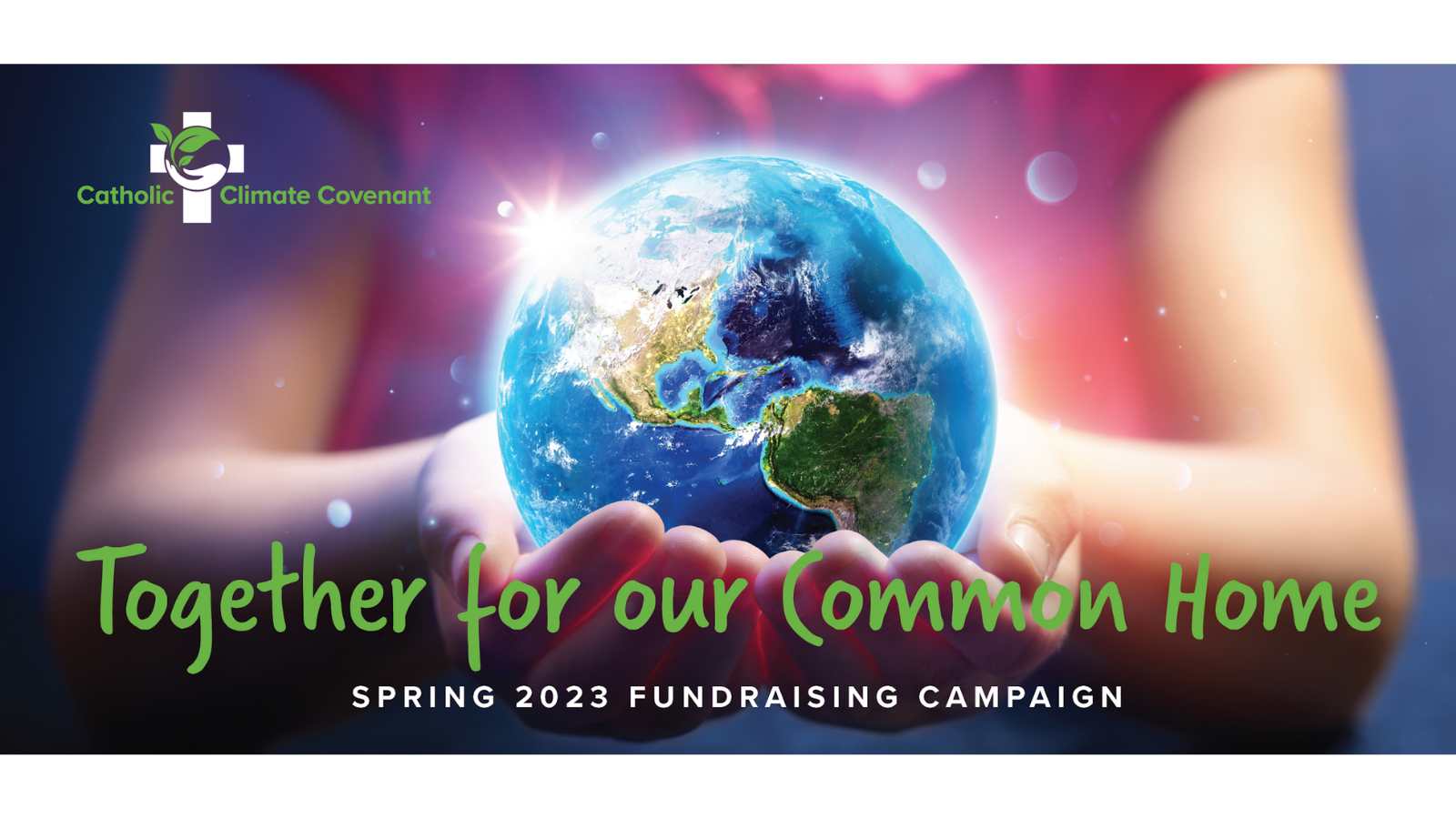 Stay tuned for the Together for Our Common Home fundraising campaign that kicks off this Spring (April 22-May 31st). Help us do our work by donating toward key creation care priorities – including critical new programs we are growing together!  
Earth Day is every day as we marvel at God's good gift of creation. Our faith helps us recall teaching from Genesis where God asks us to be caretakers of this sanctuary.  
With your donation, Catholic Climate Covenant will shepherd and grow key creation care programs to lift the U.S. Catholic ecological voice, champion Church leadership, advocate for climate solutions, and educate and organize intergenerational faith-driven audiences. 
See what we accomplished last year in our 2022 Annual Report.
More advocacy options for April:
Take Action and urge Congress to pass the 2023 Farm Bill with increased provisions to prevent world hunger and promote family farms.
Learn how the Inflation Reduction Act will allow non-profit organizations to benefit from direct federal payments for clean energy investment and production from the Catholic Health Association. Watch the webinar here.

In April, be on the lookout for FOREST Act advocacy visits, Farm Bill actions, and preparations for implementing the Inflation Reduction Act's clean energy solutions in our dioceses and parishes.
SEE you at the movies - April 25th and 26th!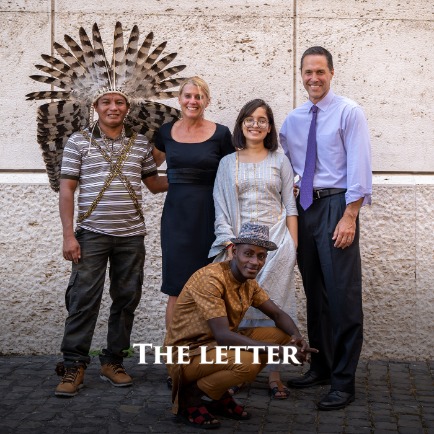 Have you been thinking of hosting a screening of "The Letter: A message for Our Earth" for your diocese, parish, school, or religious community, but have a few questions? Read our latest blog here on why you should!
Then join us April 25th or 26th for an online screening of "The Letter," followed by a discussion session with staff from Catholic Climate Covenant and Laudato Si' Movement-US.
Each screening will include an opportunity to watch the film, a general discussion, and breakout sessions to choose from:
Further discussion on themes from the film

A screening Q&A to get you ready to host your own event

A youth focused discussion

A young adult focused discussion
Daytime Screening: Tuesday, April 25th – 1-3 pm Eastern (10 am -12pm Pacific) Register here
Evening Screening: Wednesday, April 26th – 7-9 pm Eastern (4-6 pm Pacific) Register here
Join our "Encounter Our Common Home" community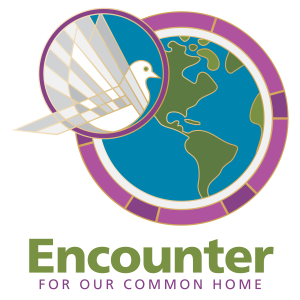 More than 60 members of our growing Encounter for Our Common Home community gathered for an enlightening and lively March event. You can find the notes and Zoom recording by following this link.
We invite you to consider joining an Encounter advisory group, which gathers each month to strategize around community and advocacy actions. Please fill out this survey if interested.
Our executive director and other Catholic leaders back UN resolution
Catholic groups, including Catholic Climate Covenant Executive Director Jose Aguto, backed a United Nations' resolution that urges the International Court of Justice to outline countries' legal obligations to protect the Earth.
The U.N. General Assembly resolution is nonbinding but holds moral and legal weight. As Jose Aguto told OSV News, "We encourage further U.S. and global strengthening of diplomatic climate policy solutions that answer the urgent cries of our common home and the people most affected by climate change."
Catholic Climate Covenant seeks an Operations & Development Manager
Come work with us! The Operations & Development Manager will maintain the Salsa CRM and Salsa Engage Database for CCC. Working closely with CCC's Office Manager and Program Manager, the incumbent will perform various administrative, financial, and programmatic duties. The position will be supervised by the Office Manager. View job description here. To apply, send resume and cover letter to info@CatholicClimateCovenant.org
Catholic Climate Covenant's special updates: youth and young adults
As our Youth and Young Adult programs grow, we want to deliver updates that matter to you. Let us know what youth or young adult news you want to receive:
Young adults: If you want to hear more news for and by Young Adults (ages 18-39), check the Young Adult box here, too! (or uncheck this box if you want to hear only Youth news).
Coming Soon! Laudato Si' and the U.S. Catholic Church: A Conference Series on Our Common Home

Save the Date for June and July! And be the first to know when registration opens for our summer 2023 conference!
"Laudato Si' and the U.S. Catholic Church: A Conference Series on Our Common Home" is a biennial series to equip and inspire Catholics to more deeply integrate Laudato Si' and its climate change teaching into the U.S. Church.
The 2023 convening will be virtual and opens on June 14 with a keynote address from Ms. Christiana Figueres, former Executive Secretary of the United Nations Framework Convention on Climate Change (UNFCCC) who brokered the Paris Agreement.
The purpose of this year's conference will be to encourage a greater understanding of the Laudato Si Action Platform goals and encourage Catholic individuals and groups to enroll in the Platform and provide them with a clearer path for accomplishing each of the goals.
Throughout June and July, the series will host virtual 90-minute sessions on the goals of the Vatican's Laudato Si' Action Platform. Each session will feature a scholar who describes the goal, practitioners who outline their work to achieve the goal, and a moderated Q&A. Let us know you are interested!
Catholic Climate Covenant is coordinating the Laudato Si' Action Platform in the U.S. Catholic Church through its God's Plan(et) initiative and Creighton University is a Platform signatory.
The first "Laudato Si' and the U.S. Catholic Church" convening was held at Creighton in June 2019 and the presentations were published in the Journal of Moral Theology. The second was held virtually in June 2021 and the presentation recordings are available here.