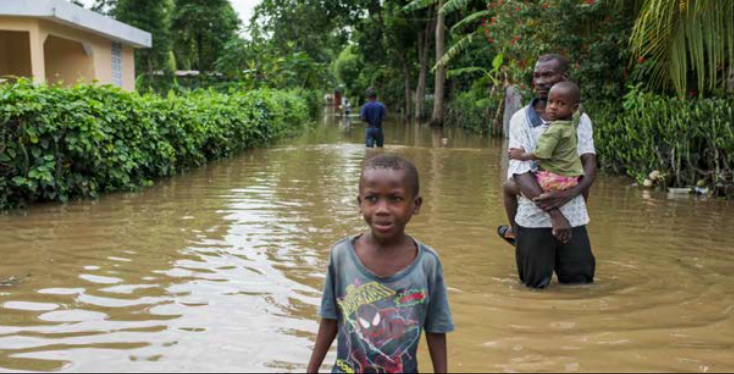 Photo Credit: U.S. Conference of Catholic Bishops' Justice for Immigrants campaign
Church offers guidelines and discussions for response to climate migration
The Vatican last week released "Pastoral Orientations on Climate Displaced Persons," a booklet intended to guide the Church's response to the phenomenon of migration caused by the climate crisis. In addition, Daniel DiLeo, an assistant theology professor at Creighton University and a Covenant consultant, was recently a panelist on a United States Conference of Catholic Bishops webinar to discuss Climate Change, Forced Migration, and the Catholic Church. You can view a recording of that important discussion here.
U.S. Catholic organizations encourage the public to get vaccinated
Today, on World Health Day, a coalition of 28 U.S. Catholic organizations including Catholic Climate Covenant are announcing their unified support to encourage their members and supporters (You!) and faith communities to embrace vaccinations as they become available as an act of charity and solidarity with others that will help prevent the spread of COVID-19 and build immunity against the virus. Learn more, find resources and get involved in promoting this message here! Also, find social media resources at the website and use #CatholicCares to show your support on Facebook, Twitter, Instagram… etc…
21-Day Catholic Environmental Justice Challenge, April 23-May 16
Learn, Pray, and Act for Environmental Justice with Ignatian Solidarity Network, the Covenant and partners Global Catholic Climate Movement, Jesuit Conference Office of Justice and Equality, and Sisters of Mercy. For 21 days, you will be challenged to enter into the complex work of understanding the connections between environmental injustices that disproportionately impact Black, Indigenous, and people of color (BIPOC), as well as low-income communities, among others. Learn more and sign up for the daily challenge emails here.
2021 Earth Day Resources from Catholic Health Association
Earth Day is annually commemorated on April 22. For Catholic health ministries, this is an opportunity to reignite our commitment to stewardship of the resources entrusted to us and to more greatly consider the role of environmental in our justice efforts and as we address the social determinants of health. For this event, CHA is pleased to provide several resources as well as highlighting sources of inspiration and education on the topic of environmental responsibility and climate change. See resources, reflections, videos and more here.
Franceso streaming now
FRANCESCO - The Pope Francis documentary from Oscar-nominated director and producer, Evgeny Afineevksy features unprecedented access to His Holiness, Pope Francis, and includes teachings from Laudato Si' and care for creation and the poor. It had a nationwide Virtual Cinema Release on March 26 and is streaming now on discovery+. Watch the trailer here.
Interreligious Dialogue on Creation Care Recording
If you missed the first dialogue in Celebration of the Ecumenical and Interreligious Guidebook: Care for Our Common Home you can now see a recording with Cardinal Blase J. Cupich of Chicago; Rabbi David Rosen, former Chief Rabbi of Ireland and International Director of Interreligious Affairs of the AJC; and Imam Saffet Abid Catovic, a long-time American Muslim Community Organizer/Activist and Environmental Leader – all in an online conversation hosted and facilitated by Fr. Walter F. Kedjierski, USCCB, Executive Director, Secretariat of Ecumenical and Interreligious Affairs to celebrate the publishing of the new guidebook. View the lively conversation here.
Bilingual Earth Week Mass April 17, 2p.m. Pacific
Join Most Rev. Robert W. McElroy, Bishop of San Diego for a bilingual Earth Week Mass to thank our creator for all his gifts on Saturday, April 17, at 2 pm. Pacific. The mass will be held at St. James Parish in Solana Beach, CA, and also livestreamed. Register here to receive the livestream link.
Fordham Webinar April 21, 1 pm Eastern
Today, less than two-percent of working farms are owned by Black Americans. Activists, gardeners, authors, and farmers are re-discovering Black America's rich agricultural heritage and its roots in spirituality and religious traditions. They are advocating for a new and empowering relationship with food production and the natural world. To mark Earth Day, Soul Fire Farm, "an Afro-Indigenous centered community farm committed to uprooting racism and seeding sovereignty in the food system", will join the Fordham Center on Religion and Culture for a discussion to explore these issues and how the audience themselves might work toward a more equitable food system. Click here to register.
The Art of Caring for Creation
If you'd like to enjoy an artistic getaway, take a look at this recent blog, The Art of Caring for Creation, from Casey Murano. She is a senior about to graduate from the University of Richmond with a major in art and minor in geography. In her art practice, she uses plein air painting and other practices to promote environmental justice through the lens of faith. In this piece she mixes reflections, her art and a video blog to deliver a respite, inspiration and observations on God's creation and our connection to it.